Oh, what a shitsack year 2020 was.
Well, honestly, it wasn't all bad. First, let me run some news past you. Then, I'll drop my Top Books of 2020 list on you and walk away. If you'd prefer to just see that list, scroll down a bit and you can skip all this navel gazing.
In 2020, I published this book. In a lot of ways, this book was a huge moment for me. You see, this was the book I wrote when I decided what kinds of books I really want to write. This one veers from the tried-and-true fantasy path a bit, but it's really the one that marks the point when I sat down, threw it all out the window, and said, "it's really okay to write whatever I want to write and this is what I want to write."
I'm really, really proud of Of Honey and Wildfires, and I'm really excited for the books I've got set next in this world. Soon, I will be releasing a novella called Oh, That Shotgun Sky. The release date for that one is February 16. You'll see a cover art reveal on Fantasy Book Critic soon, and you'll be able to read an excerpt there as well.
Oh, That Shotgun Sky takes place RIGHT after the events in Of Honey and Wildfires, and will serve as a bridge between Of Honey and Wildfires and Glass Rhapsody. I really, really love this novella and I desperately hope more than three people read it.
Then, in April, I'm guessing, you'll be able to read the conclusion of the story started in Of Honey and Wildfires. Glass Rhapsody. I would like to release this novel in the end of March, but I think an April drop date is far more realistic due to life.
In the summer, I'm moving to a different part of the world of Sefate, and I'll release a novella and a novel in this very, very, very different setting.
It's going to be a busy year.
Anyway, Of Honey and Wildfires was an SPFBO semi-finalist, and it also managed to become a Stabby nominee, which BLOWS MY MIND because I'm 90% sure my book is the least read book in the history of books being read.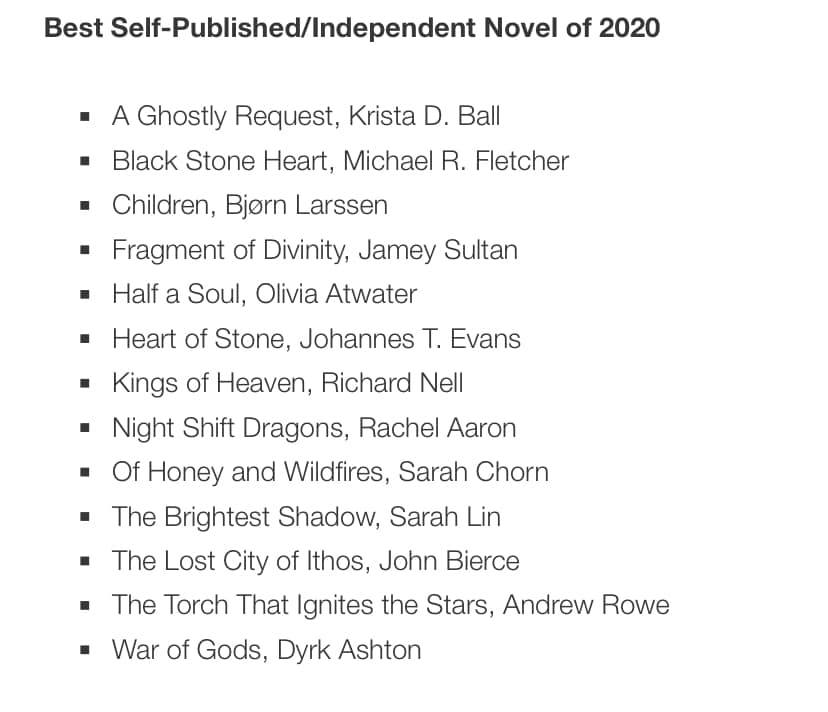 So, good things on the book front.
On the editing front, I have officially quit my day job and I am now 100% full-time editing. I've launched an editing webpage, and I've increased my editing income by leaps and bounds. I've worked harder than I've ever worked before, and I've loved every minute of it. I am so incredibly proud of how much I've accomplished with my editing, I can't even put it into words.
Also, for the past few months I've had comments disabled on my website. Recently my webmaster went through my website and boosted all my security and stuff. Comments are open again, so feel free to leave them again.
---
Okay, so there is that. Now, on to my top reads of 2020.
This list is going to be a little different. Mostly, because a lot of the fantasy books I've read this year are ones I've edited and they haven't been released yet. For my own pleasure reading, the more I edit the more I read nonfiction. Nonfiction is turning into the haven for my brain because I do not edit nonfiction, at all, ever. Therefore, it's one of the only genres I can read anymore without mentally editing it the entire time.
So, some of these books were released in 2020. Some I have had time to review. Some I haven't. Some are books I've edited that have cover art and release dates but might not be published quite yet. This is kind of the "everything and the kitchen sink" Best Of list.
In no particular order, here we go.
A long-awaited English translation of the classic oral history of women in World War II across Europe and Russia from Nobel Prize winner Svetlana Alexievich 
Bringing together dozens of voices in her distinctive style, Svetlana Alexievich shares stories of womens' experiences during World War II on the front lines, on the home front, and in occupied territories. The Unwomanly Face of War is a powerful history of the central conflict of the twentieth century, a kaleidoscopic portrait of the human side of war."
I discovered this book about two years ago. I reread it once a year. It levels me every time. I think this book should be mandatory reading, and it belongs on a permanent place on all of my Best Of lists, forever.
---
A broken man, Khraen awakens alone and lost. His stone heart has been shattered, littered across the world. With each piece, he regains some small shard of the man he once was. 
He follows the trail, fragment by fragment, remembering his terrible past.
There was a woman.
There was a sword.
There was an end to sorrow.
Khraen walks the obsidian path.
I edited this book, and I'm the least surprised person on the planet that it is being nominated for Stabby awards and SPFBO finalist, and all these top books of 2020 lists. I mean, this book is REALLY special and you all need to read it. It is dark and fearless and absolutely amazing.
---
A deformed genius plots vengeance while struggling to survive. A wastrel prince comes of age, finding a power he never imagined. Two worlds are destined to collide.

Only one can be king. 

Ruka, called a demon at birth, is a genius. Born malformed and ugly into the snow-covered wasteland of the Ascom, he was spared from death by his mother's love. Now he is an outcast, consumed with hate for those who've wronged him. But to take his vengeance, he must first survive. Across a vast sea in the white-sand island paradise of Sri Kon, Kale is fourth and youngest son of the Sorcerer King. And at sixteen, Kale is a disappointment. As the first prince ever forced to serve with low-born marines, Kale must prove himself and become a man, or else lose all chance of a worthy future, and any hope to win the love of his life. Though they do not know it, both boys are on the cusp of discovery. Their worlds and lives are destined for greatness, or ruin. 

But in a changing world where ash meets paradise, only one man can be king… The first installment of an epic, low- fantasy trilogy. Kings of Paradise is a dark, bloody, coming-of-age story shaped by culture, politics, and magic. 
Nell has a way with telling a captivating story. This book grabbed me by the throat and refused to let go. I was instantly entranced by the setting, the characters, the conflict(s), and more. Further, as soon as I thought I knew what was going on, Nell threw a wrench on the whole thing and there goes any of my assumptions. I loved, loved, loved this book. Incredibly strong epic fantasy written by an author who has, and will continue to take the fantasy genre by storm.
---
In December 1795, at midnight on her seventeenth birthday, Marie-Thérèse, the only surviving child of Marie Antoinette and Louis XVI, escaped from Paris's notorious Temple Prison. To this day many believe that the real Marie-Thérèse, traumatized following her family's brutal execution during the Reign of Terror, switched identities with an illegitimate half sister who was often mistaken for her twin. Was the real Marie-Thérèse spirited away to a remote castle to live her life as the woman called "the Dark Countess," while an imposter played her role on the political stage of Europe? Now, two hundred years later, using handwriting samples, DNA testing, and an undiscovered cache of Bourbon family letters, Nagel finally solves this mystery. She tells the remarkable story in full and draws a vivid portrait of an astonishing woman who both defined and shaped an era. Marie-Thérèse's deliberate choice of husbands determined the map of nineteenth-century Europe. Even Napoleon was in awe and called her "the only man in the family." Nagel's gripping narrative captures the events of her fascinating life from her very public birth in front of the rowdy crowds and her precocious childhood to her hideous time in prison and her later reincarnation in the public eye as a saint, and, above all, her fierce loyalty to France throughout.
Friends, this book leveled me. Everyone knows about Marie Antionette, but who has really heard of her only surviving child, Marie-Therese? This book goes into the details of being raised in a time of such terror. All her time in the prison, being held captive, her escape and more. It really painted a very stark picture of a young girl coming of age during the French Revolution. Highly, highly recommend anyone with a passing interest in these events read this book.
---
MBS is the untold story of how a mysterious young prince emerged from Saudi Arabia's sprawling royal family to overhaul the economy and society of the richest country in the Middle East—and gather as much power as possible into his own hands. Since his father, King Salman, ascended to the throne in 2015, Mohammed bin Salman has leveraged his influence to restructure the kingdom's economy, loosen its strict Islamic social codes, and confront its enemies around the region, especially Iran. That vision won him fans at home and on Wall Street, in Silicon Valley, in Hollywood, and at the White House, where President Trump embraced the prince as a key player in his own vision for the Middle East. But over time, the sheen of the visionary young reformer has become tarnished, leaving many struggling to determine whether MBS is in fact a rising dictator whose inexperience and rash decisions are destabilizing the world's most volatile region.
Based on years of reporting and hundreds of interviews, MBS reveals the machinations behind the kingdom's catastrophic military intervention in Yemen, the bizarre detention of princes and businessmen in the Riyadh Ritz-Carlton, and the shifting Saudi relationships with Israel and the United States. And finally, it sheds new light on the greatest scandal of the young autocrat's rise: the brutal killing of journalist Jamal Khashoggi by Saudi agents in Istanbul, a crime that shook Saudi Arabia's relationship with Washington and left the world wondering whether MBS could get away with murder.
MBS is a riveting, eye-opening account of how the young prince has wielded vast powers to reshape his kingdom and the world around him.
I DEVOURED this biography. I was absolutely captivated, not just by all the information given to me about the current (and transforming) Saudi state, but about MBS himself. Written in an easy style, this book quickly dominated my focus, and I still, months later, find myself thinking about it frequently.
---
A missing child returns home. But now the horror begins.
Recovering addict and single mom Jessie Milano wakes from a hangover to find her daughter missing from their Northern Californian family farm. After her daughter is found, Jessie senses something different with her daughter and reluctantly begins believing the insane idea that an ancient terror lurks in the marshes, a nightmare that threatens to destroy everything she loves.
The Roots Have Dug into My Heart by Peter Fugazzotto is a horror novella exploring how far a mother will journey to save her daughter.
Buy The Roots Have Dug into My Heart today and experience a descent into psychological and supernatural terror.
Another book I edited. You know, there's an art to the novella, and Fugazzotto has mastered it. This book is incredibly memorable. It really got under my skin and made a home there. Telling a haunting story of the power of love, I routinely find myself thinking about this novella when I am working on my own writing projects. Short and sweet, this one packs a massive punch.
---
This is the story of Orhan, son of Siyyah Doctus Felix Praeclarissimus, and his history of the Great Siege, written down so that the deeds and sufferings of great men may never be forgotten.
A siege is approaching, and the city has little time to prepare. The people have no food and no weapons, and the enemy has sworn to slaughter them all.
To save the city will take a miracle, but what it has is Orhan. A colonel of engineers, Orhan has far more experience with bridge-building than battles, is a cheat and a liar, and has a serious problem with authority. He is, in other words, perfect for the job.
I mean, it's KJ Parker. Parker is one of my favorite authors. Need I say more?
---
Guilt will always call you back…
Rhona is a faithful servant of the country Jémoon and a woman in love. Everything changes when her beloved sets the ravenous Vulture goddess loose upon the land. Forced to execute the woman she loves for committing treason, Rhona discovers a profound correlation between morality and truth. A connection that might save her people or annihilate them all.
You are a lie…
Varésh Lúm-talé is many things, most of all a genocidal liar. A falsity searching for the Phoenix goddess whom he believes can help him rectify his atrocities. Such an undertaking is an arduous one for a man with missing memories and a conscience set on rending him from inside out. A man whose journey leads to Hang-Dead Forest and a meeting with a Vulture goddess who is not entirely as she seems.
For the life of me, I can't figure out why more of you people aren't reading Tarzian's books. He has a knack for telling an emotional, layered, unique story in an absolutely unforgettable way. He gets in there, grabs my heart, and squeezes hard. I love it. LOVE. IT. Seriously, do yourselves a favor and read his books.
---
Although mother and daughter, these two brilliant women never knew one another – Wollstonecraft died of an infection in 1797 at the age of thirty-eight, a week after giving birth. Nevertheless their lives were so closely intertwined, their choices, dreams and tragedies so eerily similar, it seems impossible to consider one without the other.
Both women became famous writers; fell in love with brilliant but impossible men; and were single mothers who had children out of wedlock; both lived in exile; fought for their position in society; and thought deeply about how we should live. And both women broke almost every rigid convention there was to break: Wollstonecraft chased pirates in Scandinavia. Shelley faced down bandits in Naples. Wollstonecraft sailed to Paris to witness the Revolution. Shelley eloped in a fishing boat with a married man. Wollstonecraft proclaimed that women's liberty should matter to everyone.
Not only did Wollstonecraft declare the rights of women, her work ignited Romanticism. She inspired Coleridge, Wordsworth and a whole new generation of writers, including her own daughter, who – with her young lover Percy Shelley – read Wollstonecraft's work aloud by her graveside. At just nineteen years old and a new mother herself, Mary Shelley composed Frankenstein whilst travelling around Italy with Percy and roguish Lord Byron (who promptly fathered a child by Mary's stepsister). It is a seminal novel, exploring the limitations of human nature and the power of invention at a time of great religious and scientific upheaval. Moreover, Mary Shelley would become the editor of her husband's poetry after his early death – a feat of scholarship that did nothing less than establish his literary reputation.
Romantic Outlaws brings together a pair of visionary women who should have shared a life, but who instead shared a powerful literary and feminist legacy. This is inventive, illuminating, involving biography at its best.
I read this book MONTHS AGO and I'm still not over it. I knew nothing about these women when I went into this, and now I know all this stuff, and I still just cannot even. I'll randomly find myself thinking about how much I hate Percy Shelley, for example, or how absolutely incredibly Mary Wollstonecraft was. This biography was spectacular and it really stuck to my ribs. Highly recommend.
---
The heartrending story of a midcentury American family with twelve children, six of them diagnosed with schizophrenia, that became science's great hope in the quest to understand the disease.

Don and Mimi Galvin seemed to be living the American dream. After World War II, Don's work with the Air Force brought them to Colorado, where their twelve children perfectly spanned the baby boom: the oldest born in 1945, the youngest in 1965. In those years, there was an established script for a family like the Galvins—aspiration, hard work, upward mobility, domestic harmony—and they worked hard to play their parts. But behind the scenes was a different story: psychological breakdown, sudden shocking violence, hidden abuse. By the mid-1970s, six of the ten Galvin boys, one after another, were diagnosed as schizophrenic. How could all this happen to one family?


What took place inside the house on Hidden Valley Road was so extraordinary that the Galvins became one of the first families to be studied by the National Institute of Mental Health. Their story offers a shadow history of the science of schizophrenia, from the era of institutionalization, lobotomy, and the schizophrenogenic mother to the search for genetic markers for the disease, always amid profound disagreements about the nature of the illness itself. And unbeknownst to the Galvins, samples of their DNA informed decades of genetic research that continues today, offering paths to treatment, prediction, and even eradication of the disease for future generations.
I listened to the audiobook, and it was fantastic. I've basically thrown this book at literally everyone who reads books. This book went right through me. Wonderfully written, this tells an absolutely heartbreaking story about a family in Colorado, and how their saga of mental illness has been used to improve the treatment of schizophrenia for generations to come. I cannot recommend this book enough.
---
The Midwife is summoned to a decaying seaside kingdom to assist with a royal birth. Upon arrival she finds herself trapped in a strange, dying land. The kitschy trappings of the Prince's fan club are everywhere, but one of the adoring fans conceals a darker secret. Death hangs heavy in the air, wielding a twisted blade forged of tears of the broken hearted, threatening the life of the royal baby. The Midwife has defeated her share of monsters, but how will she handle a kingdom cursed by the sea itself? No matter what happens, The Midwife swears she will deliver the baby, save the kingdom, and get the smell of dead fish out of her apron—even if it kills her.
Another book I edited. I wasn't sure what I was getting into when I started editing this book but I instantly fell in love with it and edited it in record time because I honestly just couldn't pull myself away. A delightful twist on The Little Mermaid, told with stunning prose and dark humor that hit me just right, this one is a book that more people should know about, and everyone should read. I cannot wait to see what Freeman comes up with next.
---
The ancient city of Troy has withstood a decade under siege of the powerful Greek army, which continues to wage bloody war over a stolen woman—Helen. In the Greek camp, another woman—Briseis—watches and waits for the war's outcome. She was queen of one of Troy's neighboring kingdoms, until Achilles, Greece's greatest warrior, sacked her city and murdered her husband and brothers. Briseis becomes Achilles's concubine, a prize of battle, and must adjust quickly in order to survive a radically different life, as one of the many conquered women who serve the Greek army.
When Agamemnon, the brutal political leader of the Greek forces, demands Briseis for himself, she finds herself caught between the two most powerful of the Greeks. Achilles refuses to fight in protest, and the Greeks begin to lose ground to their Trojan opponents. Keenly observant and coolly unflinching about the daily horrors of war, Briseis finds herself in an unprecedented position, able to observe the two men driving the Greek army in what will become their final confrontation, deciding the fate not only of Briseis's people but also of the ancient world at large.
Briseis is just one among thousands of women living behind the scenes in this war—the slaves and prostitutes, the nurses, the women who lay out the dead—all of them erased by history. With breathtaking historical detail and luminous prose, Pat Barker brings the teeming world of the Greek camp to vivid life. She offers nuanced, complex portraits of characters and stories familiar from mythology, which, seen from Briseis's perspective, are rife with newfound revelations. Barker's latest builds on her decades-long study of war and its impact on individual lives—and it is nothing short of magnificent.
Another twist on the saga of Troy, as told by women. Lyrical prose, and a story that punches you right in the feels, this book was absolutely amazing.
---
The Viking Age – between 750 and 1050 – saw an unprecedented expansion of the Scandinavian peoples. As traders and raiders, explorers and colonists, they reshaped the world between eastern North America and the Asian steppe. For a millennium, though, their history has largely been filtered through the writings of their victims. Based on the latest archaeological and textual evidence, Children of Ash and Elm tells the story of the Vikings on their own terms: their politics, their cosmology, their art and culture. From Björn Ironside, who led an expedition to sack Rome, to Gudrid Thorbjarnardóttir, the most travelled woman in the world, Price shows us the real Vikings, not the caricatures they have become in popular culture and history.
You know, I've never been that interested in the Vikings. Yeah, they're interesting but I've never gone out of my way to read about them. However, this book came out and I thought, "why not" and friends, I swear to Pete, this book was EVERYTHING. It was sooooooooo interesting, well done, easy to read, easy to understand. Just WOW. Anyone with an interest in this stuff needs to pick it up.
---
England's Tudor monarchs–Henry VII, Henry VIII, Edward VI, Mary I, and Elizabeth I–are perhaps the most celebrated and fascinating of all royal families in history. Their love affairs, their political triumphs, and their overturning of the religious order are the subject of countless works of popular scholarship. But for all we know about Henry's quest for male heirs, or Elizabeth's purported virginity, the private lives of the Tudors remain largely beyond our grasp.
In The Private Lives of the Tudors, Tracy Borman delves deep behind the public face of the monarchs, showing us what their lives were like beyond the stage of court. Drawing on the accounts of those closest to them, Borman examines Tudor life in fine detail. What did the monarchs eat? What clothes did they wear, and how were they designed, bought, and cared for? How did they practice their faith? And in earthlier moments, who did they love, and how did they give birth to the all-important heirs?
Delving into their education, upbringing, sexual lives, and into the kitchens, bathrooms, schoolrooms, and bedrooms of court, Borman charts out the course of the entire Tudor dynasty, surfacing new and fascinating insights into these celebrated figures.
I liked this book mostly because it was about all the stuff none of the other books talk about. The author goes into great detail about a lot of cultural things of the day and age that most readers of this period of history just won't glean from biographies and the like. Childbirth practices, superstitions, the guy who gets to wipe the king's butt… it's all in here. It was really, really interesting. Highly recommend for any Tudor history fans.
---
Aram Raythe has the power to challenge the gods. He just doesn't know it yet.

Aram thinks he's nothing but a misfit from a small fishing village in a dark corner of the world. As far as Aram knows, he has nothing, with hardly a possession to his name other than a desire to make friends and be accepted by those around him, which is something he's never known.

But Aram is more. Much, much more.

Unknown to him, Aram bears within him a gift so old and rare that many people would kill him for it, and there are others who would twist him to use for their own sinister purposes. These magics are so potent that Aram earns a place at an academy for warrior mages training to earn for themselves the greatest place of honor among the armies of men: dragon riders.

Aram will have to fight for respect by becoming not just a dragon rider, but a Champion, the caliber of mage that hasn't existed in the world for hundreds of years. And the land needs a Champion. Because when a dark god out of ancient myth arises to threaten the world of magic, it is Aram the world will turn to in its hour of need. 
This book isn't being released until January 8, but I think it's my favorite book I've read all year. I can't seem to get it out of my blood. It's part of me now. Just such a powerful, epic, wonderful story told by a masterclass author. I cannot wait for the rest of you to read this. I was beyond honored to edit such an incredible book. It's not an experience I will forget anytime soon.
---
Jan Swafford's biographies of Charles Ives and Johannes Brahms have established him as a revered music historian, capable of bringing his subjects vibrantly to life. His magnificent new biography of Ludwig van Beethoven peels away layers of legend to get to the living, breathing human being who composed some of the world's most iconic music. Swafford mines sources never before used in English-language biographies to reanimate the revolutionary ferment of Enlightenment-era Bonn, where Beethoven grew up and imbibed the ideas that would shape all of his future work. Swafford then tracks his subject to Vienna, capital of European music, where Beethoven built his career in the face of critical incomprehension, crippling ill health, romantic rejection, and "fate's hammer," his ever-encroaching deafness. Throughout, Swafford offers insightful readings of Beethoven's key works. More than a decade in the making, this will be the standard Beethoven biography for years to come. 
Oh, this poor guy. I mean, holy shit did he live a life. This biography was another one that got right in there and squeezed my feels nice and tight. Swafford writes excellent biographies, and does so with a practiced hand and a deep understanding of music. Some of the musical bits might fly over your head, but they aren't overwhelming. Regardless, the biography of Beethoven, the man, really made me understand his music a lot better, and appreciate him a lot more. This biography is HUGE, but it's well worth the read for anyone with a passing interest in this historical figure.
---
Dorothea Hawes has no wish to renew contact with what lies beyond the veil. After an attempt to take her own life, she has retired into seclusion, but as the wounds on her body heal, she is drawn back into a world she wants nothing more than to avoid.
She is sought out by Julian Chissick, a former man of God who wants her help in discovering who is behind the gruesome murder of a young woman. But the manner of death is all too familiar to Dorothea, and she begins to fear that something even more terrible is about to unleash itself on London.
And so Dorothea risks her life and her sanity in order to save people who are oblivious to the threat that hovers over them. It is a task that forces her into a confrontation with her own lurid past, and tests her ability to shape events frighteningly beyond her control.
Superb story written by an author I genuinely like, The Half-Killed was fantastic, from bottom to top. Addicting, absorbing, and just plain delightful. I couldn't put it down. You won't be able to, either.
---
Just as she did with North Korea, award-winning journalist Barbara Demick explores one of the most hidden corners of the world. She tells the story of a Tibetan town perched eleven thousand feet above sea level that is one of the most difficult places in all of China for foreigners to visit. Ngaba was one of the first places where the Tibetans and the Chinese Communists encountered one another. In the 1930s, Mao Zedong's Red Army fled into the Tibetan plateau to escape their adversaries in the Chinese Civil War. By the time the soldiers reached Ngaba, they were so hungry that they looted monasteries and ate religious statues made of flour and butter—to Tibetans, it was as if they were eating the Buddha. Their experiences would make Ngaba one of the engines of Tibetan resistance for decades to come, culminating in shocking acts of self-immolation.
Eat the Buddha spans decades of modern Tibetan and Chinese history, as told through the private lives of Demick's subjects, among them a princess whose family is wiped out during the Cultural Revolution, a young Tibetan nomad who becomes radicalized in the storied monastery of Kirti, an upwardly mobile entrepreneur who falls in love with a Chinese woman, a poet and intellectual who risks everything to voice his resistance, and a Tibetan schoolgirl forced to choose at an early age between her family and the elusive lure of Chinese money. All of them face the same dilemma: Do they resist the Chinese, or do they join them? Do they adhere to Buddhist teachings of compassion and nonviolence, or do they fight?
Illuminating a culture that has long been romanticized by Westerners as deeply spiritual and peaceful, Demick reveals what it is really like to be a Tibetan in the twenty-first century, trying to preserve one's culture, faith, and language against the depredations of a seemingly unstoppable, technologically all-seeing superpower. Her depiction is nuanced, unvarnished, and at times shocking.
One of the only books I've ever pre-ordered in my life, this is another one I read in record time and I can't stop thinking about. No one knows a whole lot about Tibet and their rocky history, but Demick manages to shine a light on this part of the world, telling human stories as compassionately as possible, and presenting Tibetan history, as told by Tibetans, to the western world. Highly recommend.
---
Interference in American elections. The sponsorship of extremist politics in Europe. War in Ukraine. In recent years, Vladimir Putin's Russia has waged a concerted campaign to expand its influence and undermine Western institutions. But how and why did all this come about, and who has orchestrated it?
In Putin's People, the investigative journalist and former Moscow correspondent Catherine Belton reveals the untold story of how Vladimir Putin and the small group of KGB men surrounding him rose to power and looted their country. Delving deep into the workings of Putin's Kremlin, Belton accesses key inside players to reveal how Putin replaced the freewheeling tycoons of the Yeltsin era with a new generation of loyal oligarchs, who in turn subverted Russia's economy and legal system and extended the Kremlin's reach into the United States and Europe. The result is a chilling and revelatory exposé of the KGB's revanche—a story that begins in the murk of the Soviet collapse, when networks of operatives were able to siphon billions of dollars out of state enterprises and move their spoils into the West. Putin and his allies subsequently completed the agenda, reasserting Russian power while taking control of the economy for themselves, suppressing independent voices, and launching covert influence operations abroad.
Ranging from Moscow and London to Switzerland and Brooklyn's Brighton Beach—and assembling a colorful cast of characters to match—Putin's People is the definitive account of how hopes for the new Russia went astray, with stark consequences for its inhabitants and, increasingly, the world.
Yes, hello. My name is Sarah and I'm a bit obsessed with Russia. This also happens to be one of the best books about modern Russia I have ever read. It's lengthy, but it won't feel like that. Once you get started, you'll lose track of everything around you, so get all your other important tasks done first. This one won't let you go.
---
Guest House for Young Widows charts the different ways women were recruited, inspired, or compelled to join the militants. Emma from Hamburg, Sharmeena and three high school friends from London, Nour, a religious dropout from Tunis: all found rebellion or community in political Islam and fell prey to sophisticated propaganda that promised them a cosmopolitan adventure and a chance to forge an ideal Islamic community where they could live devoutly without fear of stigma or repression.
It wasn't long before the militants exposed themselves as little more than violent criminals, more obsessed with power than the tenets of Islam, and the women of ISIS were stripped of any agency, perpetually widowed and remarried, and ultimately trapped in a brutal, lawless society. The fall of the caliphate only brought new challenges to women no state wanted to reclaim.
Moaveni's sensitivity and reporting makes these forgotten women indelible and illuminates the turbulent politics that set them on their paths.
This one… you won't forget it. There are a few issues with this book. Too many women, I think, which made it feel a bit disjointed, but it's FASCINATING. This book tells the story of a number of women, and how and why they found themselves in Isis. Happy and sad stories, but really poignant and important.
---
Virginal, chaste, humble, patiently waiting for rescue by brave knights and handsome princes: this idealised – and largely mythical – notion of the medieval noblewoman still lingers. Yet the reality was very different, as Kelcey Wilson-Lee shows in this vibrant account of the five daughters of the great English king, Edward I. The lives of these sisters – Eleanora, Joanna, Margaret, Mary and Elizabeth – ran the full gamut of experiences open to royal women in the Middle Ages. Living as they did in a courtly culture founded on romantic longing and brilliant pageantry, they knew that a princess was to be chaste yet a mother to many children, preferably sons, meek yet able to influence a recalcitrant husband or even command a host of men-at-arms.
Absolutely astounding story of the life of highborn women as explored through the daughters of Edward I. This gave me so many historical details, and insight into life in this day and age. Stunningly written, and absolutely absorbing. Cannot recommend enough.
---
Betrayed by those he trusted. Resurrected by a man he should loathe. A head full of memories he didn't make. Rook is forced into a bargain that might kill him if he refuses, and if he accepts, could mean the end of existence. Trapped in a shadow war between necromancers, his choices are dwindling to one: Cut a bloody swathe of revenge across humanity's last remaining city.
Lucious and dark, stunning prose and a nice, twisted story, this is my kind of book through and through. Snyder is an author who knows how to deliver a gut-punch, and then leave you begging for more. This book put him on my radar, and made him a solid instant-buy author for me.
---
No one escapes the Pit.
At just fifteen Eskara Helsene fought in the greatest war mankind has ever known. Fought and lost. There is only one place her enemies would send a Sourcerer as powerful as her, the Pit, a prison sunk so deep into the earth the sun is a distant memory. Now she finds herself stripped of her magic; a young girl surrounded by thieves, murderers, and worse. In order to survive she will need to find new allies, play the inmates against each other, and find a way out. Her enemies will soon find Eskara is not so easily broken. 
Another book I edited. I really enjoyed this entire trilogy. It was, perhaps, Hayes's world building that grabbed me the most. No detail was overlooked. No stone left unturned. Everything served the plot, and developed the characters. It was really an interesting experience, to edit a novel for an author who is so thorough in literally everything. Fantastic story, told well, by an author who deserves all the praise he gets. I loved this one.
---
A groundbreaking biography that recreates the cosmopolitan world in which a wine merchant's son became one of the most celebrated of all English poets
More than any other canonical English writer, Geoffrey Chaucer lived and worked at the centre of political life—yet his poems are anything but conventional. Edgy, complicated, and often dark, they reflect a conflicted world, and their astonishing diversity and innovative language earned Chaucer renown as the father of English literature. Marion Turner, however, reveals him as a great European writer and thinker. To understand his accomplishment, she reconstructs in unprecedented detail the cosmopolitan world of Chaucer's adventurous life, focusing on the places and spaces that fired his imagination.
Uncovering important new information about Chaucer's travels, private life, and the early circulation of his writings, this innovative biography documents a series of vivid episodes, moving from the commercial wharves of London to the frescoed chapels of Florence and the kingdom of Navarre, where Christians, Muslims, and Jews lived side by side. The narrative recounts Chaucer's experiences as a prisoner of war in France, as a father visiting his daughter's nunnery, as a member of a chaotic Parliament, and as a diplomat in Milan, where he encountered the writings of Dante and Boccaccio. At the same time, the book offers a comprehensive exploration of Chaucer's writings, taking the reader to the Troy of Troilus and Criseyde, the gardens of the dream visions, and the peripheries and thresholds of The Canterbury Tales.
By exploring the places Chaucer visited, the buildings he inhabited, the books he read, and the art and objects he saw, this landmark biography tells the extraordinary story of how a wine merchant's son became the poet of The Canterbury Tales.
I don't even know. I haven't reviewed this book yet, mostly because I don't know how. The short of it is READ THIS BOOK. The long of it is… more complex. This, and Dragon Mage are probably my favorite reads this year. This one tells of life in the 1300's, using Chaucer as a vehicle to tell the story. While it is about him, the person, it is also equally about the cities and places he found himself in. It's absolutely INCREDIBLE. I can't even really distill it more simply than that. Just, read this book because WOW.
---
A queen of a divided land must unite her people, even if they hate her, even if it means stopping a ruin that she helped create. A debut epic fantasy from an exciting new voice.

"I murdered a man and made my husband leave the night before they crowned me."

Born under the crumbling towers of Oren-yaro, Queen Talyien was the shining jewel and legacy of the bloody War of the Wolves that nearly tore her nation apart. Her upcoming marriage to the son of her father's rival heralds peaceful days to come.

But his sudden departure before their reign begins fractures the kingdom beyond repair.

Years later, Talyien receives a message, urging her to attend a meeting across the sea. It's meant to be an effort at reconciliation, but an assassination attempt leaves the queen stranded and desperate to survive in a dangerous land. With no idea who she can trust, she's on her own as she struggles to fight her way home. 
You know, I got this book because I saw "Bitch Queen" and felt a certain solidarity there. I ended up being so extremely glad said solidarity was there because this book blew my socks off. It's not your typical fantasy, and the writing was just beyond fantastic. I read this as much to soak in the prose as I did the plot. The two balanced each other perfectly, and I'm eagerly planning to move on with the series ASAP.