Well, you may or may not have seen it on Facebook and Twitter already, but just in case, I figured I'd put up the cover art on my website, and then talk a little bit about this book, what it's about, where the idea came from, where it's going, etc.
So, here's the cover.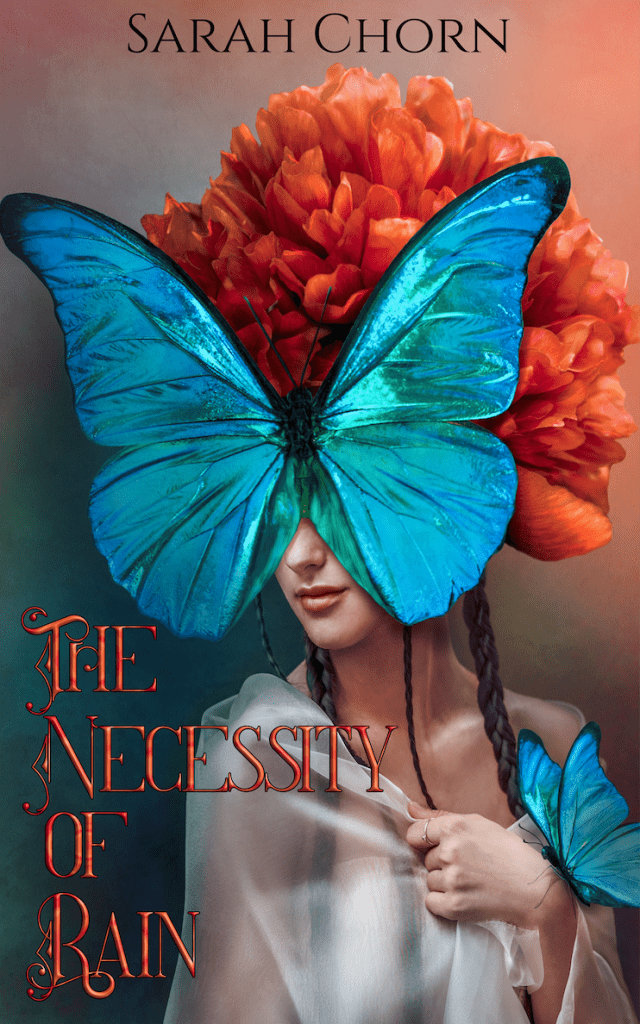 ETA: November/December 2021
The god-ruled city of Meadowsweet has been at peace for a millennia. 

Divided between deities Aether and Oceana, Meadowsweet thrives in harmony. In a place where prayers are currency and worship is obligation, life is prescribed and comfortable for most. However, when Father Luna, interloper god, arrives with a strange girl in tow, the balance of power shifts. Suddenly, everything is in peril.

Gambled away by a father she hardly knows, Rosemary finds sanctuary in Father Luna. Soon, she is thrust into the center of a divine conflict. When everything she loves hangs by a thread, Rosemary realizes she has the power to change the game, but at the cost of her soul. To survive, she must reveal who she truly is. 

When gods go to war, the world trembles.

When the gods move, nothing is sacred. 
---
Basically this book came out of a love of gardening mixed with my need to sort of purge Shine Territory from my system while I let ideas for An Elegy for Hope gestate in my hindbrain.
I'm a person who always has a project I'm working on, and it helps me to write something completely different between books. It cleans out my mental processes, but it also forces me to flex different muscles and prepares me to work on whatever comes next. The Necessity of Rain is very different than my other stuff, and I think that's exactly what I need… a midpoint between the secondary Wild West of Shine Territory, and the Eastern European flavored Bloodlands series.
I needed to work on something a bit more lyrical, dealing with issues of divinity, and more about the evolution of the soul. All of those elements put me in the mindset for my Bloodlands series, and it's not really present in the way I need it to be in my Shine Territory novels. I needed a halfway point to switch with my gears from the Wild West, to something a bit more… fantasy, religious, divine, and poetic, so I felt less like I was taking a hard right turn, and more like I was gradually moving along a sloping path.
Creative whiplash is a thing.
The Necessity of Rain takes place in a secondary world with pockets of life, each one ruled over by landlocked gods (they cannot leave the area they rule over) and connected by these land bridges that are sort of there but not there at the same time. Meadowsweet, the city featured in this novel, has a 1920's flavor and is ruled over by brother and sister gods Aether and Oceana. The currency is prayers stamped on coins (I particularly love this). Each time you spend a coin, your prayer basically feeds the gods (two prayers to ride the trolly, one prayer to enter the local nightclub, etc.). There's jazz music, and gramophones, electric lights, trollies and all that.
And, of course, power struggles. Turns out, when gods get bored they sort of… poke at each other.
There is a flower-based magic system, which is where my love of gardening comes in. This has been so fun to develop.
As with all my stuff, there is LGBTQIA+ and disabled protagonists.
Currently I'm looking at this as a standalone. If people like it enough, I could easily see it turning into a series of standalone novels, each one featuring a different bit of god-ruled land. We'll see.
I didn't really expect this book to take off the way it has, but it's flowing very naturally. I'm having a lot of fun with it, but it is also giving An Elegy for Hope time to really take form and shape, and when I do write it (I've got about 25k written) it flows so much easier than I thought it would.
Right now I think The Necessity of Rain should appear somewhere toward the end of the year. I don't have any pre-order links or anything yet, but when they arrive I will announce them. At this moment, I guess I'm just trying to get used to talking about this book, which is so very different than my other stuff and, for whatever reason, that has me incredibly nervous.
As for the rest of my stuff, Glass Rhapsody is just about ready to send to reviewers. I should have ARCs ready by the first week of June, so if you want one, let me know. An Elegy for Hope is right on schedule for a March release, and after that, I'll take my Sefate books from Shine Territory to Union City. The Reason for Stars is my first Union City book. It's basically prohibition and Gaslamp fantasy, with shine. You'll be able to read the Union City books without having read the Shine Territory books first. Both series interweave, but they are entirely their own beasts.
So that's about it.
Expect to see more about this, and my other projects, soon.