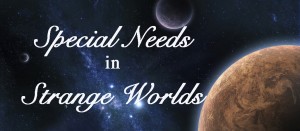 First, I have the wonderful Elspeth Cooper and her fantastic guest post "Disability in Fantasy" to thank for the idea to get this event rolling. Secondly, I have to thank my disabled big brother Rob, the person who got me started reading fantasy in the first place, for his comment, "Finally, someone's talking about how people like me can be important, too," for giving me the courage to do this event. I also need to thank Dan Goodman for thinking of the title "Special Needs in Strange Worlds" because without him, this month would be named something amazingly creative like "Theme Month."  Finally, I have to admit that I was going to post this tomorrow, but tomorrow is my birthday and I want to spend it planting herbs rather than blog posting, so it's going up today instead.
Now, onto the meat of the event.
I never really thought about disabilities in SF&F before this last year, when I had my first encounter with being a disabled person myself. First, I think battling cancer, any kind of cancer, can be disabling at times. Secondly, on Valentines Day in 2011, when I was barely into my second trimester of pregnancy, I reached into the closet to get something and felt this incredible rip up my spine and down my right leg. Due to this rip (which ended up being two vertebrae tearing and two more bulging and leaking fluid while smashing the nerve root that controlled the function of my right leg) I spent six months of my pregnancy unable to walk and in unbelievable pain. This gave me an incredible new respect and moderate understanding of disabilities. What I realized during this time was that sometimes I wanted to read a book with an imperfect protagonist. I also learned that, not only do I enjoy imperfect characters more than others, I also tend to think they are more realistic. Life isn't perfect. Things happen and I enjoy the books and characters that reflect the challenge life can be, and the battles we all have to face.
We all have our own problems to face, but what I found incredible during the organization of this event, was how many people are yearning to talk about, or see what people have to say, about disabilities in SF&F; and how many people are either afraid to talk about it because it's a sensitive issue, or can't think of anything to say because no one has brought attention to it before. That really says something right there. We can think of pages of authors to talk about women in SF&F, or abuse in SF&F or anything like that, but when faced with the topic of disabilities in SF&F there is a long silence and then a few brave voices think of something really astounding to say.
Therefore, I really must thank the people willing to take time to think of things to write about, and then actually write about them. I have some amazing posts lined up for this month by some incredible authors and bloggers. I'm not kidding you when I say that all of these posts either gave me chills because they were so touching, or gave me days of things to think about. Regardless of who you are and what your stripe is, the topic of disabilities in SF&F is untapped and I'm thrilled to finally give it the limelight it deserves through these wonderful, insightful and inspiring individuals.
Please give the people who post during this event a warm welcome, and thanks to everyone who even entertained the idea of participating, you all really helped me out quite a bit, whether you realize it or not. I also have to thank everyone who is participating in this event for coming up with material on such short notice. I am facing some cancer stuff this month, and quite honestly, I'm terrified, so these guest posts really give me the time I need to find the strength in myself to face this mountain of drama shadowing my immediate future.
So here's how it'll work:
Each week I will have at least 3 guest posts (some are still coming in so the actual amount of guest posts each week may increase) and I will try to review one book that is applicable to the theme each week. At the end of each week I will post a weekly wrap up so people can see what was posted and what will be posted in the week ahead. At the end of the event I will write some closing thoughts.
So here it is who will be posting during this first week of Special Needs in Strange Worlds:
April 30 – Robert Jackson Bennett
May 1 –  Kendra Merritt
May 2 – Giveaway announced
May 3 – Carol Berg
May 4 – Paul Weimer (reviewer on Functional Nerds and SF Signal as well as podcast guest extraordinaire)
I am incredibly excited about this event, and I sincerely hope you will enjoy it as much as I have.