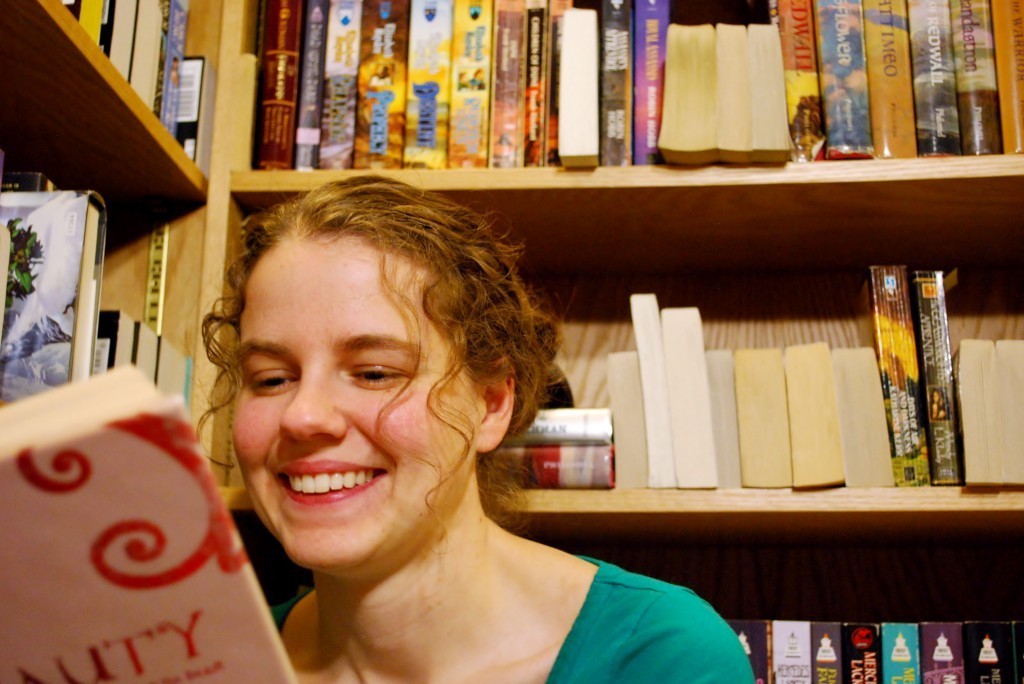 About the Author
Books have been Kendra's escape for as long as she can remember. She used to hide fantasy books behind her government textbook in high school, and she wrote almost an entire novel during a semester of algebra. When she was twenty-one, she had a bad reaction to an epidural during a scoliosis surgery that resulted in partial paraplegia. While she was in rehab learning to walk again, she realized that all the heroic characters she read about could run and jump and swing a sword. She never saw any that looked and walked like she did now. That's why she writes fantasy where the heroes kick butt with whatever they can find: canes, crutches…wheelchairs. She writes for anyone who's ever felt different. She can be found every Friday over at www.kendramerritt.com where she talks about writing, reading, and life with a disability, and how those three collide.
Read Kendra's post during last year's Special Needs in Strange Worlds here. 
A Different Kind of Hero
Seven years ago, I sat in a hospital gym in Houston trying to wiggle the toes on my left foot. My therapist reminded me my tongue was sticking out, and I sucked it back in and tried harder. Not even a budge…in case any of you thought I was Uma Thurman. We quit for the day, and as I rolled back to my room, I promised myself tomorrow would be the day. Spoiler alert: tomorrow wasn't the day. But eventually I did get those piggies wiggling and three months later I staggered down the aisle at my wedding.
There's a surprising amount of downtime while you're learning to walk. In between wheeling a walker around the pool and learning to cook from a wheelchair, I read. I've been a devourer of books for as long as I can remember, and my time in the hospital was no different. As always, I read to escape, except this time, I was running from a lot more than the hum drum existence of a biology major with good grades.
Sorry. This paints kind of a bleaker picture than I intended. I was by no means well-adjusted, but also I wasn't about to wheel myself off the roof. I was just looking for comfort from a familiar source. And I found myself oddly unsatisfied.
Why? I'd been reading fantasy for twenty-one years and never felt this strange disconnection before. I loved watching the mage/paladin/assassin stride through a battle, swinging his staff/sword/dagger to smite the tyrant/orc/demonlord… And there it was. I couldn't do any of that anymore. Striding, swinging, smiting was all in the past for me. Not that I made it a habit to jump unsuspecting bad guys on my college campus, but that's not the point. I read my favorite stories and heard an insidious little voice that said, "You can't do that. You can't be a hero."
I don't hear that voice as often now. Seven years and I've beaten the fight out of the little bugger. I can still relate to the sword swinging ninja with all the physical attributes of Michelangelo's David. But it hasn't been the same since. My injury didn't just affect how I walk but also how I read. Now I'm looking for the flaws. I'm looking for the weaknesses. And I'm looking for ways to live with them, beat them back and overcome them.
I've found some, a lot more than I expected when I first started looking. Those characters, those people, are the ones who have helped me reclaim my heroism. And sometimes my villainy (let's not forget the disabled antagonist).
We all need heroes, yes. But we all need to be heroes, as well. We need to look at the page and see a little bit of ourselves. Lucian reflects our faith. Eugenides has our resourcefulness, Melody our voice, Helva our strength, and Miles our tenacity.
I look at them and see me. I look at them and see a