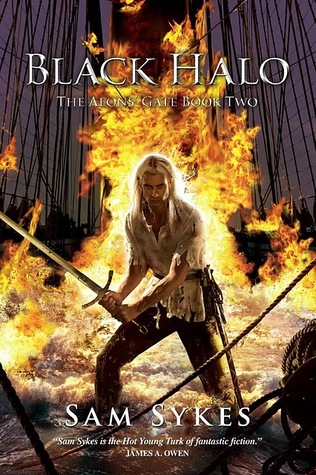 About the Book
The Tome of the Undergates has been recovered, and the gates of hell remain closed. Lenk and his five companions set sail to bring the accursed relic away from the demonic reach of Ulbecetonth, the Kraken Queen, but their ship crashes upon an island made of the bones left behind from a war long dead. And it appears that bloodthirsty alien warrior women, fanatical beasts from the deep and heretic-hunting wizards are the least of their concerns. Haunted by their pasts, plagued by their gods, tormented by their own people, their greatest foes may yet be themselves. The reach of Ulbecetonth is longer than hell can hold.
549 pages (paperback)
Published on March 22, 2011
Published by Pyr
Author's webpage
This book was provided for my review by the publisher.
You can purchase a copy of this book by clicking on the following link: Black Halo (The Aeons' Gate, Book 2)
,
——
Somewhere in the span of my chaotic health these past few years, I read this book, thought I reviewed it, and didn't. Then the author emailed me, kindly asking me to review the book I read and I apologized a million times and said I would get it done as soon as my mind was properly functioning again. I still feel like a total ass for forgetting to review the last two books in his series, so I'm making it right.
The thing is, Sykes proved he was one hell of a writer in Tome of the Undergates. He proved that he was also a versatile author. He can write some intense, realistic battles and mix it with some of the most peaceful, beautiful passages I've seen in such a violent book. Interspersed with all of this was some fantastic humor that I've come to associate with Sykes.
Now, he did all of that in his first book. He established himself as one hell of an author with a wide range of skills. In Black Halo, he takes everything he proved himself capable of in Tome of the Undergates and perfected it. The humor is more biting, the violence is more tempered and paced and the slow, easy and peaceful scenes are moreso. In fact, everything in Black Halo is more.
Sykes has tempered himself in the second installment in the series. Everything is paced perfectly, from his writing to his plot, but the true shock is how much growth the reader will see in the author between the first and second books of this series. That's really saying something, considering how impressive of a debut Tome of the Undergates was.
Perhaps most impressively is how Sykes has so carefully decided to expand his world. Tome of the Undergates mostly takes place on a ship. Now, Sykes shows what the rest of the world contains. He adds new characters, new cultures and peoples, and expands the magic system. This is rather necessary for a reader like me, who gets rather bored with plots that don't go much further than the deck of a ship. In fact, it feels as though most of what happens in Black Halo is expansion, with both the world and the characters and the way Sykes accomplishes this is absolutely delightful.
I should note that the expansion of his world shows just how imaginative Sykes truly is. As a reader, you never really know what you are going to face from page to page, and that's a true delight. The world isn't your standard fantasy European-esque influenced fare. In fact, Sykes seems to make a point of ensuring that his world is anything but. The fact that he works so hard at keeping everything so fresh and unique is incredibly refreshing when you consider how much fantasy seems to lack incredibly unique elements these days.
Perhaps the only drawback to Black Halo is its distinct middle-of-the-series feel. The plot trots on in its own way, but it feels like the main focus is truly on relationships and Sykes focuses on these well while he expands his world. Relationships develop between characters. Sykes explores interpersonal character development as well, specifically in the case of Lenk, who is fascinating with his questionable sanity. While these character explorations and developments are absolutely fascinating, they do seem to distract from the moving the plot forward until the last bit of the book.
One thing that I admire most about Sykes is how versatile he is (I know, I've said that before). While he can be incredibly brutal, he doesn't shy away from the more intimate explorations of his characters and their relationships. This harkens back to his versatility as an author. It's such an incredibly admirable trait for an author and Sykes uses his versatility well to further his plot and character development. Usually authors tend to focus either on character development or plot progression, but with Sykes' versatility, he manages to focus on both and do so masterfully.
Despite the middle-of-the-series feel, Sykes proves himself to be a fantasy grandmaster. Black Halo expands the world, explores the depths of his characters, introduces new people and cultures and welcomes new plot twists. Sykes writing style is also more mature with pacing that only comes with time and practice. Black Halo is a hell of a book, despite its small flaws, and great continuation to one incredibly unique, memorable, and worthy series.
4/5 stars