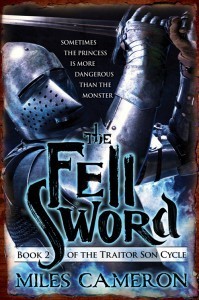 Miles Cameron is an author who has made some waves with his impressive debut book, The Red Knight. I, personally, really enjoyed the book, and I absolutely loved his twist on history. Soon, Cameron is releasing the highly anticipated second book in his Traitor Son Cycle, called The Fell Sword.
I love historical fantasy, and I loved how Cameron made his historical fantasy unique, refreshing, and educational. He really crafted something special with The Red Knight, and I have The Fell Sword looking at me, so I expect to start that one within a few days.
With all of that said, you can probably understand why I am so excited to have Cameron over here on Bookworm Blues today, talking about… well, read it and find out. Cameron has a great perspective, and is a very nice guy for taking the time to write this up. I sincerely hope that you guys give his books a shot. They are worth your time.
(By the way, I absolutely love that cover art.)
—
Choosing A Favorite Historical Period
My favorite historical period is hard to pin down because I truly love the whole history of mankind, and the older I get, the fewer racial/gender/national biases seem to affect me.  I love Han China; I love ancient Greece; I love Muromachi Japan and Italy during the time of Boccaccio and France under Richelieu and Charles XII of Sweden and Voltaire's france and pre-contact America and just about any other period you can name.
I can lose days of my life to finding an interesting book (preferably with pictures of artifacts) in a rummage sale or a flea market.  Vikings?  Cool.  Irish monks?  Also cool.  Trip to Mull (an island in the inner Hebrides and home of my particular variety of Cameron) and an instant interest in crannogs.  And possibly Picts.  Trip to Venice? How about Rwanda?  Really, it just goes on and on.
I gather there are people for whom history is boring or trite or sad, but I'm not one of them.  But if you make me choose I suspect I'd take the late Bronze Age.  We don't even know what happened to them, but we know they were well on their way to a high standard of living (in some places) and ecological disaster (in others).
Or maybe the mid to late eighteenth century in Europe—the Enlightenment.  The clothes are good for men and women.  The small sword is a beautiful, deadly weapon, as is the flintlock pistol.
Or perhaps the later Middle Ages in Europe—brilliant martial arts (I'm a fan and a practitioner) and good clothes and magnificent high culture.  Not too good if you get the plague or are born a serf.  Classical Greece?  Superb art, great philosophy, magnificent buildings, athletics, and a better than fifty-fifty chance of being born to lifelong miserable slavery and degradation.
All in all, right about now in the western world is probably the best available—health care, tampons, toilet paper, bic lighters and smart phones and international travel via jet plane are strong recommendations, as are our slightly more enlightened attitudes to race and gender and a few other things.  I think that people—especially fantasy readers—tend to dismiss the modern era as 'unromantic' and 'boring,' but that's just because they aren't in the military or born in Somalia or Burma.  There remains plenty of adventure, for those who want it.  My suspicion, though, is that adventures are often best read about at a distance…
—
About the Author
Is a military veteran and historian.
He has a degree in Medieval History and lives with his wife and daughter in the most multi-cultural city in the world. There's also a cat. So far, no horse.
However, there are a great many pieces of armour, swords, pole-axes, tents, camp kettles, bits of horse harness, and other guarantees that the author spends far too much money on reenacting.
In the course of his military career, the author served both in combat roles and on staffs—and had the opportunity to give orders and take them, and to watch the modern equivalents of Kings and Constables and the like make decisions, both good and bad.
The author also served for a while in the deep and dark worlds of electronic warfare, and would be the first to admit that his Neo-Platonic magic system is deeply tinged with personal experiences of detecting an adversary's transmissions and using his own signals as a beacon for a counter-strike.
And finally, the author loves the deep wilderness—loves to camp six miles from a road—using only 14th century or 18th century camping techniques and equipment. The author feels—right or wrong—that when you are deep in the Metcalf Lake region of the Adirondack Mountains (or the Serengeti) , anything might happen. Everything is possible. Just walk out of the circle of firelight into the waiting darkness, and feel the Wild.
That's not fantasy.