Another week has passed. More books have been read  (Currently I am really devouring Blindsight by Peter Watts. Wow, this one is seriously blowing my mindhole.). There isn't much in the way of updates to report. It's been slow over here, and that depresses me. Oh well.
The SF Signal podcast where I was lucky enough to actually talk to some of my all-time favorite authors went live (Tad Williams, Kate Elliott, Felix Gilman and Laura Resnick). Check it out here. 
Other than that, zero.
So…. onto Books I'm Eyeing.
Here are the books I'm eyeing. What books are you eyeing?
—
The Godless – Ben Peek
Discovery blamed on: A fantastical Librarian
About the Book
The first in a crackling, unputdownable new epic fantasy series, introducing a fascinating, original new world and an incredible heroine.

The Gods are dying. Fifteen thousand years after the end of their war, their bodies can still be found across the world. They kneel in forests, lie beneath mountains, and rest at the bottom of the world's ocean. For thousands of years, men and women have awoken with strange powers that are derived from their bodies.

The city Mireea is built against a huge stone wall that stretches across a vast mountain range, following the massive fallen body of the god, Ger. Ayae, a young cartographer's apprentice, is attacked and discovers she cannot be harmed by fire. Her new power makes her a target for an army that is marching on Mireea. With the help of Zaifyr, a strange man adorned with charms, she is taught the awful history of 'cursed' men and women, coming to grips with her new powers and the enemies they make. Meanwhile, the saboteur Bueralan infiltrates the army that is approaching her home to learn its terrible secret.

Split between the three points of view, The Godless' narrative reaches its conclusion during an epic siege, where Ayae, Zaifyr and Bueralan are forced not just into conflict with those invading, but with those inside the city who wish to do them harm.

The first installment of an exciting new epic fantasy series, The Godless is a fast-paced page turner set in an enthralling new world, perfect for fans of Joe Abercrombie and Brent Weeks
—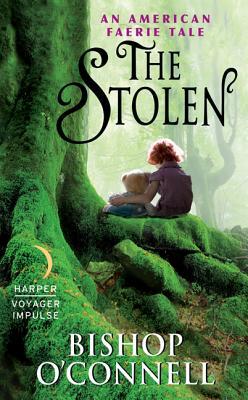 The Stolen – Bishop O'Connel
Discovery blamed on: My Bookish Ways
About the Book
Tonight, for the first time in over a century, a mortal child will be kidnapped by faeries.

When her daughter Fiona is snatched from her bed, Caitlin's entire world crumbles. Once certain that faeries were only a fantasy, Caitlin must now accept that these supernatural creatures do exist—and that they have traded in their ancient swords and horses for modern guns and sports cars. Hopelessly outmatched, she accepts help from a trio of unlikely heroes: Eddy, a psychiatrist and novice wizard; Brendan, an outcast Fian warrior; and Dante, a Magister of the fae's Rogue Court. Moving from the busy streets of Boston's suburbs to the shadowy land of Tír na nÓg, Caitlin and her allies will risk everything to save Fiona. But can this disparate quartet conquer their own inner demons and outwit the dark faeries before it's too late?
—
Netwars – M. Sean Coleman
Discovery blamed on: SF Signal
About the Book
Netwars: The Code. A high-tech serial thriller from the dark side of the net. Episode 1.

Welcome to the Deep Web. Those parts of the internet no search engine explores. The place where you can buy anything. Drugs, children, weapons. 
Anyone can do it. And get away free. 

Anthony Prince, head of PrinceSec, a firm which provides high-tech security for the government and major corporations, dies in a plane crash when crossing the English Channel. Responsible for Prince's death is a hacker named Strider. His real name is Scott Mitchell and in his day job at the National Cyber Crime Unit he uses legitimate means to get the bad guys. As Strider, his means are less legal. On the same night, PrinceSec is the target of a cyber-attack. When the NCCU is called to assess the damage, a link is found between Prince and a criminal hacker group called Black Flag. The race is on for Mitchell to protect his identity as Strider and to stop Black Flag before it's too late.
—
The Bullet Catcher's Daughter – Rod Duncan
Discovery blamed on: The Skiffy and Fanty Show
About the Book
Elizabeth Barnabus lives a double life—as herself and as her brother, the private detective. She is trying to solve the mystery of a disappearing aristocrat and a hoard of arcane machines. In her way stand the rogues, freaks and self-proclaimed alchemists of a travelling circus. But when she comes up against an agent of the all-powerful Patent Office, her life and the course of history will begin to change. And not necessarily for the better.