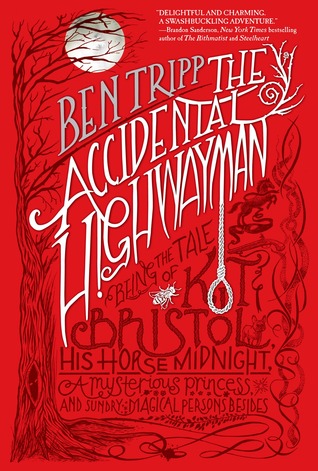 About the Book
The Accidental Highwayman is the first swashbuckling adventure for young adults by talented author and illustrator, Ben Tripp. This thrilling tale of dark magic and true love is the perfect story for fans of William Goldman's The Princess Bride.
In eighteenth-century England, young Christopher "Kit" Bristol is the unwitting servant of notorious highwayman Whistling Jack. One dark night, Kit finds his master bleeding from a mortal wound, dons the man's riding cloak to seek help, and changes the course of his life forever. Mistaken for Whistling Jack and on the run from redcoats, Kit is catapulted into a world of magic and wonders he thought the stuff of fairy tales.
Bound by magical law, Kit takes up his master's quest to rescue a rebellious fairy princess from an arranged marriage to King George III of England. But his task is not an easy one, for Kit must contend with the feisty Princess Morgana, gobling attacks, and a magical map that portends his destiny: as a hanged man upon the gallows….
Fans of classic fairy-tale fantasies such as Stardust by Neil Gaiman and will find much to love in this irresistible YA debut by Ben Tripp, the son of one of America's most beloved illustrators, Wallace Tripp (Amelia Bedelia). Following in his father's footsteps, Ben has woven illustrations throughout the story.
304 pages (hardcover)
Published by Tor
Published on October 14, 2014
Buy the book
This book was sent for me to review by the publisher.
—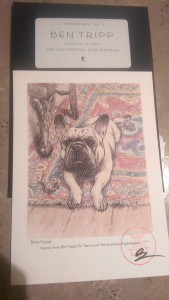 This is the first novel I've read by Ben Tripp. It's also the first time I have received author art in the book I got from the publisher for review. I'm not a huge fan of young adult books, so I put this one off until I saw the signed author artwork. Then that got me excited and I started reading it.
You know what? I was pleasantly surprised.
The Accidental Highwayman is a rather charming tale of a young man thrust into a situation he doesn't understand in a world that is far more complex and layered than he expected it to be. Parallels between this book and The Princess Bride are perfectly accurate. Written in an easy style that reads like you'd expect a rather accessible fairytale to read, The Accidental Highwayman is one of those rare jewels that will suck you in quickly, and leave you aching for the next book in the series.
Kit Bristol is a sort of everyman for the 18th century in England. He works hard and barely gets buy, having been rescued from a life of poverty, begging, and performing by his master Whistling Jack. Kit is impossible to hate. Readers will instantly warm up to him. He has an easy way about him. He's easy to understand, and his voice is personable enough that when he's explaining aspects of society that readers might not understand, you'll never really feel beat over the head with it.
Kit ends up a highwayman quite by accident, which makes the title of this book absolutely accurate. The fact that he ends up in that profession accidentally leads to some quite interesting and rather well executed moral quandaries that many young people will relate to, and even more will sympathize with. He's a character that grows – his life demands that from him, and Tripp thought out his character growth quite well.
As I mentioned above, this book drops some words and cultural practices, both fae and actual historical cultural points – that readers might not be familiar with. There are footnotes scattered throughout the book which elaborate and illuminate. While The Accidental Highwayman was a lot of fun to read, the footnotes are also quite educational, and the blend of "real" and "fae" details make them not just educational but also a lot of fun. It's rather rare that I find a book that balances the fun and educational aspects so well. It's obvious that Tripp did his research, and it's even more obvious that he sincerely cared about how his informative facts would be received by readers.
The plot moves very quickly and is full of a ton of action and adventure. While some of the plot elements feel a little less than unique, they are balanced nicely by the unique elements, and the absolutely fantastic writing. Also, lets not forget to mention the incredible illustrations sprinkled throughout the book. While some of the events do feel a little glossed over, and others might take a little too long, they all work together to create the sort of book that appeals to adults and the younger young adult crowd as well.
The Accidental Highwayman has everything you'd want in a book of this sort, complete with a fairy princess. While the secondary characters don't feel as fleshed out as the main characters, readers won't really mind. This isn't a book about the people who travel along with Kit. This is a book about Kit and the writing reflects that. The magical aspect of the world is flawlessly inserted, and done in such a way that it feels natural and believable. Tripp shows the clashing of cultures and how a complex world like the one he created would impact an unsuspecting person.
There are some books that the author wrote with obvious love, and this is one of them. I can just tell that Tripp had a great time writing this one, drawing the pictures, adding the footnotes and doing research. The Accidental Highwayman book didn't feel like a homework assignment to read. It was a lot of fun and swept me off my feet. While it does have some issues here and there, they aren't prominent enough to really bother me in the least. I can't wait for more of Kit and company. Tripp's enthusiasm for this book was infectious. It bled into me as I read, and I'm glad it did. I needed to be swept off my feet, and this book did just that.
4/5 stars