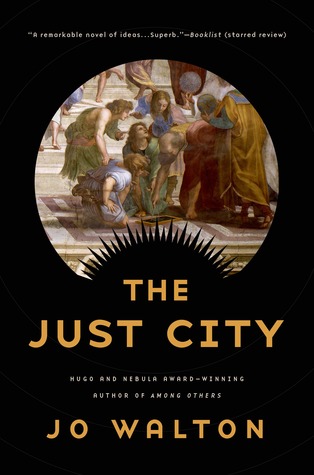 About the Book
"Here in the Just City you will become your best selves. You will learn and grow and strive to be excellent."

Created as an experiment by the time-traveling goddess Pallas Athene, the Just City is a planned community, populated by over ten thousand children and a few hundred adult teachers from all eras of history, along with some handy robots from the far human future—all set down together on a Mediterranean island in the distant past.
The student Simmea, born an Egyptian farmer's daughter sometime between 500 and 1000 A.D, is a brilliant child, eager for knowledge,  ready to strive to be her best self. The teacher Maia was once Ethel, a young Victorian lady of much learning and few prospects, who prayed to Pallas Athene in an unguarded moment during a trip to Rome—and, in an instant, found herself in the Just City with grey-eyed Athene standing unmistakably before her.
Meanwhile, Apollo—stunned by the realization that there are things mortals understand better than he does—has arranged to live a human life, and has come to the City as one of the children. He knows his true identity, and conceals it from his peers. For this lifetime, he is prone to all the troubles of being human.
Then, a few years in, Sokrates arrives—the same Sokrates recorded by Plato himself—to ask all the troublesome questions you would expect. What happens next is a tale only the brilliant Jo Walton could tell.
368 pages (Hardcover)
Published on January 13, 2015
Published by Tor
Author's webpage
Buy the book
This book was sent for me to review by the publisher.
—
I was lucky enough to get this novel very, very early. The people at Tor tend to surprise me early with anticipated books on occasion, and I can never thank them enough. This one arrived a few months ago. I tried to put off reading it until closer to publication date, but I was recovering from surgery, and this book was looking at me. I read it in about a day.
I couldn't put it down.
You can stop reading my review right now. That pretty much says everything you need to know. The Just City is absolutely unputdownable.
The first thing you should know is that this book really isn't your typical novel. While it follows the story of two protagonists, this book reads more like the exploration of a social experiment (which is exactly what it is) than anything else. For some readers, that might be the breaking point. It might feel a bit too meandering, a little too directionless for some individuals. For others, those qualities might be part of the unique flavor that makes it so easy to savor.
Jo Walton is no stranger to writing. The woman is positively prolific. She's won a ton of awards, and has been nominated for even more, and there's a very real reason for that. To put it simply, she can write. She pulls out all the stops in The Just City, using every bit of her talent to tell one of the most incredibly compelling stories I've come across in a while.
The Just City is, as I said above, a social experiment, and Walton never hides that fact. In fact, that's the strength of the novel. The story follows a few characters closely, each from different points of history. These intimate perspectives add a lot to the novel, giving it a well-rounded dimension, and insights that one point of view would have been able to accomplish. An adult woman from Victorian England is going to understand and come to the Just City with a different perspective than a young farmer girl from ancient Egypt. The use of different historical periods all meshing together in this social experiment setting was absolutely genius.
The amount of research that Walton had to do to pull this sort of novel together boggles my mind. So many romanticized concepts are dealt with in a realistic way that strips a lot of the romance from it. That's probably what I liked about the book the most. Plato is so highly respected, but Walton not only researches his theories, but she boldly questions them. The waters get muddied, and some of the ideas that we admire so much turn out to be far less appealing than we expected.
The ending is fantastic, things fracture and come to a head in a way that is absolutely true to the novel itself. However, the ending, while wrapping things up, nicely, opens up a whole new bucket of worms that I'm excited for Walton to explore. The world will probably open up, and the ending gives Walton room to explore more than just Plato, but other concepts and ideas that are just as groundbreaking and fundamental as those she addresses in The Just City.
The Just City is a lot of things. It's completely different, with a tone and a pace that will either make or break readers. It's a social experiment that challenges a lot of romanticized notions and comes up with some uncomfortable answers to questions posed. The characters are real and add a lot of dynamic to the book as a whole, but really, it's Jo Walton's stunning writing and the staggering amount of research she put into the novel that make it shine.
For the first book in a series, this was a groundbreaking work that only hints at more incredible things to come. Full of potential, and mindboggling in scope, The Just City is absolutely one of a kind. It's uncomfortable, raw, challenging and fantastic. This is, hands down, my favorite Jo Walton book yet. An absolute must read.
5/5 stars