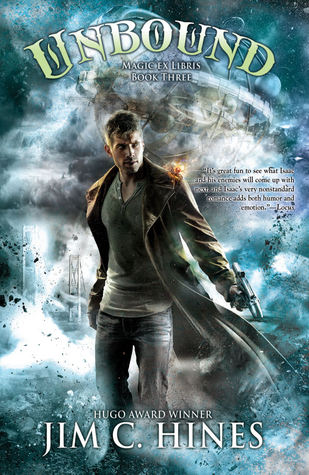 About the Book
For five hundred years, the Porters have concealed the existence of magic from the world. Now, old enemies have revealed the Porters' secrets, and an even greater threat lurks in the shadows. The would-be queen Meridiana, banished for a thousand years, has returned in the body of a girl named Jeneta Aboderin. She seeks an artifact created by Pope Sylvester II, a bronze prison that would grant her the power to command an army of the dead.
Michigan librarian Isaac Vainio is powerless to stop her, having been stripped of his power and his place among the Porters by Johannes Gutenberg himself. But Isaac is determined to regain his magic and to rescue his former student Jeneta. With no magic of his own, Isaac's must delve into the darker side of black-market magic, where he will confront beings better left undisturbed, including the sorcerer Juan Ponce de Leon.
With his loyal fire-spider Smudge, dryad warrior Lena Greenwood, and psychiatrist Nidhi Shah, Isaac races to unravel a mystery more than a thousand years old as competing magical powers battle to shape the future of the world. He will be hunted by enemies and former allies alike, and it will take all his knowledge and resourcefulness to survive as magical war threatens to spread across the globe.
Isaac's choices will determine the fate of his friends, the Porters, the students of Bi Sheng, and the world. Only one thing is certain: even if he finds a way to restore his magic, he can't save them all…
320 pages (hardcover)
Published on January 6, 2015
Published by DAW
Author's webpage
Buy the book
This book was sent for me to review by the author.
—-
Jim C. Hines is a rather new discovery of mine. I think I blew through the first two books in Magic Ex Libris in the last half of 2014. When this third book, Unbound, was released and I didn't get a review copy, I was a sad panda. However, good ol' Hines saved the day by sending me an Audible edition of it.
Unbound is rather different in tone than the previous books in the series, and that different tone is what made it work so incredibly well for me. Isaac has been through it, by this point, and he emotionally struggles with where he's been, where he's going, and where he is. It's a realistic, heart wrenching personal struggle that so many of us can relate to, but is rarely realistically found in the books we read and love.
In fact, Isaac's struggle and the way it impacts those around him really humanizes him and adds a deep layer of emotional depth to the book that I didn't expect, and really welcomed. Furthermore, the complex relationship between Lena, Isaac, and Nedhi graduates from being awkward and strained, to feeling more like a family comfortable family unit as they all figure out how to work with each other.
Unbound is pure action from page one. Isaac's personal struggles last throughout the book, but they are integrated so well with the action that the book never really slows down to make room for Isaac's emotions – if that makes sense. In fact things seamlessly flow together, and the unrelenting action makes the book fly by.
Unbound is equal parts quirky humor, and serious emotional dissection. It's a bit darker because of it, and a bit deeper, but the humor and the action keeps everything feeling lighter than you'd expect, and keeps the speed ramped up. Furthermore, Hines has established himself as a master world builder. In each book he seems to flesh out the magic system more and more, and the world becomes more real and vibrant.
The fact that Hines has had two books to build his world and establish his magic system doesn't mean that he has to stop world building. In fact, at this point he is a bit more free with it, adding in new creatures here and there, giving them a dollop of background and history without making them feel like speed bumps. Basically what I'm saying is that Hines has mastered the art of subtly developing his world and magic system without the reader even really realizing it.
Furthermore, Unbound does a massive amount of work toward working world Hines has developed toward a fascinating change that will impact just about everyone, and Isaac is in the center of it all. Not only is he dealing with what has happened, but he's one of the primary characters bringing this change down on the world, and his worries about how things are evolving is quite compelling. It also has me on the edge of my seat for more. I want to know what happens next, and I don't want to wait to know it.
As I mentioned above, Unbound has a bit of everything in it. Relationships develop, emotions are deepened, tension is constant, and somehow Hines makes it all balance. It's almost insane to think that a series that I've loved this much from the first book only keeps getting better, but it does. Hines is one hell of an author, and his skill keeps developing with each thing he writes. Unbound is the best yet.
I do recommend that readers start with book one, Libriomancer, and work their way to this one, but it won't be a waste of time. In fact, this series is incredibly empowering to those of us who are bookishly inclined, giving magic to the words we love so much. That magic system keeps getting more and more elaborate as the series goes on, and the action and tension is sure to keep you on the edge of your seat. However, it's the personal development, and the relationships that really deserve the focus here. Hines was brave to fill his book with such raw, real emotional depth, and it paid off in orders of magnitude.
Magic Ex Libris is one hell of a series. If you haven't started it yet, do yourself a favor and read it. Now.
5/5 stars
David DeVries narrated this book, and he did an absolutely fantastic job. He seemed to catch the quirky-yet-serious tone perfectly. My one complaint was that he struggled a bit with the female voices, but that's okay. He was easy to listen to, and he made the action and the story feel real. It was hard for me to stop listening, which says something important.