LTUE, a local (but very cool) literary convention is starting on Thursday, February 12 in Orem, Utah. I am thrilled to not only go to it, but also to be on a panel there. It will be my first convention panel, and the topic is near and dear to my heart: Disabilities in Genre Fiction.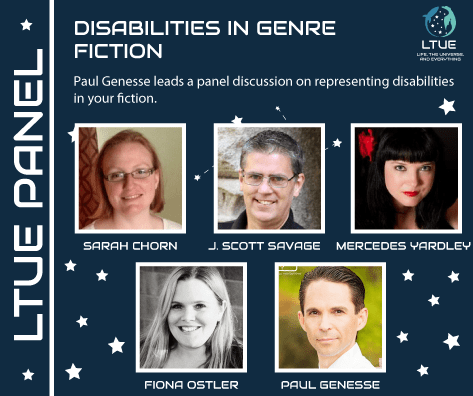 The panel will be moderated by Paul Genesse, who has been working very, very hard to do this sprawling topic justice. I've met with him a few times, reviewed talking points, and I am incredibly confident that he will make this panel discussion as impactful and informative as I was hoping for.
Along with Paul, will be me (of course), J. Scott Savage, Fiona Ostler, and Mercedes Murdock Yardley.
I'm incredibly excited. I'm also hoping that we have more than 3 people in the audience.
So, if you're going to LTUE, try to swing by. This takes place on Saturday, February 14 at 10am.