I'm going to try hard to make this a weekly feature. I have a feeling this is one of those things I will forget to do, but I'll try not to.
Here are the books that have arrived in the past week. All books were sent by the publisher or author, unless otherwise specified.
Wake of Vultures – Lila Bowen
Publication date: October 27, 2015
(Side note, the author sent this one to me, autographed and with some swag. Yay!)
A rich, dark fantasy of destiny, death, and the supernatural world hiding beneath the surface.
Nettie Lonesome lives in a land of hard people and hard ground dusted with sand. She's a half-breed who dresses like a boy, raised by folks who don't call her a slave but use her like one. She knows of nothing else. That is, until the day a stranger attacks her. When nothing, not even a sickle to the eye can stop him, Nettie stabs him through the heart with a chunk of wood, and he turns into black sand.
And just like that, Nettie can see.
But her newfound sight is a blessing and a curse. Even if she doesn't understand what's under her own skin, she can sense what everyone else is hiding — at least physically. The world is full of evil, and now she knows the source of all the sand in the desert. Haunted by the spirits, Nettie has no choice but to set out on a quest that might lead to her true kin… if the monsters along the way don't kill her first.
—
Grave Illusions – Linda Gardiner
Publication date: August 31, 2015
Jess Vandermire, Vampire Hunter…
Tough vampire cop, Jess Vandermire, fights against her unholy brethren in New York City to protect the two men she loves more than life itself. But Jess is waging a personal war, too—to save the tiny shred of soul she has left. If she loses, so does the city…
New York City is in the grasp of a deadly, unseen enemy. But Lieutenant Jess Vandermire, New York City police officer, is uniquely specialized to recognize and fight this threat. It's her job to forge a black ops team—a team that is tough and, if need be, expendable. Jess understands what she's fighting and what's at stake. For her, it's all about retribution… until she recruits ex-cop John Brittain…
Suddenly, her priorities aren't quite so easily definable. John Brittain has a chip on his shoulder and is as strong as they come. But is he ready for the whole truth? That combating "super" vampires whose primal need for blood and the addictive drug "Sunshine" is only the beginning of their problems?
Because Jess has a secret. And when John finds out, will he stay and fight with her? Or will he realize that she's the enemy, too?
—
Veiled Magic – Deborah Blake
Publication date: November 17, 2015
Since Witches came out of the broom-closet in the early 21st century, they have worked alongside humans as police officers, healers, stock traders, and more. But they aren't the only paranormal entities in our world…
Police officer and Witch Donata Santori spends her days interrogating dead witnesses by summoning their spectral forms. Normally the job is little more than taking statements and filing reports. But when she's called in on the case of a murdered art restorer, she finds herself suddenly in possession of a mystical portrait that both the human and paranormal communities would kill to get their hands on.
Unable to take on the forces hunting her alone, Donata seeks help from two unlikely and attractive allies: a reluctant shape-changer and a half-dragon art forger. But as the three of them hurry to uncover the truth about the powerful painting, Donata realizes that she's caught in the middle of not one but two wars—one for possession of the painting's secrets and one for possession of her heart
—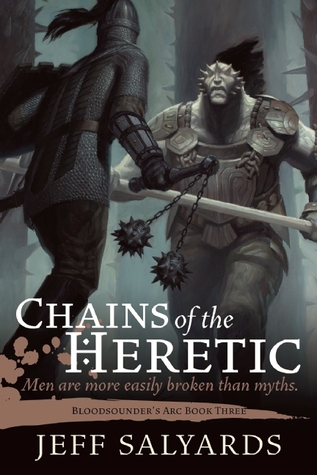 Chains of the Heretic – Jeff Salyards
Publication date: February 2, 2016
Men are more easily broken than myths.
Emperor Cynead has usurped command of the Memoridons—Tower-controlled memory witches—and consolidated his reign over the Syldoonian Empire. After escaping the capital city of Sunwrack, Captain Braylar Killcoin and his Jackal company evade pursuit across Urglovia, tasked with reaching deposed emperor Thumarr and helping him recapture the throne. Braylar's sister, Soffjian, rejoins the Jackals and reveals that Commander Darzaak promised her freedom if she agreed to aid them in breaking Cynead's grip on the other Memoridons and ousting him.
Imperial forces attempt to intercept Braylar's company before they can reach Thumarr. The Jackals fight through Cynead's battalions but find themselves trapped along the Godveil. Outmaneuvered and outnumbered, Braylar gambles on some obscure passages that Arki has translated and uses his cursed flail, Bloodsounder, to part the Godveil, leading the Jackals to the other side. There, they encounter the ruins of human civilization, but they also learn that the Deserters who abandoned humanity a millennium ago and created the Veil in their wake are still very much alive. But are they gods? Demons? Monsters?
What Braylar, Soffjian, Arki, and the Jackals discover beyond the Godveil will shake an empire, reshape a map, and irrevocably alter the course of history.
—
The Death of Dulgath – Michael J. Sullivan
Publication date: November 15, 2015
When the last member of the oldest noble family in Avryn is targeted for assassination, Riyria is hired to foil the plot. Three years have passed since the war-weary mercenary Hadrian and the cynical ex-assassin Royce joined forces to start life as rogues-for-hire. Things have gone well enough until they're asked to help prevent a murder. Now they must venture into an ancient corner of the world to save a mysterious woman who knows more about Royce than is safe and cares less about herself than is sane.
From the best-selling author of The Riyria Revelations comes the third installment of The Riyria Chronicles. Although part of a series, it's designed to thrill both new readers looking for fun, fast-paced fantasy and Riyria veterans wishing to reunite with old friends.
—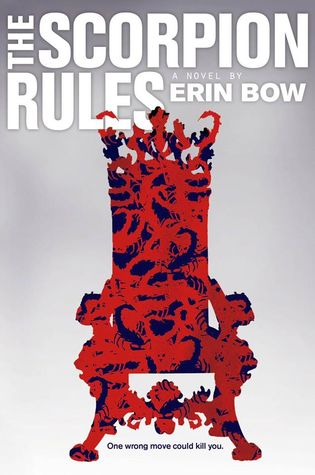 The Scorpion Rules – Erin Bow
Publication date: September 22, 2015
The world is at peace, said the Utterances. And really, if the odd princess has a hard day, is that too much to ask?
Greta is a duchess and crown princess—and a hostage to peace. This is how the game is played: if you want to rule, you must give one of your children as a hostage. Go to war and your hostage dies.
Greta will be free if she can survive until her eighteenth birthday. Until then she lives in the Precepture school with the daughters and sons of the world's leaders. Like them, she is taught to obey the machines that control their lives. Like them, she is prepared to die with dignity, if she must. But everything changes when a new hostage arrives. Elián is a boy who refuses to play by the rules, a boy who defies everything Greta has ever been taught. And he opens Greta's eyes to the brutality of the system they live under—and to her own power.
As Greta and Elián watch their nations tip closer to war, Greta becomes a target in a new kind of game. A game that will end up killing them both—unless she can find a way to break all the rules.
—
Our Lady of the Ice – Cassandra Rose Clarke
Publication date: October 27, 2015
Hope City, Antarctica. The southernmost city in the world, with only a glass dome and a faltering infrastructure to protect its citizens from the freezing, ceaseless winds of the Antarctic wilderness. Within this bell jar four people–some human, some not–will shape the future of the city forever:
Eliana Gomez, a female PI looking for a way to the mainland.
Diego Amitrano, the right-hand man to the gangster who controls the city's food come winter.
Marianella Luna, an aristocrat with a dangerous secret.
Sofia, an android who has begun to evolve.
But the city is evolving too, and in the heart of the perilous Antarctic winter, factions will clash, dreams will shatter, and that frozen metropolis just might boil over.
—
Shadows of Self – Brandon Sanderson
Publication date: October 6, 2015
Shadows of Self shows Mistborn's society evolving as technology and magic mix, the economy grows, democracy contends with corruption, and religion becomes a growing cultural force, with four faiths competing for converts.
This bustling, optimistic, but still shaky society now faces its first instance of terrorism, crimes intended to stir up labor strife and religious conflict. Wax and Wayne, assisted by the lovely, brilliant Marasi, must unravel the conspiracy before civil strife stops Scadrial's progress in its tracks.
Shadows of Self will give fans of The Alloy of Law everything they've been hoping for and, this being a Brandon Sanderson book, more, much more.
—
Air and Darkness – David Drake
Publication date: November 3, 2015
This intriguing and fantastic adventure is both an independent novel and the gripping conclusion of the Books of the Elements, a four-volume set of fantasies set in Carce, an analog of ancient Rome. Here the stakes are raised from the previous novels in an ultimate conflict between the forces of logic and reason and the forces of magic and the supernatural. During the extraordinary time in which this story is set, the supernatural is dominant. The story is an immensely complex journey of adventure through real and magical places.
Corylus, a soldier, emerges as one of the most compelling heroic figures in contemporary fantasy. Battling magicians, spirits, gods, and forces from supernatural realities, Corylus and his companions from the family of the nobleman Saxa—especially Saxa's impressive wife Hedia, and his friend (and Saxa's son) Varus—must face constant deadly and soul-destroying dangers, climaxing in a final battle not between good and evil but in defense of logic and reality.
—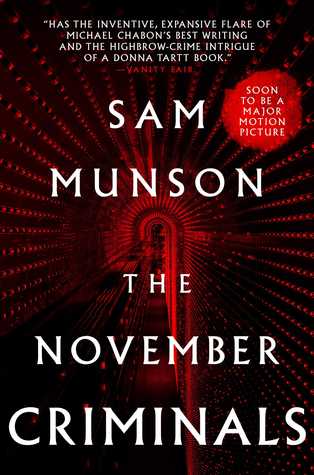 The November Criminals – Sam Munson
Publication date: October 13, 2015
A darkly funny, pot-infused novel of teenage maladjustment in the tradition of Beautiful Children from a compelling new voice in American fiction.
For a high school senior, Addison Schacht has a lot of preoccupations. Like getting into college. Selling drugs to his classmates. His complicated relationship with his best friend (NOT his girlfriend) Digger. And he's just added another to the list: the murder of his classmate Kevin Broadus, and his own absurd, obsessive plan to investigate the death. When presented with an essay question on his application to the University of Chicago—What are your best and worst qualities?—Addison finds himself provoked into giving his final, unapologetic say about all of the above and more.
Addison Schacht finds good company among American literature's cadre of unsettled, restless youth, from Huck Finn to Holden Caulfield. The November Criminals takes on the terrain of the classic adolescent truth-telling novel and—with nerve and erudition—carves out its own unique territory.
—
Silver on the Road – Laura Anne Gilman
Publication date: October 6, 2015
(I got the ARC a while ago, I got the hardcover this week)
A heroic fantasy by an award-winning author about a young woman who is trained in the art of the sinister hand of magic, but at what price?
Isobel, upon her sixteenth birthday, makes the choice to work for the devil in his territory west of the Mississippi. But this is not the devil you know. This is a being who deals fairly with immense—but not unlimited—power, who offers opportunities to people who want to make a deal, and they always get what they deserve. But his land is a wild west that needs a human touch, and that's where Izzy comes in. Inadvertently trained by him to see the clues in and manipulations of human desire, Izzy is raised to be his left hand and travel circuit through the territory. As we all know, where there is magic there is chaos…and death.
—
The Trials – Linda Nagata
Publication date: August 18, 2015
(Borrowed from the library)
In the wake of nuclear terrorism, a squad of elite soldiers must combat artificial intelligence and seek justice in this military political thriller, a sequel to The Red.
Lieutenant James Shelley and his squad of US Army soldiers were on a quest for justice when they carried out the unauthorized mission known as First Light. They returned home to America to face a court-martial, determined to expose the corruption in the chain of command that compelled their actions. But in a country still reeling from the nuclear terrorism of Coma Day, the courtroom is just one battlefield of many.
A new cycle of violence ignites when rumors of the elusive, rogue AI known as the Red go public—and Shelley is, once again, pulled into the fray. Challenged by his enemies, driven by ideals, Shelley feels compelled to act. But are the harrowing choices he makes really his own, or are they made for him, by the Red? And with millions of lives at stake in a game of nuclear cat-and-mouse, does the answer even matter?