This has been an interesting year for all things literary in my life. This has been the year of audiobooks. Before I had no interest in them. This year I couldn't get enough. It's also been the year when I've discovered how wonderful novellas could be. I've had some health stuff crop up, which has impacted my reading in some ways, making me veer toward comfort books rather than blood-and-guts books. And I've been involved in the Self Published Fantasy Blog Off, which has opened my eyes to a lot of books that I never really would have seen before. I've also been a beta reader for several authors, and edited some stuff, and had the honor to sit on two different panels at two different conventions talking about disabilities in genre fiction.
This is also the year where I feel like I've read books set in more unique worlds than any year before. While there will always be a place for the European-esque setting in speculative fiction, I feel like a lot of authors are branching out and exploring other setting and I welcome that. I think my list will reflect that.
It's been a good year.
The end of the year lists are always hard for me. Right now, at this point in the year, I'm at 192 books read. It's really, really hard to narrow that down to a neat and tidy list of the books that impressed me most, because so many of them are noteworthy for so many different reasons. And then I debated on putting this list off until January, but right now I'm reading books set to release in 2016, and I think some people might want suggestions for Christmas lists or whatever else they have going on, so whatever. I'm biting the bullet and doing it now.
First thing to know, this is in no particular order. I'm literally going through my shelves on Goodreads and noting books as I see them. All books will be published in 2015, unless otherwise noted. Also, going into this right now, I have no idea how many books I'll have in this list. I'm flying by the seat of my pants a bit. Enjoy!
P.S. I'm too lazy to link to all my reviews of these books, so you'll have to search for them in the search bar above if you want to read them. Sorry! (Hey, at least I'm honest.)
So here you go. Here are the Best Books of 2015!
—
Wake of Vultures – Lila Bowen
This book is set in a nitty-gritty wild west, full of adventure and mythology that is sculpted by Bowen's unique vision. This book is raw and exciting, and explores a world that is both reminiscent of our own, but completely its own animal at the same time. The plot doesn't stop, and the writing is superb, but what impressed me the most was the protagonist, Nettie, who stole the show. I've rarely run across a character that is so comfortable in her own skin, and it really made the book something special.
Our Lady of the Ice – Cassandra Rose Clarke
This book really surprised me. I wasn't sure I wanted to read it when I first got it, but once I started, I couldn't put it down. Set in Hope City, Antarctica, this is a sort of noir novel, intermixed with social problems, and a unique twist on AI's and robots that really captivated me. This is a dark, solemn novel, but Clarke really hit it out of the park with a dark, intense atmosphere, plenty of twists and turns, and characters that are delightfully, believably flawed set against a fascinating city on a rather unexplored continent.
Dark Ascension – M.L. Brennan
I can't even begin to tell you guys what a huge fan I am of the Generation V series. Every book is a new delight, and I'm not kidding when I tell you that as soon as I finish one, I am eagerly awaiting the next. This book, however, really outshined all of its predecessors. It's a little more emotionally intense, and a bit darker. Our characters are forced to examine themselves in somewhat uncomfortable ways. However, Brennan made me cry with this one, and I almost never cry when I read books, so that really should tell you all you need to know.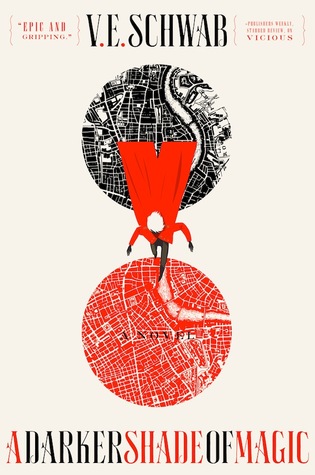 A Darker Shade of Magic – V.E. Schwab
Seriously. What in the hell am I supposed to say about this one? It's surely one of my top-five books read this year. The magic system is unique, the characters are captivating, the writing slayed me. Everything about this book was perfection. If you haven't already read it, you really need to get a move on it. This book was intense and amazing and mind-blowing all at once and I really, really want to read the next one. Like yesterday.
Silver on the Road – Laura Anne Gilman
This is another book that, like the one before it, would absolutely be ranked somewhere in my top five read this year. Amazing in every sense. I'm a sucker for the weird west books, probably because I live out here in the weird west, but Gliman did everything right in this book. I couldn't get enough of it. Everything about this book is polished to a bright shine. The world is fabulous, the magic is unique and deep, the characters are just as shiny and unique as the book itself and the plot is absolutely relentless. Mixed into this is mythology and lore, and a feel that Gilman really is only scratching the surface of something incredible. I liked it so much I started re-reading it two days ago. Crazy, right? Sometimes a girl just needs something incredible in her life.
The Traitor Baru Cormorant – Seth Dickenson
If you are ever in the mood to be emotionally flayed with some of the most gorgeous writing you'll ever come across, you really need to stop what you're doing and read this book. This book will sear your soul, and the most amazing thing is, you'll be begging for it to happen. It's one of those tragedies that you can't help but love. It takes you right into the dark depths of your emotions, and sort of wallows there, but it also challenges you and forces you to examine… well, everything. This book was intense. It was tragic. It was full of beautifully broken characters in a world that is just as tragic as they are and you won't want any of it to stop. Ever.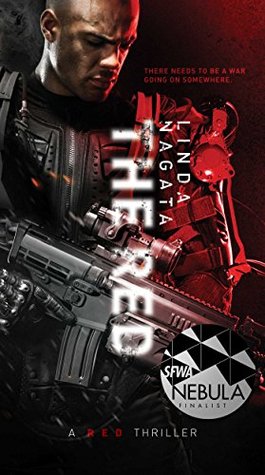 First Light – Linda Nagata
I can't get enough of this series. I'm not a huge fan of military SciFi, but Nagata nailed this one. She took complex issues and complex topics and merged them together in a way that is easy to digest, but forces you to think about uncomfortable things in a new way. Told through the viewpoint of James Shelley, a man who is immediately likeable but loyal almost to a fault, this is a book that came out of left field and shocked the hell out of me with its captivating plot, hell-for-leather pace, and how much it made me think.
Planetfall – Emma Newman
Yes, I did have some issues with this book, but at the same time I can't stop thinking about it. Tragic and beautiful, full of hope and fear all wrapped together in this intricately woven package, Planetfall really impacted me. It moved me in shockingly intense ways. The true test of a good book is how much I think about it when I'm done reading it, and I'm still mulling over Planetfall, weeks after I finished it. It's… different, with a quiet emotional intensity that built and built until I felt almost overwhelmed by it, but that was balanced out by a really intricate plot that surprised me. This book was special, and challenging, and beautiful and tragic all at once.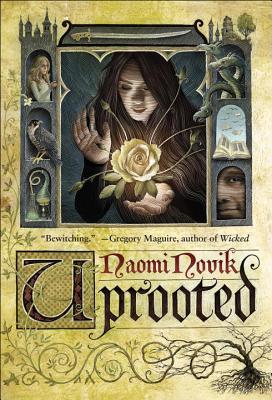 Uprooted – Naomi Novik
Wow. Just wow. I didn't really like Novik's other series, so I wasn't sure what to expect with this one, but it absolutely blew me away. This has a fairytale feel to it, and some absolutely stunning prose. The characters are easy to love and easy to hate at the same time. The magic is interesting, but it was the atmosphere that really did it for me, the haunting forest, the lonely characters, the confusing moments, the love and hope and fear was all so intense and absolutely resonated throughout the book. The plot was fascinating, and the prose was… wow. I love fairytale retellings, and I tend to always enjoy them, but Novik's wasn't just a retelling, it was a work of art.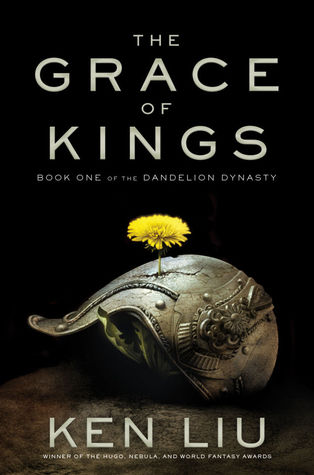 The Grace of Kings – Ken Liu
I listened to the audiobook of this, and I can't recommend it highly enough. Fantastic narrating to compliment beautiful writing. The setting is reminiscent of the far East. The culture is complex, as are the characters and the plot. This is epic in every sense. There are tons of twists and turns, plenty of surprising moments, a lot of developments that I didn't expect as cultures clash and people are pushed past their breaking points. The ending was the perfect compliment to what led up to it, and it left me aching for more. I've been kind of put off by epic fantasy recently, but man, Liu brought me back to it. This isn't just an epic story, it's an epic saga, and an experience you won't ever forget. Because, damn, this book was good.
The Fifth Season – N.K. Jemisin
If I may be so forward, I will say that I think this might be Jemisin's best book yet. It's dark and sort of brooding, but so amazingly unique with characters that match. This is the start to a new series, and I expect the series to blow me away like this book did. The magic system itself is something I'd love to learn more about, but the world is truly its own animal, and Jemisin's crafting of it made it feel like it was just as real as the characters that inhabited the book. It's a tale of love and hope and challenge, all woven together in an unforgettable package. Jemisin is an author who always leaves an impact, and this book isn't any different. It's intense, and will leave you yearning for more.
Cold Iron – Stina Leicht
Leicht is one of my favorite authors. Her writing does things to me that I love. She has a way with emotions and characters that just works for me. I truly loved this book. It's an opening to an epic fantasy series set in a secondary world, and it deals with some pretty weighty topics like the love between families, and two people who have to discover their own paths and individuality in a world that is falling apart around them. It's interesting to watch these characters bend and stretch and become who they are meant to become while the world around them is so uncertain, and Leicht really brought all those emotions to life while I read this book.
Twelve Kings in Sharakai – Bradley P. Beaulieu
Yes, I beta read this novel, but yeah, I just genuinely love it so much. I love the city of Sharakai so much. It's so real, and vibrant and just beautifully realized. Ceda is a character that I couldn't get enough of, a strong woman who can handle herself. In fact, every character in this book is three dimensional, and the city itself shines. The plot is complex and multi-layered. It moves fast, but like a few books I've mentioned in this list, despite how complex this novel is, I really feel like Beaulieu is only scratching the surface and I cannot wait to read what happens next, to learn more about these characters and this place that felt more real than my own house while I was reading about it. Epic fantasy, but epic fantasy done oh-so-right.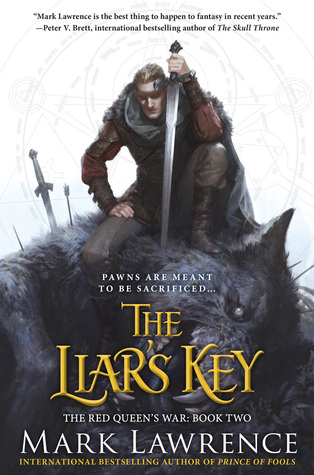 The Liar's Key – Mark Lawrence
This is another one I beta read, and another one I just loved so much. This is the second book in Lawrence's current series, and damn, is it good. It spans quite a bit of distance both geographically and personally as his characters change quite a bit, and the dark plot has a sort of brooding feel while people are pushed and pulled by the seen and unseen. Lawrence has some superb writing skills, and some of the dialogue in this novel is unforgettable. This is one of those second books in a series that isn't just a bridge between books one and three, but is a book that easily stands on its own and makes a huge impact in its own right. Intense and humorous and quite surprising, The Liar's Key was an unforgettable adventure.
My favorite book of this year was…. (drum roll please)
Six-Gun Snow White – Catherynne M. Valente
Yes, this is a reprint of a book put out a few years ago, but it's reprinted this year so I'm counting it. I CANNOT STOP THINKING ABOUT THIS BOOK. Really. I'm not even exaggerating. I CAN'T STOP. Everything about it was breathtaking. I don't even know what to say here besides HOLY CRAP. I just… wow. Because… wow. The strong protagonist, some of the most stunning writing I have ever run across, hands down. It's a fantastic twist on an old fairytale and I CANNOT STOP THINKING ABOUT THIS BOOK.
I think I might need to go re-read it now.
Honorable Mention 
Ash and Silver – Carol Berg
The ONLY reason this is getting an Honorable Mention rather than being on the actual list is because I haven't finished it yet, but this book is incredible. All of Berg's books are. I haven't run across an author yet who can challenge her authors so profoundly as gracefully as she can. And her writing. Oh, her writing. There is a reason why Berg is one of my top 5 favorite authors, and she pulls out her considerable arsenal of skills for this book.
My favorite publisher this year is… (drum roll again, please)
Saga Press
While I've been aware of Saga Press, this year they kind of came out of left field and blew me away with the high quality of their work. I don't know who is doing what over there, but they are doing it right. Every single book I get from them instantly moves to the top of my to-be-read mountain range. So, whoever is doing whatever at Saga Press, please keep doing it, because this bookworm over here is enjoying the hell out of your high quality, unique, and absolutely captivating published books.
Best book not published in 2015: 
Flowers for Algernon – Daniel Keyes
I just finished the audiobook, and it completely emotionally eviscerated me, and while it challenged me, and brought tears to my eyes, This book made me think very, very deep thoughts and reexamine some profound things. I know like everyone alive has read this book before, but it was a first for me, and I really regret waiting this long to enjoy it. It's not just a good book to read, but it's an important book to read. There are some works of literature that defy explanation, and transcend vocabulary, and this is one of them.