It's that time of year again. It's time for lists. I almost hate making most anticipated lists as much as I hate making best book lists. It's so hard to narrow it down to something manageable. Let me just say this, this list is in no particular order, and I absolutely am leaving books off because none of you want to read a novel about all the books I want to read this upcoming year.
Wow, 2016 looks to be a fantastic year for SpecFic.
I also set some goals for myself each year. In 2016, I'm interested in focusing on more short fiction – novellas and short stories. Recommendations are welcome.
On to my list.
—
Age of Myth – Michael J. Sullivan
Publication date: June 28, 2016
Since time immemorial, humans have worshipped the gods they call Fhrey, truly a race apart: invincible in battle, masters of magic, and seemingly immortal. But when a god falls to a human blade, the balance of power between men and those they thought were gods changes forever. Now, only a few stand between humankind and annihilation: Raithe, reluctant to embrace his destiny as the God Killer. Suri, a young seer burdened by signs of impending doom. And Persephone, who must overcome personal tragedy to lead her people.
The Age of Myth is over; the time of rebellion has begun.
—
Children of Earth and Sky – Guy Gavriel Kay
Publication date: May 10, 2016
The bestselling author of the groundbreaking novels Under Heaven and River of Stars, Guy Gavriel Kay is back with a new novel, Children of Earth and Sky, set in a world inspired by the conflicts and dramas of Renaissance Europe. Against this tumultuous backdrop the lives of men and women unfold on the borderlands—where empires and faiths collide.
From the small coastal town of Senjan, notorious for its pirates, a young woman sets out to find vengeance for her lost family. That same spring, from the wealthy city-state of Seressa, famous for its canals and lagoon, come two very different people: a young artist traveling to the dangerous east to paint the grand khalif at his request—and possibly to do more—and a fiercely intelligent, angry woman, posing as a doctor's wife, but sent by Seressa as a spy.
The trading ship that carries them is commanded by the accomplished younger son of a merchant family, ambivalent about the life he's been born to live. And farther east a boy trains to become a soldier in the elite infantry of the khalif—to win glory in the war everyone knows is coming.
As these lives entwine, their fates—and those of many others—will hang in the balance, when the khalif sends out his massive army to take the great fortress that is the gateway to the western world…
—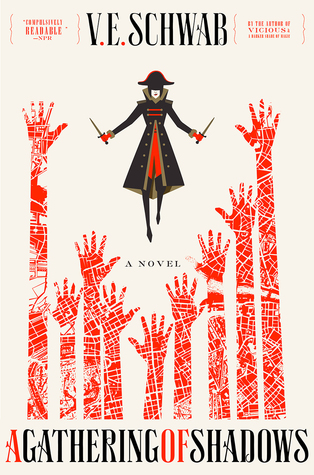 A Gathering of Shadows – V.E. Schwab
Publication date: February 23, 2016
Four months have passed since the shadow stone fell into Kell's possession. Four months since his path crossed with Delilah Bard. Four months since Rhy was wounded and the Dane twins fell, and the stone was cast with Holland's dying body through the rift, and into Black London.
In many ways, things have almost returned to normal, though Rhy is more sober, and Kell is now plagued by his guilt. Restless, and having given up smuggling, Kell is visited by dreams of ominous magical events, waking only to think of Lila, who disappeared from the docks like she always meant to do. As Red London finalizes preparations for the Element Games—an extravagant international competition of magic, meant to entertain and keep healthy the ties between neighboring countries—a certain pirate ship draws closer, carrying old friends back into port.
But while Red London is caught up in the pageantry and thrills of the Games, another London is coming back to life, and those who were thought to be forever gone have returned. After all, a shadow that was gone in the night reappears in the morning, and so it seems Black London has risen again—meaning that another London must fall
—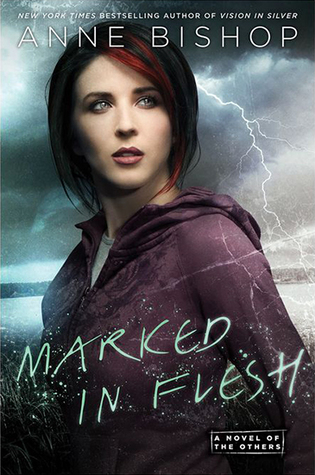 Marked in Flesh – Anne Bishop
Publication date: May 8, 2016
For centuries, the Others and humans have lived side by side in uneasy peace. But when humankind oversteps its bounds, the Others will have to decide how much humanity they're willing to tolerate—both within themselves and within their community…
Since the Others allied themselves with the cassandra sangue, the fragile yet powerful human blood prophets who were being exploited by their own kind, the delicate dynamic between humans and Others changed. Some, like Simon Wolfgard, wolf shifter and leader of the Lakeside Courtyard, and blood prophet Meg Corbyn, see the new, closer companionship as beneficial—both personally and practically.
But not everyone is convinced. A group of radical humans is seeking to usurp land through a series of violent attacks on the Others. What they don't realize is that there are older and more dangerous forces than shifters and vampires protecting the land that belongs to the Others—and those forces are willing to do whatever is necessary to protect what is theirs…
—
All the Birds in the Sky – Charlie Jane Anders
Publication date: January 26, 2016
Childhood friends Patricia Delfine and Laurence Armstead didn't expect to see each other again, after parting ways under mysterious circumstances during high school. After all, the development of magical powers and the invention of a two-second time machine could hardly fail to alarm one's peers and families.
But now they're both adults, living in the hipster mecca San Francisco, and the planet is falling apart around them. Laurence is an engineering genius who's working with a group that aims to avert catastrophic breakdown through technological intervention into the changing global climate. Patricia is a graduate of Eltisley Maze, the hidden academy for the world's magically gifted, and works with a small band of other magicians to secretly repair the world's every-growing ailments. Little do they realize that something bigger than either of them, something begun years ago in their youth, is determined to bring them together–to either save the world, or plunge it into a new dark ages.
A deeply magical, darkly funny examination of life, love, and the apocalypse.
—
A Criminal Magic – Lee Kelly
Publication date: February 2, 2016
Magic is powerful, dangerous and addictive – and after passage of the 18th Amendment, it is finally illegal.
It's 1926 in Washington, DC, and while Anti-Sorcery activists have achieved the Prohibition of sorcery, the city's magic underworld is booming. Sorcerers cast illusions to aid mobsters' crime sprees. Smugglers funnel magic contraband in from overseas. Gangs have established secret performance venues where patrons can lose themselves in magic, and take a mind-bending, intoxicating elixir known as the sorcerer's shine.
Joan Kendrick, a young sorcerer from Norfolk County, Virginia accepts an offer to work for DC's most notorious crime syndicate, the Shaw Gang, when her family's home is repossessed. Alex Danfrey, a first-year Federal Prohibition Unit trainee with a complicated past and talents of his own, becomes tapped to go undercover and infiltrate the Shaws.
Through different paths, Joan and Alex tread deep into the violent, dangerous world of criminal magic – and when their paths cross at the Shaws' performance venue, despite their orders, and despite themselves, Joan and Alex become enchanted with one another. But when gang alliances begin to shift, the two sorcerers are forced to question their ultimate allegiances and motivations. And soon, Joan and Alex find themselves pitted against each other in a treacherous, heady game of cat-and-mouse.
A CRIMINAL MAGIC casts a spell of magic, high stakes and intrigue against the backdrop of a very different Roaring Twenties.
—
The Thorn of Emberlain – Scott Lynch
Publication date: July 21, 2016
With 50,000 copies sold of The Republic of Thieves and with praise from the likes of Joe Abercrombie and George RR Martin the saga of the Gentleman Bastard has become a favourite and key part of the fantasy landscape. And now Locke Lamora, thief, con-man, pirate, political deceiver must become a soldier.
A new chapter for Locke and Jean and finally the war that has been brewing in the Kingdom of the Marrows flares up and threatens to capture all in its flames.
And all the while Locke must try to deal with the disturbing rumours about his past revealed in The Republic of Thieves. Fighting a war when you don't know the truth of right and wrong is one thing. Fighting a war when you don't know the truth of yourself is quite another. Particularly when you've never been that good with a sword anyway.
—
The Wheel of Osheim – Mark Lawrence
Publication date: July 22, 2016
All the horrors of Hell stand between Snorri Ver Snagason and the rescue of his family, if indeed the dead can be rescued. For Jalan Kendeth, getting back out alive and with Loki's key is all that matters. Loki's creation can open any lock, any door, and it may also be the key to Jalan's fortune back in the living world.
Jalan plans to return to the three w's that have been the core of his idle and debauched life: wine, women, and wagering. Fate however has other plans, larger plans. The Wheel of Osheim is turning ever faster, and it will crack the world unless it's stopped. When the end of all things looms, and there's nowhere to run, even the worst coward must find new answers. Jalan and Snorri face many dangers, from the corpse hordes of the Dead King to the many mirrors of the Lady Blue, but in the end, fast or slow, the Wheel of Osheim always pulls you back. In the end it's win or die.
—
Dreaming Death – J. Kathleen Cheney
Publication date: February 2, 2016
Shironne Anjir's status as a sensitive is both a gift and a curse. Her augmented senses allow her to discover and feel things others can't, but her talents come with a price: a constant assault of emotions and sensations has left her blind. Determined to use her abilities as best she can, Shironne works tirelessly as an investigator for the Larossan army.
A member of the royal family's guard, Mikael Lee also possesses an overwhelming power—he dreams of the deaths of others, sometimes in vivid, shocking detail, and sometimes in cryptic fragments and half-remembered images.
But then a killer brings a reign of terror to the city, snuffing out his victims with an arcane and deadly blood magic. Only Shironne can sense and interpret Mikael's dim, dark dreams of the murders. And what they find together will lead them into a nightmare.
—
The Last Days of Magic – Mark Tompkins
Publication date: March 1, 2016
An epic novel of magic and mysticism, Celts and faeries, mad kings and druids, and the goddess struggling to reign over magic's last outpost on the Earth
What became of magic in the world? Who needed to do away with it, and for what reasons? Drawing on myth, legend, fairy tales, and Biblical mysteries, The Last Days of Magic brilliantly imagines answers to these questions, sweeping us back to a world where humans and magical beings co-exist as they had for centuries.
Aisling, a goddess in human form, was born to rule both domains and—with her twin, Anya—unite the Celts with the powerful faeries of the Middle Kingdom. But within medieval Ireland interests are divided, and far from its shores greater forces are mustering. Both England and Rome have a stake in driving magic from the Emerald Isle. Jordan, the Vatican commander tasked with vanquishing the remnants of otherworldly creatures from a disenchanted Europe, has built a career on such plots. But increasingly he finds himself torn between duty and his desire to understand the magic that has been forbidden.
As kings prepare, exorcists gather, and divisions widen between the warring clans of Ireland, Aisling and Jordan must come to terms with powers given and withheld, while a world that can still foster magic hangs in the balance. Loyalties are tested, betrayals sown, and the coming war will have repercussions that ripple centuries later, in today's world—and in particular for a young graduate student named Sara Hill.
The Last Days of Magic introduces us to unforgettable characters who grapple with quests for power, human frailty, and the longing for knowledge that has been made taboo. Mark Tompkins has crafted a remarkable tale—a feat of world-building that poses astonishing and resonant answers to epic questions.
—
Infomocracy – Malka Ann Older
Publication date: June 7, 2016
It's been twenty years and two election cycles since Information, a powerful search engine monopoly, pioneered the switch from warring nation-states to global microdemocracy. The corporate coalition party Heritage has won the last two elections. With another election on the horizon, the Supermajority is in tight contention, and everything's on the line.
With power comes corruption. For Ken, this is his chance to do right by the idealistic Policy1st party and get a steady job in the big leagues. For Domaine, the election represents another staging ground in his ongoing struggle against the pax democratica. For Mishima, a dangerous Information operative, the whole situation is a puzzle: how do you keep the wheels running on the biggest political experiment of all time, when so many have so much to gain?
—
Borderline – Mishell Baker
Publication date: March 1, 2016
A year ago, Millie lost her legs and her filmmaking career in a failed suicide attempt. Just when she's sure the credits have rolled on her life story, she gets a second chance with the Arcadia Project: a secret organization that polices the traffic to and from a parallel reality filled with creatures straight out of myth and fairy tales.
For her first assignment, Millie is tasked with tracking down a missing movie star who also happens to be a nobleman of the Seelie Court. To find him, she'll have to smooth-talk Hollywood power players and uncover the surreal and sometimes terrifying truth behind the glamour of Tinseltown. But stronger forces than just her inner demons are sabotaging her progress, and if she fails to unravel the conspiracy behind the noble's disappearance, not only will she be out on the streets, but the shattering of a centuries-old peace could spark an all-out war between worlds.
No pressure.
—
Snakewood – Adrien Selby
Publication date: March 15, 2016
Once they were a band of mercenaries who shook the pillars of the world through cunning, alchemical brews, and cold steel. Whoever met their price won.

Now, their glory days behind them, scattered to the wind, and their genius leader in hiding, they are being hunted down and eliminated one by one.
A lifetime of enemies has its own price.
Adrian Selby brings us into an unforgettable new world filled with magic, mystery, intrigue, bloodshed and betrayal.
—
The Fireman – Joe Hill
Publication date: May 17, 2016
No one knows exactly when it began or where it originated. A terrifying new plague is spreading like wildfire across the country, striking cities one by one: Boston, Detroit, Seattle. The doctors call it Draco Incendia Trychophyton. To everyone else it's Dragonscale, a highly contagious, deadly spore that marks its hosts with beautiful black and gold marks across their bodies—before causing them to burst into flames. Millions are infected; blazes erupt everywhere. There is no antidote. No one is safe.
Harper Grayson, a compassionate, dedicated nurse as pragmatic as Mary Poppins, treated hundreds of infected patients before her hospital burned to the ground. Now she's discovered the telltale gold-flecked marks on her skin. When the outbreak first began, she and her husband, Jakob, had made a pact: they would take matters into their own hands if they became infected. To Jakob's dismay, Harper wants to live—at least until the fetus she is carrying comes to term. At the hospital, she witnessed infected mothers give birth to healthy babies and believes hers will be fine too. . . if she can live long enough to deliver the child.
Convinced that his do-gooding wife has made him sick, Jakob becomes unhinged, and eventually abandons her as their placid New England community collapses in terror. The chaos gives rise to ruthless Cremation Squads—armed, self-appointed posses roaming the streets and woods to exterminate those who they believe carry the spore. But Harper isn't as alone as she fears: a mysterious and compelling stranger she briefly met at the hospital, a man in a dirty yellow fire fighter's jacket, carrying a hooked iron bar, straddles the abyss between insanity and death. Known as The Fireman, he strolls the ruins of New Hampshire, a madman afflicted with Dragonscale who has learned to control the fire within himself, using it as a shield to protect the hunted . . . and as a weapon to avenge the wronged.
In the desperate season to come, as the world burns out of control, Harper must learn the Fireman's secrets before her life—and that of her unborn child—goes up in smoke.
—
Central Station – Lavie Tidhar
Publication date: May 10, 2016
A worldwide diaspora has left a quarter of a million people at the foot of a space station. Cultures collide in real life and virtual reality. The city is a weed, its growth left unchecked. Life is cheap and data is cheaper.
When Boris Chong returns to Tel Aviv from Mars, much has changed. Boris's ex-lover Miriam is raising a strangely familiar child who can tap into the data stream of a mind with the touch of a finger. His cousin Isobel is infatuated with a robotnik—a cyborg ex-Israeli soldier who might well be begging for parts. Even his old flame Carmel—a hunted data-vampire—has followed him back to a planet where she is forbidden to return.
Rising above all is Central Station, the interplanetary hub between all things: the constantly shifting Tel Aviv; a powerful virtual arena and the space colonies where humanity has gone to escape the ravages of poverty and war. Everything is connected by the Others, powerful entities who, through the Conversation—a shifting, flowing stream of consciousness—are just the beginning of irrevocable change.
—
False Hearts – Laura Lam
Publication date: June 14, 2016
Orphan Black meets Inception: Two formerly conjoined sisters are ensnared in a murderous plot involving psychoactive drugs, shared dreaming, organized crime, and a sinister cult.
Raised in the closed cult of Mana's Hearth and denied access to modern technology, conjoined sisters Taema and Tila dream of a life beyond the walls of the compound. When the heart they share begins to fail, the twins escape to San Francisco, where they are surgically separated and given new artificial hearts. From then on they pursue lives beyond anything they could have previously imagined.
Ten years later, Tila returns one night to the twins' home in the city, terrified and covered in blood, just before the police arrive and arrest her for murder—the first homicide by a civilian in decades. Tila is suspected of involvement with the Ratel, a powerful crime syndicate that deals in the flow of Zeal, a drug that allows violent minds to enact their darkest desires in a terrifying dreamscape. Taema is given a proposition: go undercover as her sister and perhaps save her twin's life. But during her investigation Taema discovers disturbing links between the twins' past and their present. Once unable to keep anything from each other, the sisters now discover the true cost of secrets.