Well, here it is… round 4 mini reviews. I apologize for taking so long, but wow, life has been crazy. If things go well and nothing unexpected happens, round 5 will be up tomorrow, and then the overall winner announced on Friday.
Fingers crossed that things stay boring over here…
—
Elona: Patterner's Path – Steve Turnbull
Buy the book
Okay, I'm kind of divided on this one. On the one hand, I really enjoyed some aspects of the book. I liked the complex plot. There are a lot of twists and turns that honestly surprised me, and bravo for that. There was some very clever execution here. On the other hand, some of the writing was a bit clunky, and could have used a little bit of trimming down and editing. Some of the characterization was lacking, and the dialogue felt stilted in places. Despite that, this is a solid start to a series. It wasn't perfect, but it was an enjoyable read.
3/5 stars
—
Ocean Gods, Roman Blades – Andrew Knighton
Buy the book
This seems to be the year of the novella. This book clocks in at a mere 49 pages, which takes me just about no time to read. The busy mom in me absolutely loves that I can sit down and take in an entire saga in 49 pages, and be up and at 'em after with no regrets. Novellas = good. This is a historical saga, and fans of all things Roman will probably really enjoy this. The pace is rather relentless, and there is a lot packed into a book this short. That being said, there were some overly descriptive moments, some scenes that could have been a little longer, and some that could have been a little shorter. That being said, I was quite satisfied with this one.
4/5 stars
—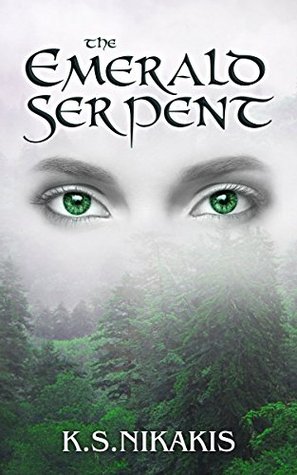 The Emerald Serpent – Karen Simpson Nikakis
Buy the book
At its heart, this is a romance book, and a bit of a historical one as it focuses quite a bit on Celtic lore. It's quite a charming, intense love story with two characters that you can root for easily. I really enjoyed all of the historical detail in this one. It's obvious that the author worked hard and did a ton of research to pull this book together, and it paid off. I did have some issues with pacing, which felt a bit uneven at times. Some parts of the plot confused me a little, and I think some aspects of the characters could have been fleshed out a bit more. That being said, this book was ridiculously easy to sink into, and it sort of just took off and pulled me along with it.
4/5 stars
—
Fionn: Defence of Rath Bladhma by Brian O'Sullivan
Buy the book
You know how some books come out of left field and just shock you? Well, this was one of those. If you're looking for an action/adventure fantasy that is different than the normal, look no further. This book has some welcome diversity, and a story that is absolutely unforgiving. This is a novel based on some ancient Irish texts, and is full of myth and magic and I just loved it for that. The writing is tight and the book is well edited. I welcomed the strong female characters, the obvious twist on tropes, and the way the author genuinely owned the book he wrote. Some of the names were a bit of a mouthful to try and pronounce (even mentally) but that's not the author's fault, and as far as complaints go, that's not even one that's worth registering.
4/5 stars
—
Blood Song by Robert Mullin
Buy the book
Apparently this novella is based off of a character that was introduced in a novel I've never read. I'm saying that because I didn't really ever fell like I missed out on much having not read the novel. I mean, I'm sure I'd get some of the world building and etc a bit more if I'd read that novel, but I haven't, and that's life. The other thing I want to say is that I loved the illustrations in this novella. Very well done, and they added a nice touch to the book overall. The writing is fantastic, and the world and culture building is interesting, though I could have used a bit more world building. This novella is dark, very dark, and it can be uncomfortable, but the protagonist has a lot of spunk and the writing is superb so I can't complain. I was really glad I read this one.
4/5 stars
—
Wrath of the Fallen by Kris Jerome
Buy the book
I can't stress this enough: Editing can make or break your book. It is completely worth spending the time and effort on good editing. Make sure it's tight. There were issues in this book that could have been avoided, and they tended to take me out of the novel in general, which is unfortunate. The concept behind this book, the overall writing style was wonderful. This book was a bit unbalanced. The start of the book was better written, more tightly plotted than the second half. The ending was abrupt, some of the plot points felt a bit… unbalanced. So, great concept, the execution didn't really match it, but for a debut novel it is a solid, unique work that is worth noting.
3/5 stars
—
And the winner is….
Fionn: Defence of Rath Bladhma by Brian O'Sullivan