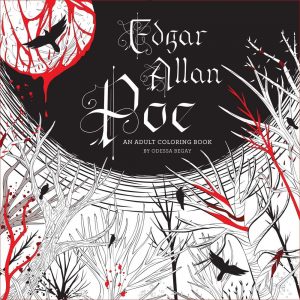 I love adult coloring books. I love them. I plug myself into an audiobook, brew me a gigantic pot of tea, and zone out. They are just about the best things that ever happened to me and I'm incredibly glad they are a trend right now.
The other day this little beauty showed up at my front door. You guys, it is stunning. Everything about it is amazing. It's high quality, with a nice flow, delightfully gothic, and beautiful artwork. This is, hands down, my favorite adult coloring book yet.
So I'm THRILLED to be giving away one copy to one lucky individual!
Giveaway Details: 
This contest is open to residents of the United States and Canada only. To enter, leave a comment on this post (I usually approve comments every few days, so if you don't see it posted right away, it's not lost. I'm just slow. Feel free to nudge me on Twitter, or Facebook, or wherever.). You have until Midnight, mountain time, on Friday, September 16 to enter. One lucky winner will be randomly chosen from the entries. I will email the winner, and they will have 48 hours to respond before I select another winner.
Good luck to all who enter!
—
Official Information: 
Dive into the macabre, mysterious world of Edgar Allan Poe's chilling tales with popular coloring book artist Odessa Begay (Little Birds). Inspired by Poe's beloved stories, Begay has created images that reference settings, motifs, and details that fans will recognize.
Contributor Information: 
Odessa Begay resides in Philadelphia, PA. She is a graduate of NYU/The Tisch School of the Arts where she studied photography and imaging. She has licensed her work widely in the children's/baby markets, as well as botanicals for home décor, paper, and fabric. Learn more about her at odessabegay.com.
—