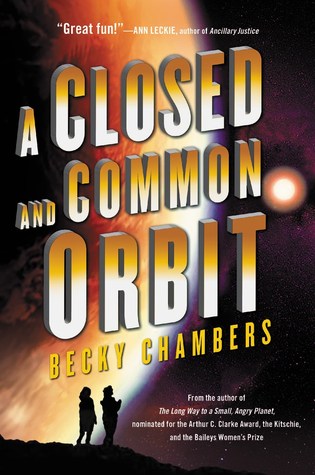 About the Book
Lovelace was once merely a ship's artificial intelligence. When she wakes up in an new body, following a total system shut-down and reboot, she has no memory of what came before. As Lovelace learns to negotiate the universe and discover who she is, she makes friends with Pepper, an excitable engineer, who's determined to help her learn and grow.
Together, Pepper and Lovey will discover that no matter how vast space is, two people can fill it together.
The Long Way to a Small, Angry Planet introduced readers to the incredible world of Rosemary Harper, a young woman with a restless soul and secrets to keep. When she joined the crew of the Wayfarer, an intergalactic ship, she got more than she bargained for – and learned to live with, and love, her rag-tag collection of crewmates.
A Closed and Common Orbit is the stand-alone sequel to Becky Chambers' beloved debut novel The Long Way to a Small, Angry Planet and is perfect for fans of Firefly, Joss Whedon, Mass Effect and Star Wars.
365 pages (hardcover)
Published on October 20, 2016
Published by Harper Voyager
Author's webpage
Buy the book
—
I read (erm, listened) to this book a ridiculous amount of time ago. However, these previous few weeks have been absolute hell. I basically stopped reviewing and had just one continual nervous breakdown for the entire month of April. It was so hard, and it still is so hard, but I've spaced things out in my medical life (and I'm waiting on my new cancer doctor so we can continue testing for cancer v. 4.0). This is allowing me some time/desire to read, and some time/desire to review again.
Which is why I finished listening to this book a long time ago, and I'm just now getting around to reviewing it.
I loved A Long Way to a Small, Angry Planet. It was one of those books that hit the ball so far out of the park. Everything about it thrilled me. This book, the second in the series, takes on a bit of a different tone. For one thing, we are following Lovelace, who has been given a body and has left the ship to go discover who she is outside of being a ship's AI.
Due to that, this book felt incredibly intimate. Now, the previous book in the series was intimate as well, but this one mostly focuses on this one person, and on her experience(s) of discovering who she is and how she fits into the world she is suddenly part of. Mixed into her story are some interesting side characters, unique cultures, some happenings and mishaps that make things interesting, and all sorts of other things.
But the real meat of this story is Lovelace, and her personal evolution.
As with the previous novel, the writing is tight, and the plot pace is smooth and effortless. Nothing felt rushed or hurried. It all felt very natural. Now, where some people might complain is the fact that this book is more personal, with personal discoveries, private thoughts, an evolution of one. New scenes, cultures, and peoples are introduced, but in this respect it's a quieter book than the previous one. Most of the action involves Lovelace, and her journey to discover who she is. It's exciting, but it's a different kind of excitement – often a quieter excitement.
The writing is really where this novel soars, and I just love how much thought Chambers put into every aspect of this book. She carefully, and gently explores issues of race and gender equality, personal beliefs and stigmas, and how cultures can both clash, and improve each other through shared experiences and information, as well as disabilities and even different abilities (some species can't walk, and require carts to move around, for example). I never once felt like Chambers was hitting me over the head with any of her personal beliefs and insights. Rather, these were messages and thoughtful asides that were woven so flawlessly into the tapestry of the book that they didn't really stand apart from the story, but were cornerstones keeping the story afloat, and remarkable in its own right. She handles these sensitive topics with a poise and precision that I think deserves a mention all on its own.
This book is nominated for a Hugo, and I think it completely deserves that honor. There are very few books out there that address such a wide swath of important issues in such gentle, careful, poignant ways. Not only that, but the story itself is riveting, it's a sort of birds-eye-view into someone's birth (or rebirth, perhaps would be a better word), and that intimate journey is nothing short of captivating. You really feel for Lovelace, and for her conflicted thoughts, her personal experiences, and seeing how someone with such innocent eyes sees the world she's thrust into is rather illuminating as I look at my own world.
There's a magic that Becky Chambers welds whenever she writes, and it literally stops me in my tracks. She's an instant-buy author, and one of those writers that is not only making waves, but raising awareness as she does so, and I can do nothing but tip my hat at her. She's an essential voice in the speculative fiction genre, and currently, in my estimation, one of the most important voices out there.
5/5 stars
P.S. I currently refuse to read these books because the audio version(s) are SO GOOD.