As I said in my round five mini reviews, I am planning on writing full book reviews for each of the finalists. I figured that I should probably make a list of what the finalists are, what they are about, and link to their Amazon pages, for those who are interested.
So, without further ado, here are the SPFBO 2017 round finalists from Bookworm Blues. Keep your eyes peeled for their full-length reviews which will drop randomly throughout the next few weeks.
Congratulations to the round winners. I'll try to be as fast as possible with my reading and reviews so you guys don't have to wait too long to see who the overall winner is. In the meantime, enjoy the publicity.
—
Valley of Embers by Steven Kelliher
Buy the book
For hundreds of years, the flame-wielding Embers have been the last line of defense against the nightmare creatures from the World Apart, but the attacks are getting worse. Kole Reyna guards Last Lake from the terrors of the night, but he fears for his people's future.
When Kole is wounded by a demon unlike any they have seen before, the Emberfolk believe it is a sign of an ancient enemy returned, a powerful Sage known as the Eastern Dark.
Kole has never trusted in prophecy, but with his people hanging on the precipice, he reluctantly agrees to lead the Valley's greatest warriors in a last desperate bid for survival. Together, they will risk everything in search of a former ally long-thought dead, and whether Kole trusts him or not, he may be the only one capable of saving them.
---
Anaerfell by Joshua Robertson & JC Boyd
Buy the book
Drast and Tyran might be considered a bit black-hearted, or even immoral. Drast is cunning but reckless, hunting for admiration. Tyran is calculating but tactless, searching for affection. When the two brothers set aside their ambitions to fulfill their father's desire for immortality, they readily discover many opportunities for redemption. Now, while wielding a powerful magic that drains their life, Drast and Tyran will embark on a maddening quest, facing skin-switchers, dragons, and the God of the Dead.
---
Sufficiently Advanced Magic by Andrew Rowe
Buy the book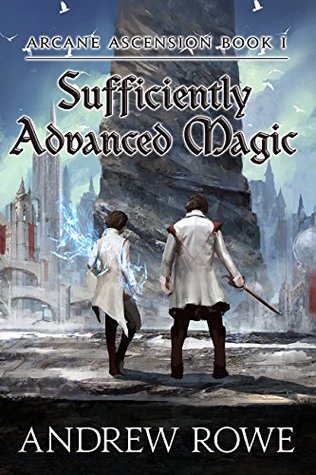 Five years ago, Corin Cadence's brother entered the Serpent Spire — a colossal tower with ever-shifting rooms, traps, and monsters. Those who survive the spire's trials return home with an attunement: a mark granting the bearer magical powers. According to legend, those few who reach the top of the tower will be granted a boon by the spire's goddess.
He never returned.
Now, it's Corin's turn. He's headed to the top floor, on a mission to meet the goddess.
If he can survive the trials, Corin will earn an attunement, but that won't be sufficient to survive the dangers on the upper levels. For that, he's going to need training, allies, and a lot of ingenuity.
The journey won't be easy, but Corin won't stop until he gets his brother back.
---
Ascend Online by Luke Chmilenko
Buy the book
Diving into a revolutionary new video game, Marcus and his friends escape a stagnant society, entering into a world that defies their wildest imaginations. But from the moment that he logs in, Marcus finds himself separated from his friends and thrown into remote village under attack by a horde of goblins.
Forced into battle, Marcus rallies the beleaguered villagers and with their help, manages to drive off the invading creatures. With the village in ruins and their supplies spoiled, the survivors desperately turn to Marcus for help in rebuilding the village.
Realizing that this game is nothing like he's ever played before, Marcus is swept up into a whirlwind of adventure as he struggles to defend his new home, quickly finding that marauding goblins are the least of his problems.
---
Once Lost Lords by Stephen Morse
Buy the book
Humanity hasn't been alone for almost two thousand years. Elves, wolves, vampires, all joined together with mankind to eradicate the 'darker' races and maintained a tentative peace until modern times. Society adapted, everyone has rules that help keep the peace in this modern era. Yet, absolute genocide is impossible when talking about creatures beyond the pale. Some hid, some buried, other were re-purposed.
Some, like Jay Fields, pass for human with a little bit extra. His abilities didn't belong to one of the major races, but any information was buried along with the long dead boogie men. All Jay cared about was those closest to him and a job that let him hit people. He used to be a bouncer at a bar, a part-time enforcer for a loan shark, and even a fight club champion. That was four years ago, before betrayal by someone close sent him packing.
Now he's back and trying to recover a life he left behind. Questions of origin aren't his only problems. His ex-girlfriend is a vampire. His part-time boss doesn't think he's up to snuff anymore. There's a missing elf who might have some answers, and Jay's best friend is caught up in something dangerous…
---
Congratulations to all round finalists. Be on the lookout for your reviews (which will drop in no particular order). As soon as the last one is reviewed, I'll announce the winner who moves on to the final round.