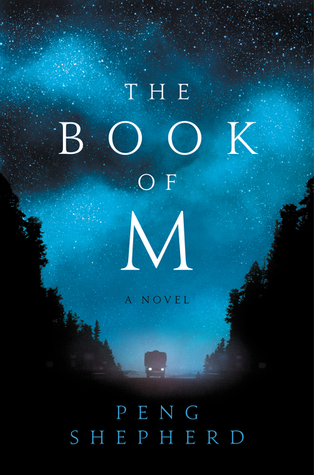 About the Book
Set in a dangerous near future world, The Book of M tells the captivating story of a group of ordinary people caught in an extraordinary catastrophe who risk everything to save the ones they love. It is a sweeping debut that illuminates the power that memories have not only on the heart, but on the world itself.

One afternoon at an outdoor market in India, a man's shadow disappears—an occurrence science cannot explain. He is only the first. The phenomenon spreads like a plague, and while those afflicted gain a strange new power, it comes at a horrible price: the loss of all their memories.

Ory and his wife Max have escaped the Forgetting so far by hiding in an abandoned hotel deep in the woods. Their new life feels almost normal, until one day Max's shadow disappears too.

Knowing that the more she forgets, the more dangerous she will become to Ory, Max runs away. But Ory refuses to give up the time they have left together. Desperate to find Max before her memory disappears completely, he follows her trail across a perilous, unrecognizable world, braving the threat of roaming bandits, the call to a new war being waged on the ruins of the capital, and the rise of a sinister cult that worships the shadowless.

As they journey, each searches for answers: for Ory, about love, about survival, about hope; and for Max, about a new force growing in the south that may hold the cure.
485 pages (hardcover)
Published on June 5, 2018
Author's webpage
Buy the book
This book was a library loan. Yay libraries!
—
The Book of M caught my attention because of the gorgeous cover. I've seen it around, and I wanted to find out more. So, for everyone who says "covers don't sell books" – I beg to differ.
This is a dystopian novel, but a different kind of dystopian than I've ever really read before. Yeah, there has been a lot of death, more empty houses than full houses, and an overwhelming ominous atmosphere, and a sense that life is hard. That's all pretty typical for dystopian novels. What isn't typical is basically everything else.
Shepherd has a way with writing that I just absolutely fell in love with. Her prose was lyrical and quite poetic at times, but pumped full of information as well. The world really came to life, and so did the characters. They jumped off the page until I felt their emotions almost as intensely as though they were my own.
This really worked in the book's favor. In very short order, The Book of M stopped being a book, and started being an experience that I was living through. Events unfold at a nice clip, never too long of a gap between this thing and the next, but just long enough for the reader to really be able to absorb what had just happened, before what is about to happen, happens.
That's terribly written. I hope it makes sense.
The Forgetting is absolutely brilliant, and the entire idea of it, the loss of shadows, the way it impacted people and societies, and the domino effect of it all was just stunning. It was one of those hooks that was so ingenious I had to just sit back and appreciate it for a while. And it wasn't just something that happened, but Shepherd took readers through it in intimate detail, from how it impacted the single person, and how that ripple spread out and impacted families, neighborhoods, towns, and then globally.
It was just…wow.
However, what really gripped me about this book was the relationships. Ory and Max were fantastic characters to follow this saga through. Their relationship changes almost as soon as the book starts, and most of the book is then spent with them trying to find each other again. Max records her story, and the things she undergoes, the reasons she does what she does. Ory leaves everything behind to find her. The exploration of love, and family, bonds and memory were touching and intimate, but also poignant.
Shepherd does a wonderful job at bringing numerous voices to life, each one as fleshed-out as the last. The world building was also incredibly well done, and as Ory and Max travel across an America that is strange to me, it all somehow makes sense. Some of the stories aren't clearly entwined until the ending, but what an ending that is.
There is a logic to all of this, the precise execution, the incredibly almost surreal world that readers are exposed to through the travels of the characters, and the way it is revealed to readers. It's not like anything I've ever really read before, and must have taken incredible imagination to think of it all, and to dream up the way shadows impact everything. Then overlaying all that with these incredible personal relationships and memorable, individual voices, was just the icing on the cake.
If you can't tell, I loved everything about this book. The ending left me reeling. The journey to get there was unforgettable. Reading this book is not an experience I will forget anytime soon.
What an absolutely stunning debut.
5/5 stars