Dearest reader, I must apologize not only to the author, but to you. We had a massive wave of very intense sickness flow through my house this week and it derailed literally everything. I had to delay due dates with my editing, and push back content on my blog. It was really A Thing That Happened.
This interview was supposed to drop on Monday. Thankfully, the author is incredibly understanding, but I am late with publishing it, and that's not fair to her. Please make sure you spread this far and wide so she can get the eyes she deserves, despite me missing the drop date due to life chaos.
Thank you.
---
About the Author
Hello! My name is Nancy O'Toole Meservier. By day, I work as a librarian in central Maine. By night, I write about superheroes. The results are the Red and Black series.
Looking for regular updates? Then head over to the blog where I post about twice a week. Topics of interest include my books, writing, publishing, and the awesome things I've been reading. You can also find me on twitter, and Instagram. I am also the cohost of the One for All: A My Hero Academia Podcast.
Want updates to go straight to your inbox? Then sign up for my mailing list. Don't worry, I won't inundate you with spam. I typically send an update about once a month.
Links
—
First things first, tell me about your books.
I currently have two offerings. First off, there's the Red and Black series, an ongoing series of superhero novels about a nerdy fangirl who gets superpowers and accidentally falls for her nemesis. So far, the series has three books: Red and Black, Black and Blue, and Silver and Gold. They're a mixture of superhero action and secrets with a side of romance. I've technically been writing these characters for years now, so they've gotten very dear to me.
If that sounds interesting to you, you can pick up book one, Red and Black, for free until December 4th. Books two and three are also discounted for a limited time.
In addition, I've recently released a collection of fantasy short stories. The idea behind this is kinda funny. One day, I was listening to a podcast, and one of the hosts mentioned that he happened to have a bunch of short stories lying around, so he decided to collect them into one volume. I remember grumbling at how lucky he was just to have a bunch of stuff sitting around just waiting to be published, and then I remembered that I was in the same boat! The results are The Lady of the Watchtower: Six Stories of Magic and Transformation.
The Lady of the Watchtower contains six stories. We have A Beauty and the Beast retelling where the heroine is both beauty and beast. A story about a pair of sister witches who embrace their birthright in vastly different ways. And a tale about a sorceress haunted by the magic of her past. I tried to pick stories that covered a nice variety of tones and topics while still focusing on the themes of magic and transformation.
What makes you and your books unique? Shine for me, you diamond.
This is a fascinating question because I feel like a lot of conversation in the indie space is about writing to market and fitting into genre conventions. And while folks are creating some great fiction from that, at the end of the day, I'm just a write from my heart kinda gal. When given the option of choosing to go the well-worn path versus doing what I think is best for my story, I'm always going to go with the latter.
At the same time, this doesn't excuse ignorance. If you're going to write genre fiction, it's important to educate yourself on tropes and be aware of reader expectations. I'm a big fan of the idea that you need to learn the rules before breaking them. Tropes aren't bad. In fact, they're often what drives a reader to become a fan in the first place. So the decision to break from them should always be a conscious choice.
What are you working on now/any future projects you want to talk about?
If you're looking for something to read right now, I just published a free e-serial on my blog called King of Hearts. I wanted to do something dark and twisted for Halloween, so I wrote a steampunk retelling of the fairy tale Bluebeard. It's a story that I've actually tried to tackle multiple times in the past and finally managed to succeed just in time for the spookiest season.
Beyond that, I have many things planned for 2021, including the fourth Red and Black book and those fairy tale novellas I mentioned before. The best way to keep up with my releases would be to join my mailing list. I send out a newsletter every month, which an occasional special update here and there.
Let's celebrate. What's one of the best things that's happened to you as an author? Don't be shy.
Some authors don't like it when people message them or tag them on social media with either positive reviews or otherwise nice things about their books, but those moments mean so much to me. To know that I was able to tell a story that made someone excited or happy makes me both excited and happy. I really treasure those interactions.
---
Let's talk CRAFT
Plotter or pantser, and why?
When I first started out, I was a complete pantser. When I sat down to write, I typically knew little beyond a strong image or collection of exchanges between unnamed characters. Since then, a lot has changed, likely tied to the fact that I got sick of living in revision hell. With my second novel, Black and Blue, I had to throw out the entire second half of the book, and then the final quarter before I got things right. Since then, I've gotten a lot better about planning ahead. It's still a messy process. I don't use an outlining method or anything, just a whole bunch of notes. But there's no arguing with the results. The writing process is so much smoother all around.
If you had to start over with writing and publishing, what would you do differently and why?
I would start smaller. Deciding you're going to enter the self-publishing world with a seven-book series is a tall order. Despite having written several unpublished books previously and doing plenty of research on self-publishing before spending a dime, I still ended up making mistakes. Now that I'm three years and four books into it, my editing costs are down, I'm learning about ads, and am more knowledgeable about the publishing process all around. Testing the waters with something smaller, like a trilogy, or a series of shorter works, like novellas, would have saved me some money. 
What does your research process look like? 
Research is actually a shortcoming of mine. I don't always have the patience to sit down and do in-depth research, and that's one of the reasons why I'll never write in genres like hard sci-fi or historical fantasy. But even when you focus on books that are relatively research-lite, you still have work to do.
I find what works best for me is using research as the spark of inspiration for a project. For example, I'm currently working on a series of fairy tale novellas, which involve getting read a lot of fairy tales in their original form. Beyond that, I end up spot researching when necessary. Recently this included looking up youtube videos on how to load Revolutionary War-era muskets.
What research tips or tricks would you give another writer?  
Don't forget about people! Frequently, when we're looking something up, we might spend hours fumbling with google searches. Sometimes it's a lot easier to ask someone in your life that has lived experience with the topic at hand.
---
Let's talk about BOOKS
Tell me about the most recent book you've read.
I just finished The Original by Brandon Sanderson and Mary Robinette Kowal, this cool sci-fi novella where people can elect to be cloned after they die. But if you commit an unforgivable crime, such as murder, the government can choose to create a clone to track you down. The Original is told from the perspective of one of these clones who must locate and execute her original who, she has just learned, has murdered her husband.
I'm a big fan of both authors behind The Original, and I was curious to see how they would tackle this project. Both Brandon and Mary Robinette have written sci-fi, but they're very different writers! The results are fascinating. Some moments felt like Brandon, others felt like Mary Robinette and parts that felt completely original (pun not intended). I really enjoyed The Original's sci-fi concepts and action sequences. Based on some of the fight scenes alone, I think it would actually work nicely as a movie or a police procedural-style TV show.
Tell me about your To Be Read pile. What's on it? What should be on mine?
My To Be Read pile is so embarrassing right now! In case you haven't noticed, 2020 hasn't been good for the mental health of pretty much everyone, and it's had a significant impact on my reading habits. I'm more likely to find myself reaching for old favorites, shorter works, or books that are on the gentle side. For example, a series about a bed and breakfast-owning witch who solves cozy mysteries with the help of a cat and a magical lighthouse.
As a result, a lot of books that came out this year that I was totally psyched about but haven't actually read yet. This includes NK Jemisin's The City We Became, Hank Green's A Beautifully Foolish Endeavor, and S.A. Chakraborty's The Empire of Gold.
As for what should be on your TBR, I highly recommend Rachel Aarons's Heartstriker series. It's the story about a nice dragon, trying to get by in a magic-filled post-apocalyptic Detroit. This fast-paced series has the perfect mixture of sci-fi and fantasy elements, and a really engaging romance subplot. The series also argues for being kind instead of selfish, which I think the world really needs right now. Start with book one, Nice Dragons Finish Last.
Oh, and if you want to check out those books about the witch who solves mysteries with the help of her cat and a magical lighthouse, you're looking for Emma Belmont's Pixie Point Bay series. Quick, gentle, fun reads.
---
Hobbies & All Things Weird
When you aren't writing, what can you typically be found doing?
I only write part-time, so for 40 hours a week, I work as a cataloger in a local library. So between that and writing, I don't get to indulge in hobbies as much as I would like, but I still find ways to make time for myself.
My biggest hobby is reading. While I can't fly through books like I used to, I try and read at least a chapter or two each day, with more time set aside on the weekends. Gaming is something I also enjoy when I can. With the release of Super Mario 3D All-Stars, I've been able to dig into one of my favorite N64 games, Mario 64. It's been a ton of fun.
Another thing I like to do as often as I can is go for walks. I'm fortunate enough to be located next to a river that has a wide variety of wildlife. Over the past few months, I've seen eagles, snapping turtles, mallard ducks, foxes, woodpeckers, deer, turkey vultures, partridges, and roughly several hundred chipmunks. It's good to get outside of your head (not to mention your house!) every once and a while.
Best comic book character ever. Why? 
Clearly, you wouldn't have to ask this question if you knew about The Unbeatable Squirrel Girl! Squirrel Girl has it all. Not only is she a great fighter, but that's far from the only tool in her arsenal. She also knows when it's time to beat a bad guy with her brains, and that the best course of action is often empathy. As a result, she's taken down pretty much all the biggest bads in Marvel Universe, including Galactus, Doctor Doom, and Ultron. I highly recommend picking up Ryan North's run on the character. The joke density is intense, and there are so many lovable characters.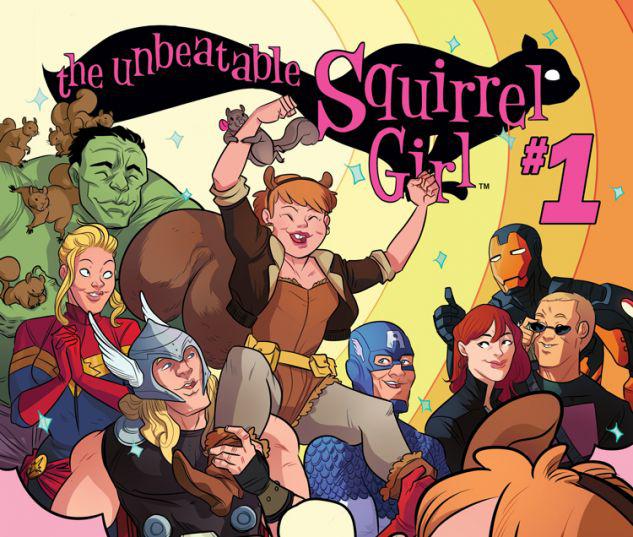 If you had to pick a superpower, what would you pick and why?
As someone who writes superhero fiction, this is a question that I've thought about a lot. One thing I've determined is even though a lot of superpowers (like super strength and flight) sound really cool, those are usually the types of heroes that need to continually throw themselves into the fray. And that totally isn't me!
Instead, I would have to go with healing powers. I've come across many individuals in my life that suffer from pain and illness, from chronic migraines to Parkinson's disease. If I could have the ability to alleviate that suffering, even for a little bit, then that would be incredible.
If you were an animal, what would you be and why?
I relate to my cats way too much. They're such creatures of habit! They love routine and react poorly to sudden surprises, and I can relate to that. The one time people tried to throw me a surprise party, my reaction was bewilderment. Also, they love being cozy. Who doesn't love being cozy!?
Any final thoughts?
I'd just like to remind you of the fact that you can get Red and Black for free on kindle until December. I hope people will consider giving it a chance if they love stories about nerdy women becoming heroes.
Thank you so much for this opportunity, Sarah!
Sarah's note: I think I missed the deadline for this deal because of Ye Olde Plague sweeping through my house. Please check out her books anyway. Support this author. It's not her fault my life imploded and delayed the posting of this interview.
---