When I was diagnosed with cancer in 2010, I made a pretty conscious decision to be open about it. Well, here's the rundown. I was diagnosed with "the best kind of cancer" (No cancer is good. I hate it when people say "you really got lucky with your cancer! It's the best one!" like I won some damn lottery) in Oct. 2010 (papillary thyroid carcinoma). I had a total thyroid removal in November of 2010. Then, I started on the hormones that we all have to start on with thyroid cancer. In January, 2011, I went to the hospital to start radioactive iodine treatment (after a horrible low iodine diet which I HATED). They did a blood test and learned I was 9 weeks pregnant (which is probably why I felt like crap the whole time I was doing the low iodine diet).
Anyway, pregnancy was horrible. With a mixture of back problems that basically paralyzed me for six months, and fighting cancer, it was a nightmare. After I had Fiona, I had an ultrasound done in October 2011, at which point I was told I was cancer free. Yay.
Moving to now.
May of this year I had another routine ultrasound done. The doctor found 3 abnormal lymph nodes and wanted to watch them. He slightly elevated my hormones and let me sit with it for a few months to see if the nodes would grow or disappear or do whatever the hell it is that nodes do.
Today I went back for my follow up.
Result:
My three abnormal nodes have each doubled in size. One has him very nervous because it "looks like it might have access to your blood" – if its cancerous (which is what we are all expecting) and has access to my blood this "best cancer ever" could literally have moved ANYWHERE in my body (which means that even the "best cancer" can be horrible). Second bit of bad news? Not only did the three existing nodes double in size (one grew a little more than double), but two more decided to join the party. I now have five abnormal nodes. I had two of them biopsied today. I should get results in 10 days, with the new year, it might take a little longer.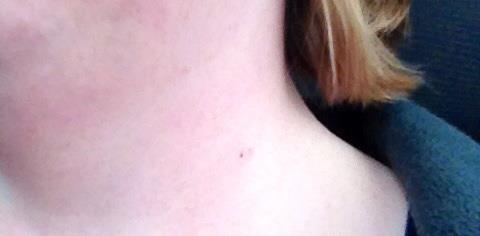 Treatment?  If it ends up to be cancer, like we all expect, it's bilateral neck surgery to remove all the cancerous junk and "one or two" rounds of radioactive iodine. The doctor says that if the biopsy comes back normal (I don't know how it could. He's been calling it cancer for months and no normal nodes would ever look like THAT… even I can tell that much and I'm not trained with that at all), the growth of the nodes has made him so nervous that he wants me to do "one or two doses" of RAI anyway, preferably as soon as possible.
Now, I'm digesting it all. I didn't expect THIS. I'm having a hard time… emotionally I feel kind of broken and hollow right now. I'll be mad as hell tomorrow and I'll probably be crying for a week. I'm going to be on pins and needles until we take the next step to get rid of this stuff. I don't, honestly, know what I am.
My husband came home from work early with flowers and strawberries to cheer me up. I think when the child wakes up from her nap we'll go to the zoo. I'm just trying to keep my mind off of it…. or something. I don't honestly know. I'm all over the map. But, I made a promise to myself to be pretty open about this stuff, so here you go. This is the update. I'll probably be quiet a few days until I emotionally stabilize a bit.