About the Author
I'm Freya. I'm a writer, a gamer, a military historian, an archaeologist, and a lover of chocolate.
My first epic fantasy, Heartwood, releases from Angry Robot in November this year (and it's now available for pre-order! Click here for more details.) I've just finished writing the first draft of the sequel, Sunstone.
I've also now released an anthology of speculative fiction called Augur. Order details are below or read more about it here.
Contact Information
Website
Facebook        
Twitter           
Amazon
—–
I write epic fantasy for Angry Robot Books. The first in the series, Heartwood, comes out on October 29th. The book features many of my loves—medieval warfare, Templar-style holy knights and a nature-based religion, to quote just a few. I've been interested in these things since I was young (so for about a hundred and fifty years!)  and thought I had a wide range of knowledge about the medieval period, but it was only when I created my own world that I realised how much I didn't know.
The kind of things I had to research were:
How far a horse can travel in a day. (About 25-30 miles at a reasonable pace. This affected the scale of my map and how quickly the characters could get from one town to another.)
How to make the names of characters from various lands sound different. (I drew up lists of Germanic names, Saxon names and Celtic names for three of the countries. The knights of Heartwood are all based on Latin words—for example Procella (the name of the female leader of Heartwood's army) means 'storm'.)
What sort of armour would the knights be wearing? (I didn't want to mix plate with chain mail, although I knew that often plate pieces would be buckled on with chain pieces filling in the gaps.)
I also wrote pages on medieval food, medicines, castles and towns, and I researched a typical monastic day, adapting it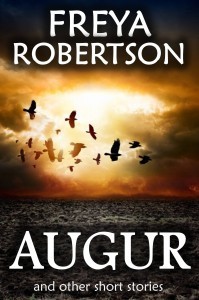 for the shorter Heartwood day and breaking it down into regular Campana or bells that marked the various religious services. Researching Heartwood taught me a huge amount about the medieval period, and I hope I've filtered a percentage of what I learned into the book in an interesting way.
I've also just brought out an anthology of speculative fiction called Augur (and other stories). This includes fantasy, sci-fi and historical stories, and a fair bit of research went into most of these.
For the sci-fi story after which the anthology was named, I researched the fascinating topic of South African goldmines and discovered that at five kilometres below the Earth's surface, the average temperature of the rock face is sixty-five degrees Celsius (150 degrees Fahrenheit).
For the story A Token of Vengeance, I researched the signs of the plague called the Black Death and read about the way victims' lymph nodes would swell, turn black and then sometimes burst. (Yuck.)
For the speculative story The Great Escape, I researched Houdini, the famous escapologist, and found out that his wife held a séance every year on October 31st for ten years after his death (although he never came through.)
For the historical story To Be a King, I researched Celtic Britain, and discovered that warriors used to stiffen their hair with limewash, and that the necklaces they wore were called 'torcs'.
I found out loads of other useful (and sometimes not so useful!) information – for example the capital of Bermuda is Hamilton, and 'robot' is a Czech word that means 'slave'. I learned so much! But that doesn't mean that speculative fiction is just a list of facts. Great speculative writers blend in this information in such a way that you're learning while you're also being entertained.
Grab a sci-fi or fantasy book you've read recently, and tell me something you've learned. I'll send one lucky commenter a free copy of Augur.
Freya