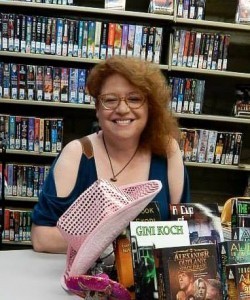 About the Author
Gini Koch lives in Hell's Orientation Area (aka Phoenix, AZ), works her butt off (sadly, not literally) by day, and writes by night with the rest of the beautiful people. She writes the fast, fresh and funny Alien/Katherine "Kitty" Katt series for DAW Books, the Necropolis Enforcement Files series, and the Martian Alliance Chronicles series for Musa Publishing. As G.J. Koch she writes the Alexander Outland series. She also writes under a variety of other pen names (including Anita Ensal, Jemma Chase, A.E. Stanton, and J.C. Koch), listens to all kinds of music 24/7, and is a proud comics geek-girl willing to discuss at any time why Wolverine is the best superhero ever (even if Deadpool does get all the best lines). She speaks frequently on what it takes to become a successful author and other aspects of writing and the publishing business. She is also the Lead Editor at Raphael's Village, an online, nonpaying 'zine. Because she wasn't busy enough, Gini's added on featured guest columnist, reviewer, and webcaster for Slice of SciFi and It's Comic Book Day. She can be reached through her website at www.ginikoch.com.
—
Why anthologies? Why support them, why buy and read them, and why write for them?
When I was young, I ventured into reading horror (and science fiction, and fantasy) via anthologies. After I'd read every single mystery there was in the entire library system, the librarian at my local library, in desperation to make this girl shut up and go away, turned me onto horror. She handed me a Year's Best horror anthology and told me to try it. Still not sure if she was a great librarian or just trying to scare me quiet.
But I read the first couple of shorts in that anthology and I was hooked.
I read all the horror out there, too, until I hit Stephen King's collection of shorts, Night Shift. I had to stop reading horror after that — not because the stories weren't good, they were, but because they were TOO good. I believed them. Wholly and utterly. And I couldn't sleep without nightmares for weeks. (Same librarian then handed me the Year's Best in science fiction, so I think she was on to something.) Now I can only read horror if I know the person who wrote it, so I can say, "Um, this didn't really happen, right? Right? RIGHT?" Or if it's really good. Or if it's about kaiju. (Okay, so I'm still reading horror and still having nightmares even though I'm a great big grown up girl. It happens.)
So why do I write horror? In part because I tend to look at the world in a skewed fashion, and sometimes that fashion skews dark and weird and creepy. And because my main writing gig is to write funny, and usually funny science fiction. And being funny is a lot of work and much harder than most people realize. I write horror as a lovely break from writing funny. Though I write about kaiju, giant monsters, much more than in horror. In my first novel, Touched by an Alien, my heroine and her intrepid team of good guy aliens have to take on superbeings, which are that universe's form of kaiju. They manage to win, but it takes a lot of ingenuity, or crazy, depending on how you look at it.
But I don't always want the good guys to win. And sometimes, the good guy isn't who you think it is. And horror, kaiju horror especially, lets me play around with those ideas, and more. Horror is, perhaps, the genre that most makes us think about moral ramifications of our choices, while simultaneously scaring the crap out of us. It's a win-win for all.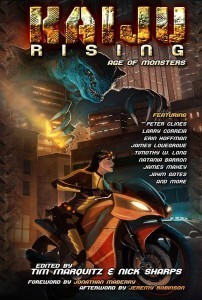 So why should you fund the Kaiju Rising: Age of Monsters Anthology? And why, as a byproduct, should you read it? Because it's going to be filled with great short stories from me (writing as J.C. Koch) and a host of other awesome authors who all want to tell cool and scary stories about giant monsters doing what giant monsters do best — tearing things up and tearing things down…and so much more.
Anthologies are great ways to discover new authors, discover different aspects of authors you already know, and enjoy yourself one short story at a time. Kaiju Rising is going to be filled with amazing stories from a bevy of authors working at the top of their game. And it's also going to be filled with beautiful artwork that brings the essence of each story into view. I can't wait for you to see the art that Chuck Lukacs is doing for my piece because it's perfect. Just like all the other artwork.
This may be the first anthology from Ragnorak, but it won't be the last. This is a beautiful book, created with loving enthusiasm, and a team like this is going to do a lot more great stuff. Get in now, so you can brag later that you were there when the monsters came.