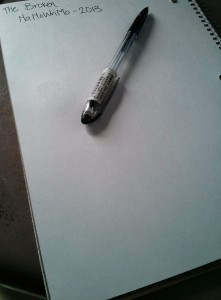 I'm sort of adjusting to the post-cancer life still, and one of the things I've learned about myself is that cancer has made me want to take a lot of chances. It's made me want to do the things I love, even if I will never succeed in them. That's why I've entered photography contests, submitted photos to magazines, wrote a few short stories that I'm still trying to get published (har har har – don't hold your breath for that to happen).
I've always been a writer. I've been winning writing contests as far back as I can remember. Hell, I remember in kindergarten, we wrote stories, and my teacher was so impressed with mine she read it to the whole stupid school in an assembly. I was mortified the whole time. I remember feeling the most embarrassed I've ever felt in the history of ever. That's where it started, and while I've had some stuff published (not under my own name. If these short stories ever see the light of day they'll be the first thing I publish under my own name) I've never really pursued it. There are a lot of reasons why. There are a ton of fantastic authors out there that I can't compete with. Writing is a dog-eat-dog world, and I logically realize that the percentage of anything actually happening with my creative efforts is about -75%.
Whatever. I can't live my life as a passenger pondering the "what ifs" and dreaming without acting. Cancer taught me that. You have to take the wheel and drive, even if you don't really end up anywhere amazing. So I'm pursuing my writing dreams, with the realization that nothing will happen of it.
In that respect, I've signed up for my first ever NaNoWriMo. I'm terrified, but the seed of the idea I'm going to write was born during my cancer struggle, and I think writing it will put a lot of my emotional upheaval to rest. I've filled two notebooks full of junk – notes, cultures, characters… everything else. I think I'm ready, but one never knows until they attempt it. My problem will be figuring out how to balance running the blog with writing a ton each day. As you can see in the picture of my latest filled notebook, the novel is called The Broken and I refuse to say anything about it other than that.
And of course, you'll get updates here. I'm sure I will learn a lot while I torture myself. The thing is, it's kind of like going to the gym. If you go with other people, you'll exercise more often and better. If you try to go alone, it'll never work (at least for me). That's how I'm looking at NaNoWriMo. I want to do this. I think having a group push will help a lot.
So there you have it. My official NaNoWriMo declaration. If you are doing NaNoWriMo and want to join me, I'd love you to. My name on that site is "BookwormBlues" (If you had to guess…). Feel free to add me.