A few fun dollops of news.
A few weeks ago in this Books I'm Eyeing, I posted Crossover by Joel Shepherd. A few days ago, the UPS guy showed up at my door with, you guessed it, that book, and a nice note from Lisa, one of the lovely PR Guru's at Pyr. What a lovely surprise! I started reading the book as soon as I tore open the package. It was a lovely, very surprising treat.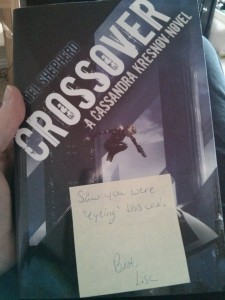 Also, a while ago Andrea, from Little Red Reviewer offered to get me an autograph from Ian Tregillis at a Con she was going to. Of course I jumped on it, and guess what showed up in the mail this week? This made my day!! I love how incredibly generous people in this genre are.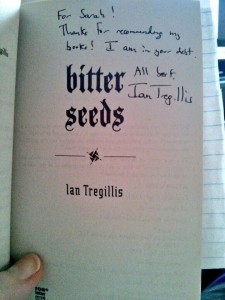 And lastly, check out this link to see the other cool stuff happening in this Bookworm's geeky world. Yup, that's a bookshelf in a bookstore full of Special Needs in Strange Worlds books. That gave me chills.
—
Books I'm Eyeing is a weekly column where I highlight the books that other websites have reviewed that have attracted my attention. It's my way to point out great content, great books, and the great bloggers who highlight them.
So what books are you eyeing this week?
—
The Big Red Buckle – Matthew Allen Thyer
Discovery blamed on: Little Red Reviewer
About the Book
Humanity has survived environmental and atmospheric calamity and begun to move out into the stars. Sport still plays a vital role in our day-to-day affairs. The Big Red Buckle recounts an episode of a single-stage endurance race held between two shield volcanoes on a Mars that is slowly being terraformed. Participants must run and soar over 1,500 kilometers while the solar system watches.
For Marco Aguilar, just being at the starting line represents the culmination of two years of careful preparation and training. He aims to win the Grand Martian Traverse, and take home The Big Red Buckle for himself and for native Martians.
—
The Raven Boys – Maggie Stiefvater
Discovery blamed on: A Dribble of Ink
About the Book
"There are only two reasons a non-seer would see a spirit on St. Mark's Eve," Neeve said. "Either you're his true love . . . or you killed him."
It is freezing in the churchyard, even before the dead arrive.
Every year, Blue Sargent stands next to her clairvoyant mother as the soon-to-be dead walk past. Blue herself never sees them—not until this year, when a boy emerges from the dark and speaks directly to her.
His name is Gansey, and Blue soon discovers that he is a rich student at Aglionby, the local private school. Blue has a policy of staying away from Aglionby boys. Known as Raven Boys, they can only mean trouble.
But Blue is drawn to Gansey, in a way she can't entirely explain. He has it all—family money, good looks, devoted friends—but he's looking for much more than that. He is on a quest that has encompassed three other Raven Boys: Adam, the scholarship student who resents all the privilege around him; Ronan, the fierce soul who ranges from anger to despair; and Noah, the taciturn watcher of the four, who notices many things but says very little.
For as long as she can remember, Blue has been warned that she will cause her true love to die. She never thought this would be a problem. But now, as her life becomes caught up in the strange and sinister world of the Raven Boys, she's not so sure anymore.
From Maggie Stiefvater, the bestselling and acclaimed author of the Shiver trilogy and The Scorpio Races, comes a spellbinding new series where the inevitability of death and the nature of love lead us to a place we've never been before.
—
And All the Stars – Andrea K. Host
Discovery blamed on: Bibliotropic
About the Book
Come for the apocalypse. Stay for cupcakes. Die for love. Madeleine Cost is working to become the youngest person ever to win the Archibald Prize for portraiture. Her elusive cousin Tyler is the perfect subject: androgynous, beautiful, and famous. All she needs to do is pin him down for the sittings. None of her plans factored in the Spires: featureless, impossible, spearing into the hearts of cities across the world – and spraying clouds of sparkling dust into the wind. Is it an alien invasion? Germ warfare? They are questions everyone on Earth would like answered, but Madeleine has a more immediate problem. At Ground Zero of the Sydney Spire, beneath the collapsed ruin of St James Station, she must make it to the surface before she can hope to find out if the world is ending.
—
A Love Like Blood – Marcus Sedgwick
Discovery blamed on: Civilian Reader
About the Book
'I've chased him for over twenty years, and across countless miles, and though often I was running, there have been many times when I could do nothing but sit and wait. Now I am only desperate for it to be finished.'
In 1944, just days after the liberation of Paris, Charles Jackson sees something horrific: a man, apparently drinking the blood of a murdered woman. Terrified, he does nothing, telling himself afterwards that worse things happen in wars.
Seven years later he returns to the city – and sees the same man dining in the company of a fascinating young woman. When they leave the restaurant, Charles decides to follow…
A Love Like Blood is a dark, compelling thriller about how a man's life can change in a moment; about where the desire for truth – and for revenge – can lead; about love and fear and hatred. And it is also about the question of blood.
—
The Martian – Andy Weir
Discovery blamed on: The Speculative Scotsman
About the Book
Apollo 13 meets Cast Away in this grippingly detailed, brilliantly ingenious man-vs-nature survival thriller, set on the surface of Mars.
Six days ago, astronaut Mark Watney became one of the first men to walk on the surface of Mars. Now, he's sure he'll be the first man to die there.
It started with the dust storm that holed his suit and nearly killed him, and that forced his crew to leave him behind, sure he was already dead. Now he's stranded millions of miles from the nearest human being, with no way to even signal Earth that he's alive–and even if he could get word out, his food would be gone years before a rescue mission could arrive. Chances are, though, he won't have time to starve to death. The damaged machinery, unforgiving environment, or plain-old "human error" are much more likely to get him first.
But Mark isn't ready to give up yet. Drawing on his ingenuity, his engineering skills–and a relentless, dogged refusal to quit–he steadfastly confronts one seemingly insurmountable obstacle after the next. But will his resourcefulness be enough to overcome the impossible odds against him?