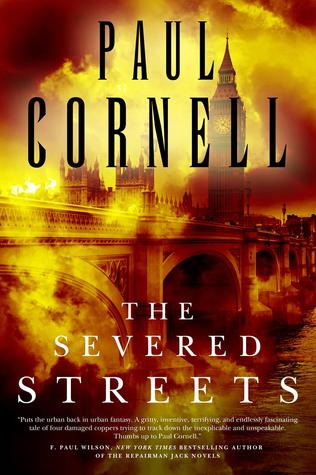 I just got home from vacation and I'm fairly exhausted. I have to work in the morning, and I'm not in the mood to write a review.
Therefore, GIVEAWAY.
Last week the good people at Tor sent me two hardback copies of The Severed Streets by Paul Cornell. I really only need to read one. That leaves me with one extra book in a series I am absolutely in love with, and a bunch of readers who I want to share my love with.
Therefore, GIVEAWAY.
Here are the rules:
1) Giveaway is open WORLDWIDE. 
CONGRATULATIONS CITIZENS OF PLANET EARTH.
2) You have until midnight, Mountain Standard Time to enter on Wednesday, June 4. 
3) You can enter once, and you can enter by leaving a comment on this post. 
4) The winner will be randomly chosen and notified by email. You have 48 hours to respond to my email before I choose someone else. 
—
If you need a reminder, The Severed Streets is the second book in Paul Cornell's Shadow Police series. Here's the blurb:
Desperate to find a case to justify the team's existence, with budget cuts and a police strike on the horizon, Quill thinks he's struck gold when a cabinet minister is murdered by an assailant who wasn't seen getting in or out of his limo. A second murder, that of the Commissioner of the Metropolitan Police, presents a crime scene with a message… identical to that left by the original Jack the Ripper.

The new Ripper seems to have changed the MO of the old completely: he's only killing rich white men. The inquiry into just what this supernatural menace is takes Quill and his team into the corridors of power at Whitehall, to meetings with MI5, or 'the funny people' as the Met call them, and into the London occult underworld. They go undercover to a pub with a regular evening that caters to that clientele, and to an auction of objects of power at the Tate Modern.

Meanwhile, the Ripper keeps on killing and finally the pattern of those killings gives Quill's team clues towards who's really doing this.
Good luck to all who enter. May the odds be ever in your favor (or however that's supposed to go).