This week has been exciting. I was interviewed on Hide and Create about writing characters with disabilities. I started an international giveaway, and I came home from a wonderful vacation.
I've also been working on a few books that are astoundingly good so far.
The Mirror Empire by Kameron Hurley, The Girl with All the Gifts by M.R. Carey, and The Boost by Stephen Baker.
Now, onto Books I'm Eyeing.
What books are you eyeing?
—
Speed of Dark – Elizabeth Moon
Discovery blamed on: Civilian Reader
About the Book
In the near future, disease will be a condition of the past. Most genetic defects will be removed at birth; the remaining during infancy. Unfortunately, there will be a generation left behind. For members of that missed generation, small advances will be made. Through various programs, they will be taught to get along in the world despite their differences. They will be made active and contributing members of society. But they will never be normal.

Lou Arrendale is a member of that lost generation, born at the wrong time to reap the awards of medical science. Part of a small group of high-functioning autistic adults, he has a steady job with a pharmaceutical company, a car, friends, and a passion for fencing. Aside from his annual visits to his counselor, he lives a low-key, independent life. He has learned to shake hands and make eye contact. He has taught himself to use "please" and "thank you" and other conventions of conversation because he knows it makes others comfortable. He does his best to be as normal as possible and not to draw attention to himself. 

But then his quiet life comes under attack. It starts with an experimental treatment that will reverse the effects of autism in adults. With this treatment Lou would think and act and be just like everyone else. But if he was suddenly free of autism, would he still be himself? Would he still love the same classical music–with its complications and resolutions? Would he still see the same colors and patterns in the world–shades and hues that others cannot see? Most importantly, would he still love Marjory, a woman who may never be able to reciprocate his feelings? Would it be easier for her to return the love of a "normal"?

There are intense pressures coming from the world around him–including an angry supervisor who wants to cut costs by sacrificing the supports necessary to employ autistic workers. Perhaps even more disturbing are the barrage of questions within himself. For Lou must decide if he should submit to a surgery that might completely change the way he views the world . . . and the very essence of who he is.

Thoughtful, provocative, poignant, unforgettable, The Speed of Dark is a gripping exploration into the mind of an autistic person as he struggles with profound questions of humanity and matters of the heart.
—
Radiant – Karina Sumner-Smith
Discovery blamed on: Fantasy Book Critic
About the Book
Xhea has no magic. Born without the power that everyone else takes for granted, Xhea is an outcast—no way to earn a living, buy food, or change the life that fate has dealt her. Yet she has a unique talent: the ability to see ghosts and the tethers that bind them to the living world, which she uses to scratch out a bare existence in the ruins beneath the City's floating Towers.

When a rich City man comes to her with a young woman's ghost tethered to his chest, Xhea has no idea that this ghost will change everything. The ghost, Shai, is a Radiant, a rare person who generates so much power that the Towers use it to fuel their magic, heedless of the pain such use causes. Shai's home Tower is desperate to get the ghost back and force her into a body—any body—so that it can regain its position, while the Tower's rivals seek the ghost to use her magic for their own ends. Caught between a multitude of enemies and desperate to save Shai, Xhea thinks herself powerless—until a strange magic wakes within her. Magic dark and slow, like rising smoke, like seeping oil. A magic whose very touch brings death.

With two extremely strong female protagonists, Radiant is a story of fighting for what you believe in and finding strength that you never thought you had.
—
Son of the Morning – Mark Alder
Discovery blamed on: Grimdark Reader
About the Book
Edward the Third stands in the burnt ruin of an English church. He is beset on all sides. He needs a victory against the French to rescue his Kingship. Or he will die trying.

Philip of Valois can put 50,000 men in the field. He has sent his priests to summon the very Angels themselves to fight for France. Edward could call on God for aid but he is an usurper. What if God truly is on the side of the French? 

But for a price, Edward could open the gates of Hell and take an unholy war to France . . .

Mark Alder has brought the epic fantasy of George R.R. Martin to the vivid historical adventure of Bernard Cornwell and has a created a fantasy that will sweep you to a new vision of the Hundred Years War.
—
Half Way Home – Hugh Howey
Discovery blamed on: Nerds of a Feather
About the Book
Less than sixty kids awaken on a distant planet. The colony ship they arrived on is aflame. The rest of their contingent is dead. They've only received half their training, and they are being asked to conquer an entire planet. Before they can, however, they must first survive each other.In this gritty tale of youths struggling to survive, Hugh Howey fuses the best of young adult fantasy with the piercing social commentary of speculative fiction. The result is a book that begs to be read in a single sitting. An adventurous romp that will leave readers exhausted and begging for more.
—
Some Fine Day – Kat Ross
Discovery blamed on: Over The Effing Rainbow
About the Book
Sixteen-year-old Jansin Nordqvist is on the verge of graduating from the black ops factory known as the Academy. She's smart and deadly, and knows three things with absolute certainty:
1. When the world flooded and civilization retreated deep underground, there was no one left on the surface.
2. The only species to thrive there are the toads, a primate/amphibian hybrid with a serious mean streak.
3. There's no place on Earth where you can hide from the hypercanes, continent-sized storms that have raged for decades.
Jansin has been lied to. On all counts.
—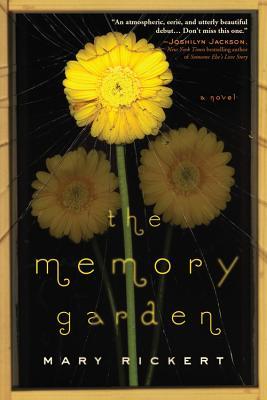 The Memory Garden – Mary Rickert
Discovery blamed on: Stainless Steel Droppings
About the Book
Nan keeps her secrets deep, not knowing how the truth would reveal a magic all its own

Bay Singer has bigger secrets than most. She doesn't know about them, though. Her mother, Nan, has made sure of that. But one phone call from the sheriff makes Nan realize that the past is catching up. Nan decides that she has to make things right, and invites over the two estranged friends who know the truth. Ruthie and Mavis arrive in a whirlwind of painful memories, offering Nan little hope of protecting Bay. But even the most ruined garden is resilient, and their curious reunion has powerful effects that none of them could imagine, least of all Bay.
—