It's been a while since I've had the time or energy to write up one of these posts.
Life has been pretty hectic. I went through my cancer treatment two weeks ago. It was HORRIBLE. Absolutely horrible. When I did this before, it took six weeks. This time my doctor wanted me to rush it, so they gave me two injections that basically gave me six weeks of sick in two days. Then I had to take the special pill that kills all the bad things, and that made me even more sick. It was horrible. I can't even tell you how horrible.
The good news is, they did my scan on that Friday and they said it looks like they got it all. It wasn't as dire as my doctor thought. I seem to have treated it before the cancer really sunk its teeth in and started growing all sorts of friends. The dose I took killed a bunch of stuff off, and quarantine was a ton of fun (/sarcasm font). While my scan looks promising, my blood tests are less so. The marker they look for that should be decreasing is actually increasing, so my doctor says there might still be thyroid tissue somewhere in my body. I'm going to be closely monitored. I have to have yearly scans – one scan a year for two years  – both must come back clean – before I'm considered in remission. Added to that, I have to have clean blood work for ten years before I'm considered cancer free.
Basically I'm stuffed back in wait-and-see camp. I hate wait-and-see camp. But…. it's better than a lot of alternatives.
Officially, I'm breathing a lot easier, despite the "wait and see what happens" plan. I'm not going to live my life wondering "what if" and waiting for the shoe to drop, so I'm shrugging my shoulders and moving on.
It's a long road, but I'll take it.
So… onto Books I'm Eyeing.
What books are you eyeing?
Seeders – A.J. Colucci 
Discovery blamed on – My Bookish Ways
About the Book
George Brookes is a brilliant but reclusive plant biologist living on a remote Canadian island. After his mysterious death, the heirs to his estate arrive on the island, including his daughter Isabelle, her teenage children, and Jules Beecher, a friend and pioneer in plant neurobiology. They will be isolated on the frigid island for two weeks, until the next supply boat arrives.

As Jules begins investigating the laboratory and scientific papers left by George, he comes to realize that his mentor may have achieved a monumental scientific breakthrough: communication between plants and humans. Within days, the island begins to have strange and violent effects on the group, especially Jules who becomes obsessed with George's journal, the strange fungus growing on every plant and tree, and horrible secrets that lay buried in the woods. It doesn't take long for Isabelle to realize that her father may have unleashed something sinister on the island, a malignant force that's far more deadly than any human. As a fierce storm hits and the power goes out, she knows they'll be lucky to make it out alive.
—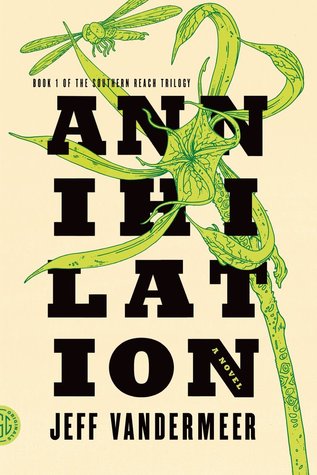 Annihilation – Jeff VanderMeer
Discovery blamed on: Lots of places, but most notably Nerds of a Feather
About the Book
Area X has been cut off from the rest of the continent for decades. Nature has reclaimed the last vestiges of human civilization. The first expedition returned with reports of a pristine, Edenic landscape; all the members of the second expedition committed suicide; the third expedition died in a hail of gunfire as its members turned on one another; the members of the eleventh expedition returned as shadows of their former selves, and within months of their return, all had died of aggressive cancer.

This is the twelfth expedition.

Their group is made up of four women: an anthropologist; a surveyor; a psychologist, the de facto leader; and our narrator, a biologist. Their mission is to map the terrain and collect specimens; to record all their observations, scientific and otherwise, of their surroundings and of one another; and, above all, to avoid being contaminated by Area X itself.

They arrive expecting the unexpected, and Area X delivers—they discover a massive topographic anomaly and life forms that surpass understanding—but it's the surprises that came across the border with them, and the secrets the expedition members are keeping from one another, that change everything.
—
Devourer of Souls – Kevin Lucia
Discovery blamed on: Over the Effing Rainbow
About the Book
Sophan

An ancient game of chance and Fate. One boy's smoldering hate, another boy's need to make things right, and a father's ghosts of Vietnam past. These are the key players in this latest tale of revenge and reparation performed on the stage of the strange Adirondack town of Clifton Heights, NY.

The Man in Yellow

Tahawus is a small, isolated Adirondack town just north of Clifton Heights. A quiet place filled with simple people of an ardent faith, nothing much ever happens there…until the man in yellow comes calling. He knows your worst nightmares, and he can offer your fondest wish. All you need is faith…and a mouth from which to scream.
—
Glaze – Kim Curran
Discovery blamed on: SF Signal
About the Book
Petri Quinn is counting down the days till she turns 16 and can get on GLAZE – the ultimate social network that is bringing the whole world together into one global family. But when a peaceful government protest turns into a full-blown riot with Petri shouldering the blame, she's handed a ban. Her life is over before it's even started.

Desperate to be a part of the hooked-up society, Petri finds an underground hacker group and gets a black market chip fitted. But this chip has a problem: it has no filter and no off switch. Petri can see everything happening on GLAZE, all the time. Including things she was never meant to see.

As her life is plunged into danger, Petri is faced with a choice. Join GLAZE… or destroy it.
—
Barricade – Jon Wallace
Discovery blamed on: The Speculative Scotsman
About the Book
Kenstibec was genetically engineered to build a new world, but the apocalypse forced a career change. These days he drives a taxi instead.

A fast-paced, droll and disturbing novel, BARRICADE is a savage road trip across the dystopian landscape of post- apocalypse Britain; narrated by the cold-blooded yet magnetic antihero, Kenstibec.

Kenstibec is a member of the 'Ficial' race, a breed of merciless super-humans. Their war on humanity has left Britain a wasteland, where Ficials hide in barricaded cities, besieged by tribes of human survivors. Originally optimised for construction, Kenstibec earns his keep as a taxi driver, running any Ficial who will pay from one surrounded city to another.

The trips are always eventful, but this will be his toughest yet. His fare is a narcissistic journalist who's touchy about her luggage. His human guide is constantly plotting to kill him. And that's just the start of his troubles.

On his journey he encounters ten-foot killer rats, a mutant King with a TV fixation, a drug-crazed army, and even the creator of the Ficial race. He also finds time to uncover a terrible plot to destroy his species for good – and humanity too.
—