This review was originally posted here. Thanks so much to Joao Eira for letting me nab it for my website!
—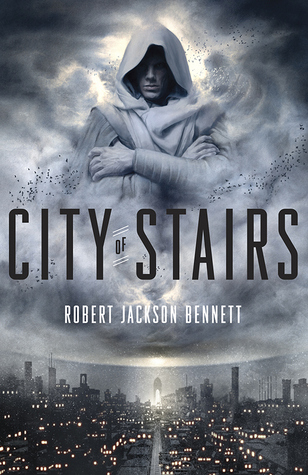 About the Book
A densely atmospheric and intrigue-filled fantasy novel of living spies, dead gods, buried histories, and a mysterious, ever-changing city-from one of America's most acclaimed young SF writers.
Years ago, the city of Bulikov wielded the powers of the Gods to conquer the world. But after its divine protectors were mysteriously killed, the conqueror has become the conquered; the city's proud history has been erased and censored, progress has left it behind, and it is just another colonial outpost of the world's new geopolitical power. Into this musty, backward city steps Shara Divani. Officially, the quiet mousy woman is just another lowly diplomat sent by Bulikov's oppressors. Unofficially, Shara is one of her country's most accomplished spymasters-dispatched to investigate the brutal murder of a seemingly harmless historian. As Shara pursues the mystery through the ever-shifting physical and political geography of the city, she begins to suspect that the beings who once protected Bulikov may not be as dead as they seem-and that her own abilities might be touched by the divine as well.
464 pages (paperback)
Published on September 9, 2014
Published by Broadway Books
Author's webpage
Review originally posted here
—
It is always a wonderful experience when you begin reading a book that you have not heard about before but where the concept intrigues you enough for you to plunge right in, hoping your bet will pay off. City of Stairs by Robert Jackson Bennett was such an experience for me and boy, did it pay off.
If there is a trope that pulls me right into a book it's the one of a fantasy world where the gods are dead and have left their mark on the world's history and culture. In the city of Bulikov, which once was the main city from which the gods ruled their lands, the mere mention of the continent's long history is strictly forbidden after the once slaves Saypuri rose up and defeated the gods with a mysterious weapon built by a mysterious man.
While the Continentals, the ones who were blessed with the gods' favor, may hardly think about their history, the Saypuri are not bound by such rule. It is with this that the story starts, when Shara Divani arrives in Bulikov to uncover the murderer of her dear teacher Panguy, the world's foremost expert on Continental history and legacy. In it's heart, City of Stairs is a mystery novel, but one where the mystery is interwoven with excellent world-building, bone-crushing action and political intrigue that is far more interesting that it has any right to be.
Shara is the perfect character to thrust into the story as she not only is a wicked smart person, having entered Saypuri's best school early and graduating with the highest marks, but she complements that with an extensive knowledge of Continental history, and with the vast experience in politics and stratagems that spy operatives regularly find themselves in. It also helps that she has partnered herself with a northern giant named Sigrud who provides the muscle, and a very interesting side story that promises to blossom in the following books.
As Shara discovers what Panguy was working on in Bulikov, work that was much reviled by Bulikov's citizens, who saw it as an affront that a Saypuri had access to their most precious treasures while they had not,  and comes closer to finding out who murdered him and why, she sees with her own eyes that history is written with a faulty pen and what was once truth could be swept away as mere fairytale by a new discovery.
Touching on themes of colonialism, where the once slave masters are overturned by their slaves who now seek to extinguish the Continent's heritage, while at the same time bringing with them various technological advances, and the value or disvalue of clinging to tradition, in City of Stairs Bennett manages to make his readers juggle with thinking on serious moral issues as well as be excited for one more page-turn to see what happens next in the story. He manages to keep the reader interested in the story's events, is able to maintain a sense of urgency and mystery that I find to be necessary for those pages to turn themselves quickly, and assembles a cast of characters that are well drawn out and memorable by themselves.
The only pet peeve I had with the book, and it is in no way harmful to the story, is that there is never  any explanation about how it is possible for the Saypuri to have gotten to the level of technological progress where cars and somewhat modern medicine is possible. It is hard to imagine a slave population with that kind of technological level, and the Continental population wouldn't have any need for it since the gods provided much more than any kind of technology could ever offer.
I will find it criminal if this book doesn't do well in the market when it launches this September, and I will definitely keep tabs on the next book of this series, which the ending promises will be just as exciting and intriguing as the first one.
4.5/5 stars
—
Huge thanks to Joao for letting me nab this review. Check out his fantastic blog for more reviews like this one.