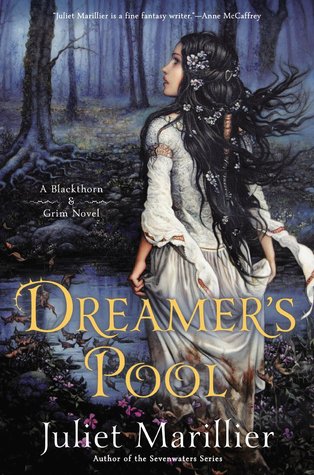 About the Book
Award-winning author Juliet Marillier "weaves magic, mythology, and folklore into every sentence on the page" (The Book Smugglers). Now she begins an all-new and enchanting series that will transport readers to a magical vision of ancient Ireland…
In exchange for help escaping her long and wrongful imprisonment, embittered magical healer Blackthorn has vowed to set aside her bid for vengeance against the man who destroyed all that she once held dear. Followed by a former prison mate, a silent hulk of a man named Grim, she travels north to Dalriada. There she'll live on the fringe of a mysterious forest, duty bound for seven years to assist anyone who asks for her help.
Oran, crown prince of Dalriada, has waited anxiously for the arrival of his future bride, Lady Flidais. He knows her only from a portrait and sweetly poetic correspondence that have convinced him Flidais is his destined true love. But Oran discovers letters can lie. For although his intended exactly resembles her portrait, her brutality upon arrival proves she is nothing like the sensitive woman of the letters.
With the strategic marriage imminent, Oran sees no way out of his dilemma. Word has spread that Blackthorn possesses a remarkable gift for solving knotty problems, so the prince asks her for help. To save Oran from his treacherous nuptials, Blackthorn and Grim will need all their resources: courage, ingenuity, leaps of deduction, and more than a little magic.
448 pages (hardcover)
Published on November 4, 2014
Published by Roc Hardcover
Author's webpage
Buy the book
This book was sent for me to review by the publisher.
—
All you really have to do is say "Ireland" and I'm there. Really, it's that simple. You say "Ireland" and I start begging for whatever book it is that you're talking about. So when Dreamer's Pool landed on my doorstep, I started reading it instantly. Ireland? Check. Mythology? Check. A tested author who knows what she's doing? Check.
It has everything I want in a book. Plus, the cover is absolutely gorgeous. I had high expectations, and high expectations are often dangerous. The higher they are, the further you can fall.
Dreamer's Pool is told in three different first person perspectives. Books written like this have a very high fail rate. Not everyone likes first person points of view. Furthermore, it is very, very hard to get three different perspectives to sound like three different people. Sarah Monette managed it, but I haven't really read any books that have done it as well as her.
Dreamer's Pool, however, might rival Monette in this department. There is absolutely no question that these three different points of view are three different people. There is no mixing and merging of perspectives, no chance that you mistake one person for another. It is all very well done, and each character is truly an individual, with their own unique voice, and all three voices work perfectly together to give readers a nuanced and rather layered story that would have been impossible to fully capture with just one perspective.
Each character is somehow broken. The prince isn't "princely" enough for his parents. He enjoys poetry and dreams about love in a world where men are meant to rule with an iron fist, kill things, and let women do the poetry. On the other hand, we have Blackthorn, who is carrying some pretty obvious scars with her from a past that never really stops haunting her. And there's her companion, Grim, who was imprisoned with her.
Grim is hard to pin down, and due to that he quickly became my favorite character. He talks less than the other characters, and listens more. People think he's simple, but it quickly becomes obvious that he isn't simple; he just works a little differently than the others. A lot of the details that readers would miss through the other characters are caught through Grim's narrative.
Furthermore, his affection with Blackthorn is also hard to pin down. Blackthorn keeps him at arm's length, but their relationship is something like siblings with a trust that is so deep it's indefinable. These are two characters who complete each other well. One takes off where the other ends, and together their combined narrative pulls together a huge chunk of the book and makes it poignant, emotional, and unforgettable.
The thing that so many authors seem to forget is that sometimes the sweetest, most memorable relationships are the ones that refuse to be defined. Is this a romantic book? Kind of. Not really. I don't know. And that's not a bad thing. It's not bad to not be able to pin down the romance level of a book, and it's not bad to have numerous relationships that are all hard to define. In fact, Marilliar really plays off of that strength. Relationships are never just one thing. They are hard, they build over time, and they require effort. The complexity of the relationships in this book reflect that, and due to the reality, the hardship, and the effort, I didn't mind them.
The actual mystery that the book blurb focuses on actually takes up less than half of the text. Most of the book is spent focusing on growth, change, adaptation in the face of hardship. At about the halfway point, the young prince's bride-to-be is introduced to things, but it doesn't become obvious that there's a mystery until quite a ways after that.
That's not a bad thing, either. The mystery is kind of obvious and can be handled in a heavy-handed way. The real captivating aspects of the book had to do with all that growth and change I mentioned above. Three different people are learning who they are after life has forced them to bend in uncomfortable ways. Thrown into this is some nice mythology and some atmospheric writing that will rocket you right back to an Ireland from a long time ago.
There are some books that are captivating in their subtlety, and this is one of them. A lot is happening, a shocking amount, actually, but it's all handled so deftly that reading the book is pretty effortless. You get to just sit back and enjoy mythology come to life, people change and alter, life happening in uncomfortable and sometimes beautiful ways. There is mystery, and twists and turns, and it's all very delightful.
Dreamer's Pool is a book I wanted to love, and I was thrilled that I did. It's not what I expected, and the subtle, background, less flashy elements were far more enchanting than the obvious plot points, but that's okay. Dreamer's Pool is a book that refuses to bend or be defined, and that's what's so incredibly charming about it. The characters are riveting and the struggles are realistic. I couldn't put it down, and can't wait for more.
4/5 stars