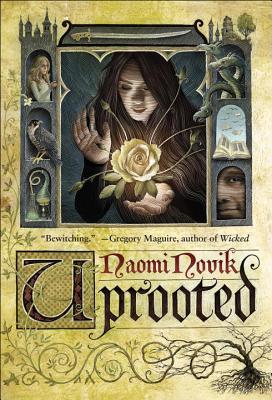 About the Book
"Our Dragon doesn't eat the girls he takes, no matter what stories they tell outside our valley. We hear them sometimes, from travelers passing through. They talk as though we were doing human sacrifice, and he were a real dragon. Of course that's not true: he may be a wizard and immortal, but he's still a man, and our fathers would band together and kill him if he wanted to eat one of us every ten years. He protects us against the Wood, and we're grateful, but not that grateful."
Agnieszka loves her valley home, her quiet village, the forests and the bright shining river. But the corrupted Wood stands on the border, full of malevolent power, and its shadow lies over her life.
Her people rely on the cold, driven wizard known only as the Dragon to keep its powers at bay. But he demands a terrible price for his help: one young woman handed over to serve him for ten years, a fate almost as terrible as falling to the Wood.
The next choosing is fast approaching, and Agnieszka is afraid. She knows—everyone knows—that the Dragon will take Kasia: beautiful, graceful, brave Kasia, all the things Agnieszka isn't, and her dearest friend in the world. And there is no way to save her.
But Agnieszka fears the wrong things. For when the Dragon comes, it is not Kasia he will choose.
438 pages (hardcover)
Published on May 19, 2015
Published by Del Rey
Author's webpage
Buy the book
—
I'm honestly not a huge fan of Naomi Novik's writing. You can't win them all, right? I mean, I like her stuff, but I don't go looking for it, if that makes sense (how horrible is that to admit in a review?). However, when I started seeing rave reviews of Uprooted fly in constantly, I started getting really anxious to read it.
Uprooted is completely different than what I expected, and I think it's the book that has changed my tune regarding Novik. She's solidly on the Authors I Watch list now.
The story starts fairly small, focusing on our protagonist Agnieszka and her love of the valley, family and friends. Her life is pretty ideal and instantly the fairytale feel of the book is evident in the lyrical flow of Novik's writing, the magic that seems to fill every part of the world that she is deftly creating, and the land itself that readers are becoming introduced to.
Agnieszka is a character that took some time to grow on me. At first she seemed a bit too innocent, a bit too accepting of her situation. Her anticipation of the upcoming lottery, and her knowledge that she was second fiddle to her best friend seemed a bit too obvious a setup for future situations. However, it soon became obvious that Agnieszka's innocence and do-good attitude was a fantastic balance for when she ended up with The Dragon, a dark, mysterious, and somewhat overbearing force of loneliness and negativity.
Soon Agnieszka's life is turned upside down. She learns that she has an amazing capacity for magic, and life with The Dragon isn't anything she expected. Her light and fluffy personality is balanced nicely by the dark situation she finds herself in. She's pushed in uncomfortable directions and forced to grow in uncomfortable ways. Her relationship with The Dragon is strained. Depression seems to set in as she's isolated when she's obviously a character that doesn't thrive in loneliness.
A lot of the first half of this novel is about self growth and exploration as Agnieszka copes with her situation, with her skills, and with the isolated man that she lives with. Then, events transpire and a grudging understanding and respect grows between Agnieszka and Sarkan (AKA: The Dragon). While things remain strained in some ways, it's a new dynamic that revives a storyline that could get rather stale if it continued in the same respect for long enough.
This isn't a romance. There are some romantic elements, but the relationship between the two main characters is surprisingly deep, and very real, and incredibly slow burn. There are a few pulse-pounding romantic scenes, but they are sparing, and didn't feel in any way unessential to the plot.
Sarkan is a very real character, and while he's pretty deplorable and easy to hate, he's also easy to forgive, partly because he's so real it's easy to see his negative foibles and ignore them. He never really loses his mystery, and his ability to speak down to just about everyone seems to be as much of a protective barrier to keep him isolated from the world as a personality flaw that he never really outgrew.
Sarkan fades to the background once the second half of the book starts, and while he is missed, it's fun to see how Agnieszka thrives on her own after she's had to grow and challenge herself in such unexpected ways.
The book felt a little too long for my taste, a little too drawn out, but it's not overwhelming and hardly noticeable. Novik's writing is flawless, lyrical, and absolutely beautiful. The world and plot sort of unfolds around readers effortlessly, and the story, both good and bad, is enjoyable in a way that books are hardly ever enjoyable. It's not only entertaining, but it is absolutely riveting and artistic in a way that made me really appreciate the art of the written word again.
Uprooted is a book that I'm incredibly glad I read, and I think I will gladly read it again and again. If you're a fan of fairytale feeling books, then do yourself a favor and get your hands on this one right away.
4/5 stars