Check out this update for information about what has been going on, and what is about to go down. I'm too lazy to restate it all here (Hey, at least I'm honest!)
—
Whispers of War – Sean Rodden
Buy the book
This book is truly epic on a Lord of the Rings scale. It might be kind of hard for readers to get into at the start due to a lot of foreign words and terms that takes some adjusting to, but the grand scope is fairly addictive. The writing is fluid and surprisingly graceful, making even the gore seems rather beautiful despite all it's bloodiness. There is a ton of history here, and a lot of layers, sometimes an overwhelming amount. It takes time to grasp the complexity and fullness of the story, but it is worth that time given to it, especially if you are a fan of epic fantasy. It doesn't really get more epic than this.
Rating: 4/5 stars
Award: Most epic scope
—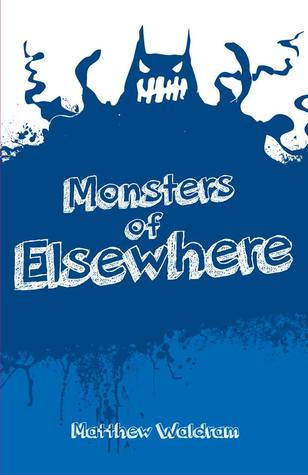 Monsters of Elsewhere – Matthew Waldram
Buy the book
If you're looking for an urban fantasy mash-up that reminds you a bit of Neil Gaiman with some Terry Pratchett-esque humor, you might want to check this one out. This is the kind of book that I can truly sink into and enjoy. It's well written, with a unique plot that easily kept me hooked. It's unusual, and unusual is good. The characters are likeable, and the writing is strong with an easy flow. Some parts of the plot seemed overly obvious, and some of the tension was unnecessarily ramped up, giving portions of it an awkward pacing and making the reveals feel less revealing because you'll probably already have it figured out. The start of the book drags a bit, and while everything becomes obvious as things progress, it does take some determination to make it through that starting stretch. Otherwise, if you're looking for that urban fantasy/magical realism book to scratch your reading itch, you might want to look this direction.
Rating: 3/5 stars
Award: Best use of alternative world building
—
City of Roses: Autumn Into Winter – Kip Manley
Buy the book
Admittedly, I struggled a bit with this one. It's a serialized novel, which is something I have very little experience with. My biggest beef was, sometimes the writing was superb and the story was flawless, and other times I was so confused by the dialogue that I didn't know who was saying what. For example, when there is more than one "she" involved in a conversation, it becomes important to use names rather than referring to everyone as "she" during most of the conversation. Which "she" said what gets muddled. While I do think that more editing could have been helpful, it's balanced by the fact that this is a very vivid world that the author has created with obvious love, and a plot that, for some people, will probably thrill them. For me, I struggled with it (especially the dialogue portions) and ended up giving up on it, which is unfortunate. The characters are likeable, and the magical realism is well done, but it just didn't work for me.
Rating: Did not finish
Award: Best magical realism
—
Children of the Fallen – Eve Peters
Buy the book
This is the book I was looking forward to the most in this batch. I hate to admit that up front, but I will so you have some context. The protagonist has spent his whole life insane, and I absolutely dig that sort of thing. Not only does it speak to the Special Needs in Strange Worlds part of me, but characters that are believably insane are just ripe for complexities and delicious subtleties that make them layered and fascinating in a sort of delightfully uncomfortable way. Superb writing really pulls readers into a raw reality that is often blurred. Peters does a great job at making you wonder what is real and what isn't. Things change quickly, while it does take time for it to make sense, it's addicting and very well done, with the kind of nuances I really enjoy in my books.
Rating: 4/5 stars
Award: Most unique protagonist
—
Searching for Nada – Jeff Haas
Buy the book
Okay, first things first: I struggle with short story collections, therefore, I am not really a good person to have read and review them. These are really well written short stories, and quite humorous. The humor can be quite heavy handed at times, but it's interesting how many of the stories ask huge questions and manage to make readers laugh at the same time. You might not get answers to those questions, but the way the author asks them will get you thinking. This is a short collection, weighing in at 161 pages total, and has 30+ stories in it. That means the stories are all surprisingly short, and sometimes that length is a benefit (he can be quite good at punching readers quickly), or sometimes it can be a downfall (there just isn't enough time to tell the story he's trying to tell). In the end, I struggled a bit with this one, too. As I said above, I'm not really a fan of short story collections, and I found the short lengths of some of the stories to just not be enough for the development needed.
Rating: Did not finish
Award: Best humor
The winner is…. 
Children of the Fallen – Eve Peters
Tune in tomorrow for the next five mini reviews!