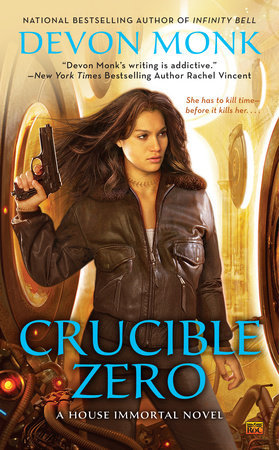 About the Book
The national bestselling author of Infinity Bell returns to her "fresh and unique"* world where the truce between the ruling Houses has shattered and chaos now reigns. Only one woman has the power to save the world—but she could also destroy it…
Matilda Case never thought of herself as a hero. But because she is galvanized—and nearly immortal in her stitched, endlessly healing body—she doesn't have much of a choice. Even if she doesn't want to save the world, she's the only one capable of traveling in time to do so.
But her rescue attempt hasn't gone as planned. She's stuck in an alternate universe, and her world is in danger of disappearing. Worst of all, an unfathomably powerful man who can also travel through history doesn't want her to put things to rights. He's willing to wage bloody war to stop Matilda, unless she surrenders control of time to him.
Now, with the minutes ticking, Matilda must make impossible decisions, knowing that one wrong choice will destroy her—and any chance of saving everything she loves…
356 pages (paperback)
Published on September 1, 2015
Published by Roc
Author's webpage
Buy the book
This book was sent for me to review by the publisher.
—
I read my first Devon Monk book last year, and I just about instantly fell in love with her work. She writes urban fantasy the way I want it to be written. Her characters are real. The magic systems she creates are vibrant and believable. Her world and plots are unique and compelling. In short, she has a gift for taking a genre that is often stale and unenlightening, and breathing fresh life into it.
Crucible Zero is the last book in her House Immortal trilogy. You should absolutely read the other two books in the series before you read this one. While that might seem like an investment of your time, you won't regret it. The world is incredibly unique, and the characters are hard not to feel passionately for.
The previous book ended on a bit of a cliffhanger, which annoyed me because I had to wait before I could find out how things turned out in book three. Crucible Zero has a very different feel to it than the previous books, partly because the world that Matilda finds herself in is quite different than the world that we got to know in the previous two books.
Monk was pretty ambitious when telling this story. Matilda lost just about everything that Monk spent so much time building up in two books. While some things remain the same in the third book, the world is very different, and so are the characters that are reintroduced. Monk basically had one book to rebuild a different world, create characters that were different but similar to previous books, and tie up all the loose ends that needed tying up.
I admit, I was very skeptical that it would actually work out, but somehow Monk managed to do everything that needed to be done, and she did it flawlessly.
Monk made some smart decisions. The world is different, and readers will definitely feel that. However, she kept some threads the same. The main plot still centers on Slater Orange. The characters and the house structure are different, but just different enough for readers to get to know them again, but find similarities to who they were in previous books. This causes the book to feel pretty fresh and new, while keeping all the important tidbits the same. The plot moves forward pretty quickly, and there are plenty of surprising twists that will keep you on your toes.
Matilda Case is a character that I instantly loved at the start of this series, and that love just grew with each book. She's tenacious, and full of passion and zeal. She's one of those characters that seems to constantly find herself in the middle of every situation, but not in an unbelievable way. It just seems normal that a character this compelling would be in the center of all of the action. Matilda's plight is a bit darker, and a bit more raw in this third book. She's lost so much, and has to adjust in some heart wrenching ways, but she manages it because she's strong. Crucible Zero is equal parts internal and external struggle, and the balance between these struggles is nothing short of captivating.
The ending of Crucible Zero is quite well done. The plot moves quickly, and due to the fact that the world is different and so are the characters, it's hard to put the book down. You'll plow through this one pretty quickly, and while the ending is just about perfect for the series as a whole, I do think Monk could have easily expanded this trilogy and made it longer. The world is that complex, and so are the characters. There is plenty here that the author could still build on. However, the fact that she decided to end this at book three ensures that each book remains just as fresh and powerful as the previous, without anything getting overly drawn out.
But you'll miss the series when it's over. It's hard to say goodbye to characters that I loved this much.
Devon Monk is one of my favorite urban fantasy authors, and this series shows a lot of her strengths with characterization, plot, and world building. Crucible Zero is hard not to love. It's a powerful end to a memorable trilogy. Crucible Zero is quite an ambitious novel, but Monk pulls it off with poise and grace, and all the skill that I know she is capable of. This series is addicting, and incredibly fun. I'm going to miss it.
If you haven't read this series yet, you really should and sooner rather than later.
4/5 stars