I was thinking of stuff I needed to do yesterday, and I realized I needed to write an update regarding the grand ol' SPFBO. All of us have decided our best book, and now we are just reading all of the finalists. We will determine the winner in March, if not sooner (depending on how fast we all read).
My process for this last portion of the contest is going to be a bit different than it was before. Here's what you can expect:
I will fully and completely read each of these 10 final books. I will fully review each book in my normal style. When each book has been read and reviewed, I will announce the book I selected as the best out of the ten. You will be able to tell each review for this final part of the contest by the subject "SPFBO | Book Title – Author's Name." There is no real order that I've chosen to read these titles. Basically the process goes like this: I ask myself what I'm in the mood to read. I look at the books I have to choose from, and pick one that best fits my mood. It is super scientific.
Another note, I have no idea what website (other than my own) has chosen which book for this final round. I have not read any of their reviews, nor will I. I'm working hard to keep my opinions my own, and untainted by input from the others participating, all of whom I highly respect and think of as influential.
There is no real schedule for this portion of the contest, so just expect reviews to pop up when I get to them. I've already read three of these books, and I'm just basically waiting to get through some obligations to publishers and authors before I can actually review them. Sorry, I'm a bit behind with some stuff due to birthing a child and lack of sleep and all that fun stuff.
In case you're wondering what the final ten books are for this contest, feast your eyes: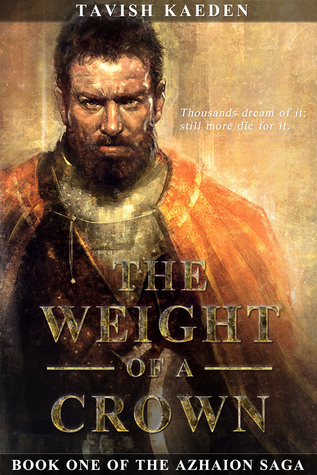 The Weight of a Crown – Tavish Kaeden 
Buy the book
THE WEIGHT OF A CROWN
Thousands dream of it; still more die for it. Yet, how many can truly bear it?
After centuries of bitter conflict the realm of Esmoria is at last united under the banner of a single king. On the surface the realm appears to be enjoying its first taste of peace, but lingering resentment and the untimely death of the new ruler threaten to return Esmoria to political chaos.
Meanwhile, in the farthest reaches of the frozen north, a dethroned monarch's plot for revenge awakens a long-forgotten evil. As darkness and treachery descend upon the realm, a young escapee from a forced labor camp, a disenfranchised soldier, and an epileptic engraver's apprentice find themselves at the heart of the troubles.
—
A Soul for Trouble – Crista McHugh
Buy the book
When you're a witch named Trouble, chaos follows.
Arden Lesstymine (known to everyone as Trouble) likes attention as much as the next girl, but this is getting ridiculous. When an insane stranger is murdered at the inn where she works, Trouble becomes the next Soulbearer for the disembodied god of chaos, Loku. Yes, it comes with the ability to channel the god's limitless power, but at the cost of her sanity — literally. Now she has a sexy but cynical knight claiming to be her protector, a prince trying to seduce her to his cause (and his bed), and a snarky chaos god who offers a play-by-play commentary on it all, whether she wants to hear it or not. To make matters worse, a necromancer wants to capture the soul of Loku for his own dark purposes, and the only way he can get it is by killing her first.
—
Bloodrush – Ben Galley
Buy the Book
"Magick ain't pretty, it ain't stars and sparkles. Magick is dirty. It's rough. Raw. It's blood and guts and vomit. You hear me?"
When Prime Lord Hark is found in a pool of his own blood on the steps of his halls, Tonmerion Hark finds his world not only turned upside down, but inside out. His father's last will and testament forces him west across the Iron Ocean, to the very brink of the Endless Land and all civilisation. They call it Wyoming.
This is a story of murder and family.
In the dusty frontier town of Fell Falls, there is no silverware, no servants, no plush velvet nor towering spires. Only dust, danger, and the railway. Tonmerion has only one friend to help him escape the torturous heat and unravel his father's murder. A faerie named Rhin. A twelve-inch tall outcast of his own kind.
This is a story of blood and magick.
But there are darker things at work in Fell Falls, and not just the railwraiths or the savages. Secrets lurk in Tonmerion's bloodline. Secrets that will redefine this young Hark.
This is a story of the edge of the world.
—
City of Burning Shadows – Barbara J. Webb
Buy the book
Joshua "Ash" Drake is a man in hiding.
Hiding from the past, from the horror of his life as a priest after the gods disappeared.
Hiding from his emotions, denying the nightmares that haunt his sleep and the anger that fuels his days.
Most of all, hiding from the truth—that no matter how much he keeps his head down, no matter how he clings to the echoes of everyday life, his city—his world—is dying.
When a new technology offers salvation to his desperate city, Ash must reach out to people he left behind and step back into the world that almost killed him. But coming out of hiding now could be the worst mistake Ash has ever made.
Because there are monsters in the darkness, feeding the chaos, watching the city burn. And once those monsters know his name, Ash will never be able to hide again.
—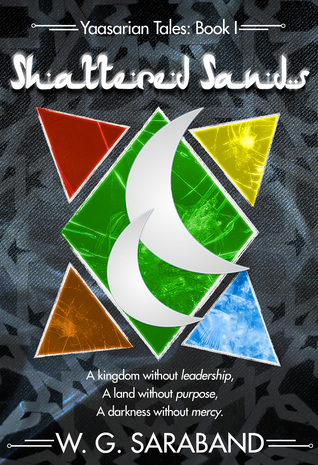 Shattered Sands – W.G. Saraband
Buy the book
For years, Tamazi felt she was nothing like the other slave-girls. It was not until her master disappeared, the Great Vizier of the desert kingdom of Rilmaaqah, that a power older than the sands themselves took hold of her; a power that could finally free her, or enslave her forever.
Rilmaaqah is in chaos. The fires of rebellion spread, and the winds of change threaten the Mageocracy, as the common people rise with the courage to claim their share. But the sands hide many things, and it falls to an unlikely group of people to put a stop to death, before she sings her lullaby to the living.
—
Sins of a Sovereignty – Plague Jack
Buy the book
From their prisons, the old gods watch, and wait.
Calcifer, the arrogant and obtuse sorcerer turned monster hunter, wants nothing more than to bleed his country of its gold, and return to his lover. When she is assaulted and her mind is left in tatters, Calcifer seeks vengeance by any means necessary.
Sir Clark Pendragon has murdered more men than he cares to remember. Tired and battle scarred, the old knight just wants to live out his last days in peace. When he is needed to stop an assassination, Pendragon is ripped from his retirement and sent north to save his country one final time.
Shrike, keeper of Amernia's secrets, spends his days combing through letters in search of blackmail. Cunning, and with a mind sharper than a blade, Shrike's luck is slowly running out, as sinister shadows conspire against him.
War is coming to Amernia, and the Blood Queen stands at the heart of the chaos. A wave of hatred ripples across her country, and she maintains order with fire and fear. The rift between rich and poor, human and nonhuman, divides the kingdom more everyday, as a spectral rider streaks across the sky, heralding the death of kings.
The fates of Calcifer, Pendragon, Shrike, and the Blood Queen are hopelessly intertwined, and new alliances will be forged and broken as war threatens to tear Amernia asunder.
—
The Thief Who Pulled on Trouble's Braids – Michael McClung
Buy the book
"They butchered Corbin right out in the street. That's how it really started. He was a rogue and a thief, of course. But then, so am I. So when he got himself hacked up in front of his house off Silk Street, I decided somebody had to be made to pay. They thought that they could just sweep him away like rubbish. They were wrong."
Amra Thetys is a thief with morals: She won't steal from anybody poorer than she is. Fortunately, anybody that poor generally doesn't have much worth stealing! But when a fellow thief and good friend is killed in a deal gone wrong, Amra turns her back on burglary and goes after something far more precious: Revenge.
—
Under a Colder Sun – Greg James
Buy the book
A Grimdark Fantasy Adventure set in a world of Darkness and Chaos!
Khale the Wanderer: dark warrior of legend, a reaver with a demon's soul.
King Alosse: ruler of Colm, willing to risk everything to save his city and its people.
Princess Milanda: an innocent, kept pure since birth, unknowing of her fate.
Neprokhodymh: the cursed city of sorcerers where Khale must make a choice that will scar him for life, or fall into darkness forever.
—
What Remains of Heroes – David Benem
Buy the book
Lannick deVeers used to be somebody. A hero, even. Then, he ran afoul of the kingdom's most powerful general and the cost he paid was nearly too much to bear. In the years that followed, his grief turned him into a shadow of his former self, and he spent his days drowning his regrets in tankards of ale.
But now an unexpected encounter casts Lannick upon an unlikely path to revenge. If he can just find the strength to overcome the many mistakes of his past, he can seize the chance to become a hero once more.
And with an ancient enemy lurking at the kingdom's doorstep, he'd better.
—
Priest – Matthew Colville 
Buy the book
After years spent in the inn he bought and never opened, Heden is drawn out, and sent into a dark forest to investigate the death of a knight.
Nothing is what it seems. Why was Heden chosen for this mission? Who killed the knight and why? Why won't anyone talk to him? As the Green Order awaits Heden's final judgement, he finds his morality, perspective, and sense of self are each challenged and then destroyed.
Perhaps nothing, even right and wrong, can survive in the haunted wood.