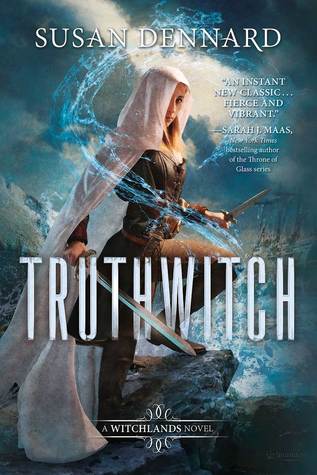 About the Book
On a continent ruled by three empires, some are born with a "witchery", a magical skill that sets them apart from others.
In the Witchlands, there are almost as many types of magic as there are ways to get in trouble—as two desperate young women know all too well.
Safiya is a Truthwitch, able to discern truth from lie. It's a powerful magic that many would kill to have on their side, especially amongst the nobility to which Safi was born. So Safi must keep her gift hidden, lest she be used as a pawn in the struggle between empires.
Iseult, a Threadwitch, can see the invisible ties that bind and entangle the lives around her—but she cannot see the bonds that touch her own heart. Her unlikely friendship with Safi has taken her from life as an outcast into one of reckless adventure, where she is a cool, wary balance to Safi's hotheaded impulsiveness.
Safi and Iseult just want to be free to live their own lives, but war is coming to the Witchlands. With the help of the cunning Prince Merik (a Windwitch and ship's captain) and the hindrance of a Bloodwitch bent on revenge, the friends must fight emperors, princes, and mercenaries alike, who will stop at nothing to get their hands on a Truthwitch.
416 pages (hardcover)
Published on January 5, 2016
Published by Tor
Author's website
Buy the book
This book was sent by the publisher in exchange for an honest review.
—
Truthwitch isn't the typical book I'd pick up and read. I'm not big on witches, and I'm not big at young adult/new adult books. However, I was gripped by the premise, and the relationship between two best friends who would do anything for each other. And while this isn't the usual book I'd read, I ended up enjoying it a lot more than I expected to. There's something wonderful about taking a chance on something new, and finding out that it was worth it.
Truthwitch surprised me for numerous reasons, the first of which is the magic system. Witches usually don't do much for me in books, so I tend to avoid them, but the term "witch" here is more of a description than a designation for someone who chants words and makes mystical things happen. Each witch has the ability to do one other big thing. Safiya is a truthwitch, so she can tell the truth from the lie, which makes her incredibly valuable. Her friend Iseult is a threadwitch, and can see the threads that tie people and events together, she can discern possibilities based on this. Another individual can control wind, and another can find people through their blood. It's quite interesting, and very well done. There are nice limitations in place, while it's easy to see how this sort of magic has impacted a land, and the people who live in it.
Another thing that really pleased me about this book was the close relationship between Safi and Iseult. Relationships, like close friendships, aren't incredibly common in the books I read. People rely on other people, and there are occasionally strong feelings, but a friendship and a kinship that Safi and Iseult shares is quite rare. It really transcends the plot, and becomes a shining light throughout the book, a really enchanting thread that made this book something that I didn't really expect. It's lovely to read a book with strong female protagonists, who have a strong friendship that they've built upon.
This book started a little slow. It took about a hundred pages for me to really feel fully invested, and I could never quite put my finger on whether this book was young adult or new adult. In the end, it didn't really matter either way. Everything happens in this book because of a mistake made in the very first pages, and I tend to love books that start that way. Instantly the protagonists are flawed, and they spend the rest of the book trying to figure out how to fix the thing that got them into the situation in the first place. They dig themselves deeper and deeper, and soon it becomes apparent that not everything is as it seems. The two protagonists aren't troublesome girls, one is in the nobility, and the other is discriminated against and low status. The politics are complex, and both girls find themselves at the center of something that spans nations.
All because of one mistake.
The world building is delightful. The landscape and nations are just as interesting as the magic system, and just as defined by it. Each country seems to have their strength and their weakness, and it's easy to see how many of these play against each other. Wars have been fought, and blood has been spilled, and all of this marks the landscape, and it all plays an important role in the current situation and how it plays out.
Ultimately Truthwitch is about friendship, and undying bonds. How far would two girls go to protect each other in the face of everything else?  It's well done, layered, and full of emotion. The plot is full of twists and turns, and while it can be a bit predictable, the rest of the book is so much fun that whatever flaws you might find are easy to ignore. This is one of those books that you can pick up, and lose hours reading.
Honestly, I was really surprised by how this book enchanted me.
4/5 stars