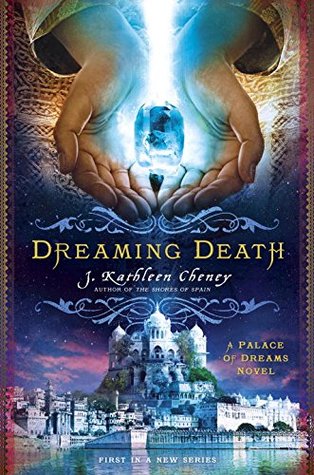 About the Book
Shironne Anjir's status as a sensitive is both a gift and a curse. Her augmented senses allow her to discover and feel things others can't, but her talents come with a price: a constant assault of emotions and sensations has left her blind. Determined to use her abilities as best she can, Shironne works tirelessly as an investigator for the Larossan army.
A member of the royal family's guard, Mikael Lee also possesses an overwhelming power—he dreams of the deaths of others, sometimes in vivid, shocking detail, and sometimes in cryptic fragments and half-remembered images.
But then a killer brings a reign of terror to the city, snuffing out his victims with an arcane and deadly blood magic. Only Shironne can sense and interpret Mikael's dim, dark dreams of the murders. And what they find together will lead them into a nightmare…
400 pages (paperback)
February 2, 2016
Published by Roc
Author's webpage
Buy the book
This book was sent by the publisher in exchange for an honest review.
—
I absolutely adore J. Kathleen Cheney's writing. When I saw that Dreaming Death was a thing that was happening, I was about to sell my soul to get a copy to read. Luckily, the publisher sent me an ARC, and then the author herself sent me a signed book (which absolutely thrilled me!).
Dreaming Death is different than Cheney's other series. She still has the same easy flowing writing style, and her world, if possible, is even more vivid and well realized here, but at it's heart, it's still Cheney writing, and that's a huge reason why it is so easy to sink into.
This book does start out rather slow, as the first hundred pages or so are spent building up the world in minute, occasionally overwhelming detail. It's obvious that Cheney really mapped this sucker out. I admire that, but on the other hand it did bog down the plot a little, and, like I said, the sheer volume of information to absorb got a little overwhelming.
That being said, once readers move past those first hundred pages, things really get going. You've been introduced to the characters, and you understand the world and the social structure in minute detail, so at that point you can just sit back and really enjoy how things proceed without really needing to ask many questions.
The characters, in my estimation, are really where this book shines. The magic system is quite unique, but the place of the two protagonists within it is even more remarkable. Shironne is blind, but her world is just as vibrant, perhaps even more so, than any other character's in the book despite her inability to see. She quickly became the most interesting character in the novel due to her heightened ability as a sensitive, and her remarkable way of standing on her own two legs when just about everyone else is left confused and reeling.
Mikael is the young man who spends many of his nights dreaming murders, and Cheney likewise handles him well. One thing I really enjoy is when authors show the negative implications of these super abilities characters have, and Cheney does that so well here. Shironne lost her ability to see due to her super sensitive abilities. Mikael's personal life is basically in tatters, and he has an alcohol issue because the only way he can sleep is to isolate himself and drink himself numb each night. Yes, these abilities are fantastic, but I truly applaud how not ever fantastic ability comes without limitations, and the limitations she gives her protagonists served to make them even more real, and more vivid in my estimation.
Once Shironne and Mikael meet, things really get going. It's delightful to see how the two feed off each other, seeing as how their abilities are so intricately linked. They've only known the world apart up to that point, and once they meet each other, they realize there is a whole new dimension to what they can do. It's fun to watch them learn to navigate the world together, and realize how well they balance each other in the face of so much that has gone wrong.
The mystery is fantastic, and once you get past those first hundred pages, the novel is propelled by its own steam. Hints are dropped along the way, but it's hard to discover who is doing what, why. For that, readers will discover what is going on along with the characters in the book. This novel is fairly self-contained, but Cheney leaves enough open for exploration in further novels. While we are given a lot of world building, a lot of it really doesn't play heavily in the novels quite yet. It felt like Cheney built a great foundation for a series, and I'm anxious to see how she expands on much of this in further books.
Dreaming Death was delightful, and surprising. Despite a slow start, the novel really took off and was propelled forward pretty quickly when left to its own devices. The mystery was well done, but it was the two protagonists who surprised me most. Cheney's easy writing and intricate world make this an easy novel to sink into, and just serve to underscore why she is one of the authors I watch closely.
4/5 stars