Adult coloring is the new Big Thing. It's something that I never thought I'd actually get into doing, and then life happened and I realized that having something to kind of zen me out while I was in the middle of a storm would be valuable, and probably keep my family from hating me. I decided to give it a whirl, and here I am, an adult coloring addict.
Then I got lucky, and the amazing Ardi Alspach sent me two adult coloring books to add to my stash of one (yeah, now I have three) and I decided it's time for me to write a little something-something about these coloring books to perhaps illuminate some new coloring books for the rest of you who do as I do, or who are interested in this sort of thing.
First things first, the setting is important. My favorite way to zen out while coloring is at my kitchen table, at night (always in my pajamas for maximum personal comfort). I get a huge pot of peppermint tea going, and my biggest mug. I plug myself into an audiobook (I'm currently listening to The Rook by Daniel O'Malley) and completely lose myself for hours. So the setting is about 75% of the battle. Once you've got your setting down, crack your knuckles, get into that one position that will allow you to do what you do so well, and let go.
I was sent two of Millie Marotta's coloring books, Tropical World and Animal Kingdom. They are both absolutely fantastic. The pages are large, the lines are small, and there is a ton of detail to lose yourself in and each book is roughly 100 pages. One thing that I really love about these books is how they are somewhat interactive. Marotta added ideas on most pictures to add your own details, or draw something in the white space on the page, or even tips to take time on certain areas. It's fun. While I can't draw to save my life, for someone who can, that would be a huge appeal.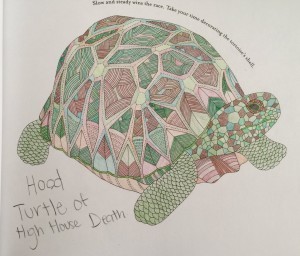 Marotta's coloring books are hugely detailed, and it's a lot of fun to see how she's taken some animals that I don't think of as exciting, and made them exciting. Like a turtle, for example. I never thought I'd be one to say, "Hell yeah, I want to color a turtle and spend three days doing it," but I did. It was a lot of fun, and that shell took me at least two days because of all those lines and all the patterns I could create with them. That's the sort of thing I love, though. Lines and patterns, and Marotta has a way of elevating her subjects with these details.
There are a ton of different subjects in both of her books, from animals like turtles, fish, elephants, to bugs like beetles (which will be my next subject), butterflies, birds, cacti, and so much more. I keep coming back to how interesting and varied her subjects are, and how she manages to make things like bugs pretty, fun, and interesting. And oh, those details. I love all her details. I've said that already, but I can't seem to say it enough. I love details in the books I read, and I love details in the books I color. An illustrator who can give me those details I crave is an illustrator I adore.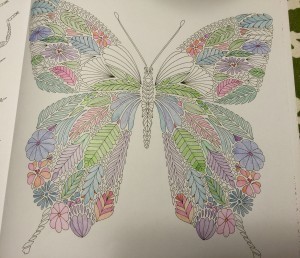 The other coloring book I own is Enchanted Forest by Johanna Basford. This is the first one I bought (well, my husband bought for me). I love it. The book kind of tells a story. There are hidden objects you can find, and you journey through different forest settings until you reach a castle. Each page is intricate, and just as detailed as Marotta's, but in a different way. I don't think I've spent less than four days on any of the pictures in this book, and it's just because there is so much in them to focus on, and I love the flowing style of the book itself. Each picture compliments the picture before and the picture after. It's really quite stunning.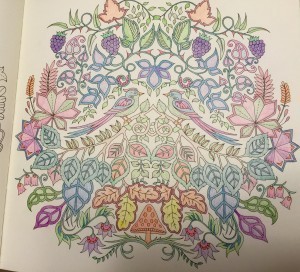 It is kind of impossible to compare and contrast the two authors. They are completely different animals stylistically speaking, and that's part of what makes it so much fun to have both to go between them. They both love details, and I absolutely adore coloring pictures that sort of tell a story like these do. I love how interactive (I think that's probably the wrong word to use) Marotta's illustrations are, and how she manages to make everything so interesting. Her illustrations have made me look at things a bit differently. If she can manage to make beetles beautiful, then maybe there are beautiful things all around me that I've been too busy to notice.
I love how Basford's illustrations tell a story. I enjoy their swirling, natural look and the easy flow of her book. I can lose myself for days in The Enchanted Forest, and that's okay. Her book tells a story, and the details serve to suck me in deeper. I love how she's taken forest scenes, and made them so artistic and intricate. Her book sort of transports me, and that's part of the magic of it.
My only real comparison between the two is, I think the quality of paper used for Enchanted Forest is a little better than that of Marotta's books, but that's a small thing that most people probably won't notice unless they have the books side by side and care enough to rub the paper between their fingers a lot and ponder the minutiae of texture.
At the end of the day we all do what we do to relax, unwind, and unplug. Some of us kill aliens in video games. Some of us drink beer. Some of us take baths. I color, drink tea, and listen to audiobooks. Coloring really is meditative, and it absolutely centers me. Regardless of your skill (I am not world class, by any means), it's fun and there is some pride involved in finishing something this detailed and knowing that it is undeniably yours. All of the books I have are fantastic, and they each serve to transport me, and focus me in different ways. If you are into adult coloring, you really should check out these three books. They are incredible, big, full of small lines, larger than life images, and plenty of those details I love so damn much.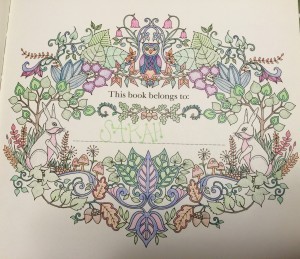 I am not ashamed. I color. I like it. It likes me. And if you are one of those people who needs something like this to relax you when you need it most, then do yourself a favor, and give adult coloring books a try.