Today I'm deciding to do something a little bit different. Instead of writing a review, I'm going to talk about the books I'm reading right now, my impressions as of the point I am at with them, and whatever else springs to mind.
I tend to read about 3-5 books at a time. I am a mood reader, so I keep various books going that are keyed into whatever main moods I am tending to feel at this point in time, which is probably strange, but that's how I roll, and that's why I usually keep a handful of books going at the same time.
So here are the books I'm reading right now. What books are you reading? What other books should I be reading?
(Clicking on the book covers will take you to their Goodreads page.)
—
The Fireman – Joe Hill
Buy the book
I'm listening to the audiobook of this one and it is fantastic. Kate Mulgrew is one of my favorite narrators. I have six hours left in this one and I'm just loving it. I'm guessing that a lot of people will compare this novel to Stephen King's The Stand, which is true in the way that both are dealing with viruses/bacteria that end the world as we know it, and group dynamic, but really the similarities end there. Joe Hill is his own man, and The Fireman, so far, has been absolutely incredible. The main character took some time for me to get used to. She seemed far too unbelievably, unrealistically, naively happy for my taste, but like the rest of the book, she gained depth and became interesting as things progressed. Now, at this point, I really like her. I don't think I could ever be her friend, but she's an interesting character and there's a lot of things about her that are quite surprising. I'm in the final stretch of this novel, and things have been gearing up for a while now. I'm predicting a BANG ending. We shall see.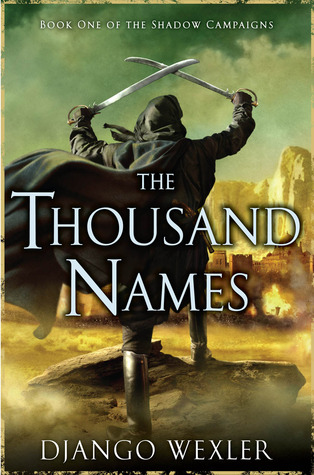 The Thousand Names – Django Wexler
Buy the book
This is a reread for me, but to be honest, I read this during a whole bunch of cancer drama and it's completely fallen into the abyss. I remember absolutely nothing about it, so this might as well be the first time I've read it. I'm currently on page 178, and just digging it. I love the nonwestern setting. I am usually not big on military fantasy, but Wexler has a way with making campaigns, battles, and soldier dynamics incredibly interesting, even to someone who usually doesn't care much about that sort of thing. Winter is an interesting character with a past that is shadowed, and I really want to know more about her. Marcus is a man that seems kind of jailed by his obligations. He seems pretty much a soldier to the bone, but things are starting to happen that are leading me to believe that both Winter and Marcus are going to be tested pretty intensely on very personal levels soon and I'm really anxious to see how Wexler and push and strain his characters. Marcus especially seems like the kind of guy that simmers under the surface until he boils, and when he boils, I'm pretty sure it will be epic. Winter and Marcus two storylines haven't merged much (yet), but I think it would be interesting if they were smashed together a bit more to see what happens. I'm interested in learning more about this military occupation/governmental issue/religious whatever from the perspective of the natives, as well. I'm not sure if I'll read more chapters from their viewpoint, but I hope I do. This book is addicting, and really accessible for those (like me) who aren't that into military fantasy. Wexler might just change your mind about that.

Wolf's Empire: Gladiator – Claudia Christian
Buy the book
I'm only 16% into this one, and I was just informed today that Tor is sending me the actual book, which is exciting. To be honest, this one didn't really interest me much when I read about it. I figured I'd give it a try, but probably put it down pretty quickly and not care much. What's surprised me so far is how much I'm enjoying it. The writing is fantastic, and the far-future Roman Empire is beyond fascinating and shockingly well-realizing. What I'm really enjoying, however, is the main character, and her plight to be recognized as an equal, a powerful person in the face of a society that disregards much of her capabilities based on the fact that she's a woman. She's an incredibl gladiator, but has to fight twice as hard for her recognition and position in the arena. Furthermore, she's in the middle of this civil war between two powerful houses, and both of them are pulling her in uncomfortable directions. A lot is riding on this woman, but she's a fascinating beating heart, and very human. She's navigating through a lot of pressures, and the entire Empire is watching her, but in her heart, she really just wants an equal shot at doing what she wants, and not be thrust into specific roles based on her gender. So yes, this one has captivated me early on, and I'm really excited to get cracking on it.
The Gilded Hour – Sara Donati
Buy the book
I got this book from the library today, based on a recommendation from Delilah S. Dawson, and I'm so glad I did. It's historical fiction, and so far it seems like if you like the show Call the Midwife, you should probably check this book out. It features strong women doctors in New York City in the 1800's, one of whom is a free person of color. The writing is… wow. The story (I'm only 78 pages in) has kept me captivated and glued to this book all night. New York City comes to blazing life, and it's obviously well researched. The story is really just in the introduction period right now, but if that's anything to go by, this will easily be one of the best books I've read this year, if not the best.