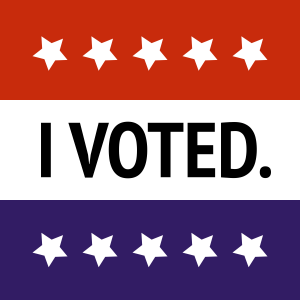 I thought long and hard about putting a review up today, but then I figured that, at least in my neck of the woods, no one will really be thinking about books. We are voting in America, and it's such a huge, important election. I'm for only thinking about voting today, so I'm not going to distract with a book review. Instead I'm going to give you some voting applicable links.
If you need to find your polling location, go here.
If you need to find out what's on your local ballot, go here.
Protect Your Vote – Specific Resources for Marginalized Communities here.
Please, for the love of whatever you may or may not worship, if you are a citizen of the United States, PLEASE GO VOTE.
PLEASE.
GO VOTE.
STOP READING THIS AND GO VOTE.