Do you like that title? It makes me feel all sorts of important. My ego is satisfied.
Well, here it is. The list I HATE to write more than any other list in the history of lists. This is the list where I sit down each year, and kind of glare at myself and wonder why I put myself through this. You see, I love "Best Of" lists, but compiling them sucks. I love just about every book I read, and I always feel like crap when I leave some deserving books off the list, and forget to add some books on that should be there. That happens every year. I always try to be so careful, and I always fail. So there's the guilt.
On the other hand, holy crap guys, you have no idea how much time it takes to make this list.
So here it is, my Best Books of 2016 list. All of these books were published in 2016, and read in 2016. I will list them in no particular order, and this list will be as long as I need it to be (Which ended up being 17 books long, because odd lists please me, or something). Some of these books I've reviewed already, some I haven't reviewed yet.
Enjoy!
---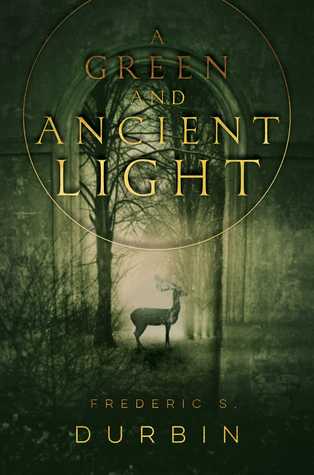 A Green and Ancient Light – Fredrick S. Durban
Amazon
This book really worked for me. It's written in a really unique style, which honestly threw me a bit at first, but I ended up really appreciating the reasons the author chose to write this book in that particular way. It's a really enchanting, almost slow-burn story, and it's vividly crafted and exquisitely detailed. It's a fairytale that is both emotionally powerful and haunting at the same time, and that unique writing style makes this book fit in just about anywhere, at nearly anytime, which makes this one of those stunning novels that seems to transcend time and location. It's a book that spoke directly to my soul, and left me amazed by its beauty.
---
The Devil You Know – K.J. Parker
Amazon
Seriously, K.J. Parker is one of my top three authors in this genre. Everything he writes is gold, but this one really did it for me. It seemed to flirt with my cynicism quite a bit, and poked holes in a lot of my common musings, while keeping me enthralled all the while. This is a novella, and I absolutely, positively tore through it. I was really reluctant to read Parker's novellas, because I first found my way to Parker through his Engineer Trilogy, but after reading this novella and a few others, I've determined that novellas really are where Parker shines. They are shorter, and he gets right to the point and has some of the strongest dialogue I've come across in any genre books. Furthermore, there's something about his world building that just amazes me every time. But really, his wry wit, natural cynicism, and stunning talent combines to really make this book shine. Nothing with Parker is ever what it seems to be, and it's no different with this novella, and that's part of the thrill.
---
Borderline – Mishell Baker
Amazon
If you haven't read this book yet, I really want you to sit down and ask yourself a serious question. Ready? Here's your question: WHY HAVEN'T YOU READ THIS BOOK YET? WHAT IS WRONG WITH YOU? (Okay, that's TWO questions). Borderline was just about everything I ever wanted to read in an urban fantasy novel. It features an absolutely addictively unique plot, a fast moving heroine who is far different than typical (which is why I loved her), some stunning writing, and some of the most finely crafted characters I've had the honor of coming across this year. Borderline is unapologetically what it is, and it's confident and finely crafted, making everything that's different about it stand out for the wonder that it really is. And the fact that it features a disabled protagonist, who is realistic, was the icing on my triple layer cake. This book is emotional, powerful, but also full of understanding, and that plot! Wow!
---
All the Birds in the Sky – Charlie Jane Anders
Amazon
I went into this one not knowing what to expect, and I came out of it just amazed, really. The writing blew me away. The attention to detail amazed me. The characterization was out of this world. And aside from that, Anders seemed to flawlessly smash together both fantasy and science fiction into a novel that never once felt anything but deliberate, and thoughtful. This isn't a book you go into expecting it all to come to you easily. This book reveals its secrets slowly. There are twists and turns along the way, and plenty of emotional gut punches, but this book is one of those slow, delightful burns that just gets right under your skin and refuses to leave you. I am incredibly glad that Charlie Jane Anders decided to write it, if for no other reason than the fact that it is rare for a book to blow my mind as soundly as this one did, and I cherish the experience every time it happens.
---
The Last Days of Magic – Mark Tompkins
Amazon
Yeah, I have a serious Celtic addiction, but in all honesty, even if I didn't, this book would have blown me away. I went into it expecting some good historical fantasy, but I was seriously overwhelmed by just how much Tompkins effortlessly launched himself over every hurdle in his path. This historical detail was fantastic, and Tompkins spared no effort in planning out every single aspect of this novel. The characters really made me care, and the entire book sort of left me panting and wondering when in the holy hell I can get more. You see, this is what historical fantasy should be. It's real, and it's lush and thoughtful. It sucks you under the river of history and sort of drowns you in all sorts of amazing qualities it contains, but you don't really care. You just want more. This is the slow drowning, the kind that sways you, pulls you under, knocks you out, overwhelms you, and leaves you completely changed, and begging for more.
---
The Wolf Road – Beth Lewis
Amazon
If you're looking for something personal, gritty, and unpredictable, look no further. Set in a post-apocalyptic future, we're confronted by an uncomfortable character, in an uncomfortable world, in an uncomfortable situation and damn, I couldn't get enough of any of it. This one had me on the edge of my seat, biting my nails down to the quick. I was actually surprised by how much this book surprised me. I was constantly learning that what I expected to happen wasn't actually what happened at all, and it's really rare that an author manages that many plot twists on me that effortlessly. On the other hand, the world is fantastic, even though it's written in a rather intimate way, and the survivalist measures that are mentioned in this book are really realistic. There were a few times I wanted to ask Lewis if she's actually lived out any of the stuff she wrote about because it didn't feel like research when I read it – it felt real. So yeah, this one is amazingly written, amazingly crafted, amazingly imagined… just amazing. And uncomfortable. And that's actually a really good thing.
---
Everfair – Nisi Shawl
Amazon
I didn't honestly expect to like this book as much as I liked it, but I'm learning that I'm kind of a sucker for books that bill themselves as something new and different, and this one did just that. It's the first thing written by Nisi Shawl that I actually read, and I promise you it won't be the last. It's a sort of steampunk-ish-victorian-ish-settler-explorer-ish thing set in an alternative Congo. It's packed full of diversity, and culture clashes, and plenty of emotions and conflict, but what really amazed me about it aside from all that was how brave it was. How many books set in the Congo – this Congo or an alternative Congo, have you actually read? Not many, I'd wager, and I really, really appreciated that. This book actually drove me to learn more about the Congo. In fact, I just finished a gigantic nonfiction book set in this region just so I could learn more about this fantastic place and the people that Shawl based this wonderful book on. We need more books like this in the genre. It got me to expand my world a bit, and I can only thank Nisi Shawl for that.
---
The Forgetting Moon – Brian Lee Durfee
Amazon
This book is huge. HUGE. It's an epic tomb that is dark, and bloody, brutal and grim and it is absolutely unapologetic in any of that and that's why I loved it so much. Durfee put a ton of thought and effort into writing this book, and I enjoyed that effort immensely. Durfee has a knack for crafting an incredibly intricate, convoluted, surprising story. This book set out to do a few very specific things, and it did every last one of those things with brutal efficiency. This is the first book in an epic saga, and I'm anxious to get my hands on the next one. If this book is a sign, then Durfee has a long, promising, fantastic career ahead of him. I was really burned out on epic fantasy and grimdark until I read this book, and now I can feel that fire burning inside of me again. Durfee took a story I'd expected to have already read a few times, and made it something unique, different, and memorable.
---
The Last Days of Jack Sparks – Jason Arnopp
Amazon
You know, I didn't think I'd like this one, but man did I ever. I positively devoured it. It's twisted, and cerebral. This one got into my hindbrain and I was absolutely obsessed with it, and the slow, devolving mental trail of Jack Sparks. It's a fascinating journey into the mind of someone falling apart, and the reasons that happens. This book was incredibly intimate, and that's why it worked so well. Arnopp pulled me into the mind of Jack Sparks, and he did it in a way that made me wonder what was real, and what was fake. Jack Sparks has a really interesting voice, and it was fascinating to watch his obsession grow, and his conceit shatter as events transpire around him. The fact that Arnopp managed to build up such a fantastic, memorable character, and then shatter him so ruthlessly and in such a mental way, was nothing short of delightful, in a really dark sort of way.
---
A Gathering of Shadows – V.E. Schwab
Amazon
This series is everything. I loved the first book, but this second book took everything I loved about the first book and made it all even better. There was absolutely nothing about this book that didn't work for me in some spectacular way. A Gathering of Shadows was absolutely out of this world amazing. You have to read the first book in the series before you get to this one, but really it's worth it. This book was dark, and intricate, insightful and surprising. Schwab has some real skill with weaving a story that grabs you and refuses to let go, and she really lets her mad talent fly free with this installment. This was everything I'd hoped it would be, plus some. I cannot wait for the next book in the series and I'm so very, very glad that V.E. Schwab decided to grace the world with her books, because we are all the better for it.
---
False Hearts – Laura Lam
Amazon
I was really looking forward to reading this one, but when I got it I was almost too nervous to actually read it. What if it didn't live up to the hype I built for it in my head? Well, it did. In fact, I really can't praise this one enough. I read it a few months ago, and I still think about it occasionally. There are elements of the story that will inevitably remind readers of other stories you've read, but really not in a derivative sort of way, but more of a paying-homage-to sort of way. Lam has a way with making her characters very distinct, and some of the parts of this novel, the quiet parts, were absolutely haunting with their emotional resonance. The story itself was superb, and the mystery really kept me going, as was the merging and blending of all of these near-future cultures, and some thoughtful exploration of the evolution of technology, belief, and privacy. All in all, this novel exceeded all of my expectations by miles.
---
Stiletto – Daniel O'Malley
Amazon
I love this series so hard. I love the wry humor, the thoughtful twisting and turning of the plot, the characters that are so fantastic they make the book ending actually painful for me. This is a weird, delightful book that reminds me a bit of Jasper Fforde's stuff. This second book had much the same tone as the first, but the world expanded a bit as our POV characters were different than the previous book. I enjoyed this, the different insight into the system that O'Malley has crafted, and the wry humor that never really left the book, or the characters behind. It's twisted and weird, and absolutely addictive. Start off with Rook, but don't stop there. This series will amaze you.
---
Wall of Storms – Ken Liu
Amazon
Another second book in a series that just gets better and better with each installment. Liu has created a really interesting world here, and this book just adds to what he intricately crafted in the first installment. However, Liu felt a bit more comfortable here, a bit more willing and able to spread his wings and play around with his creation. This book felt a little deeper, a more layers added to it. Things have happened and now Liu is really playing with the "what happens next" part of his empire, and while some of it was predictable, much of it wasn't. As with the first book, I was really amazed by how enthralled I became, and how quickly that hit me. These people are so incredibly real, and their empire is so tempestuously wrought that I can't help but just hang on and see where Liu takes me. He truly is one of the most skilled authors in the field today, and this series is a fantastic entry into the epic fantasy genre, blazing its own trail, and taking me along for the ride.
---
The Wheel of Osheim – Mark Lawrence
Amazon
I don't know how this man does it, but holy crap he certainly does it. The Wheel of Osheim was a fantastic end to a trilogy that I just loved. In fact, I loved this trilogy so much, I was really reluctant to read this book because I didn't want it to end. This was the perfect ending to this series. It was surprising, but just glorious. I love how Lawrence can manage to pull off such a character-driven dark epic, but somehow he seems to always manage to redeem his characters in some way. Jalan has spent much of this series growing up, but you really see that in The Wheel of Osheim. He is an adult now. He's still the cheater you fell in love with early on, but he's certainly got a bit more foresight and insight into his actions and their effects now. There were a lot of "Ah ha" moments in this book, a lot of pieces to the puzzle that were suddenly clear, and a ton of tension. This book was darker than I expected it to be, but damn, it was glorious. Absolutely glorious. I never want Mark Lawrence to stop writing. Never.
---
Age of Myth – Michael J. Sullivan
Amazon
Sullivan's books are all insta-reads for me. This one was no exception. This might actually be my favorite book of his that he's written so far. It takes place thousands of years before his Riyria books, but don't let that put you off. It's full of myth and magic, lots of lore, and the changing of cultures and tribal life as progress is felt, and sometimes uncomfortably impacting the world they live in. One of the things that really astounded me about this book was the fact that Sullivan just feels so comfortable now. He can weave such an effortless tale that is so incredibly gripping, but the passion for his craft is felt in every single word. He's written a lot of books, and in many ways, he's pioneered his own form of publishing and he's been such an inspiration to many authors. All of that experience and love is felt. This book was fantastic. Superb, actually. I do honestly think it stands above his other books in many aspects, but it's the passion and experience that really made me love this book. Sullivan loves what he does, and I love how I can feel that in every book of his that I read.
---
Defying Doomsday, Edited by Tsana Dolichva & Holly Kench
Amazon
This is a short story collection, and it's one I was beyond thrilled to recieve for Our Words, and review over there. I'm putting it on my list here, though, because this short story collection was one of the best things I read this year. This is a collection of stories by some incredible authors, all featuring disabled characters that kick ass in their own unique ways. We don't have enough of that in our genre, and I'm so glad that Dolichva and Kench decided to combine their love of the genre, and brainpower, to create such a steller assortment of stories. Every story in here shines, and every character is so incredibly real. This collection of stories was put together with real thought, and insight into the disabled community, and helped shine a light on how, we can, and do, kick ass, and we can add to the genre, and we deserve to be in it. Period. This was a crafty collection, and memorable, and very important to the genre that I love. Bravo, ladies. We need more stories and books like this in our genre. Thank you for shining a light on this community.
---
After Atlas – Emma Newman
Amazon
I actually just finished this one, but I had to put it on my list. Have you ever opened a book and figured out that you'd absolutely LOVE it within the first paragraph? That's what this book was like for me. I read the first paragraph, and I was in love. This can be read as a standalone, so if you haven't read Planetfall, don't worry too much. It's kind of a noir crime/thriller type thing, and it's just P-E-R-F-E-C-T. Newman took to writing crime like she was born to do it, leaving readers just the right amount of crumbs and clues as she goes. The protagonist, Carlos Moreno is incredibly cynical, very closed off and shut down (and rightfully so), but also ridiculously talented as an inspector. The murder mystery is intricately, and perfectly crafted. I loved all the cultural, and social details that filled the book, sometimes in the foreground, but often times just nice little details sprinkled throughout, and these details all added up to create some fantastic world building. The whole thing mixes together to create a book that is absolutely unputdownable. This is, hands down, my favorite Emma Newman book.
---
As with last year, Saga Press wins my BEST PUBLISHER OF 2016 award again. Feel special, guys. Your content is amazing, and your quality is above reproach. I'm super glad to be on your reviewer list. I hope you feel a fuzzy feeling from this award, because unfortunately that's all I have to give you.