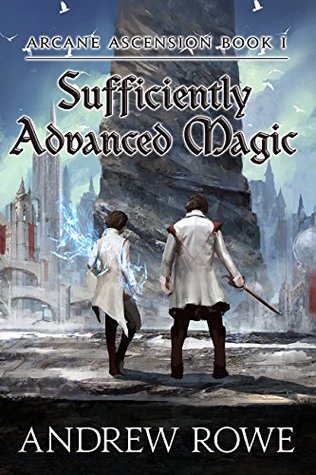 About the Book
Five years ago, Corin Cadence's brother entered the Serpent Spire — a colossal tower with ever-shifting rooms, traps, and monsters. Those who survive the spire's trials return home with an attunement: a mark granting the bearer magical powers. According to legend, those few who reach the top of the tower will be granted a boon by the spire's goddess.
He never returned.
Now, it's Corin's turn. He's headed to the top floor, on a mission to meet the goddess.
If he can survive the trials, Corin will earn an attunement, but that won't be sufficient to survive the dangers on the upper levels. For that, he's going to need training, allies, and a lot of ingenuity.
The journey won't be easy, but Corin won't stop until he gets his brother back.
621 pages (kindle)
Published on February 26, 2017
Author's webpage
Buy the book
This book is a round finalist for the Self-Published Fantasy Blog Off.
—
"It was the day of my judgment, and I was prepared in a thousand ways that didn't matter."
Sometimes a first line just hooks me, and this is absolutely one of those first lines that just works for me on some level. This is the kind of first line that I not only relate to, but it makes me want to know more. Who is this person, and why is he being judged? I get this. That's the sort of feeling I had every time I was facing a finals week in college.
I get it. I relate.
That's the strength of this novel, I have to say. It's relatable. There are a lot of situations, magic, things of that nature that don't fit into our world, but at the heart of it all, the characters are so very human. They have flaws, and they have strengths. They have areas where they shine, and areas where they are a little rusty.
Corin, our protagonist, was a character that I really, really enjoyed despite my rocky start with him. He has some traits that make me think that he might be on the spectrum, and I just adored him for that. He has some ticks, some things that set him off, some awkward tendencies, but he's a character that I didn't expect to see, and the sort of character that my brother (if he could still read) would absolutely love, and I really need to point that out. There really is something cool about seeing a character that manages to be such a powerful, shining force, and even a leader despite some of the things that might make him a bit awkward, or misunderstood.
This book fits in the literary RPG genre, which is something I'm not familiar with at all. I don't play games, RPG or otherwise, so saying it's in that genre means next to nothing to me. However, it is, and I can see it. There are a bunch of challenges, and our intrepid protagonist Corin must pass them for the end goal of getting his brother back, who disappeared in this very same tower years before. He won't stop until he wins his end goal, and in the face of long odds he goes in headfirst, prepared or not, and pushes himself to his limit.
This is the kind of book that is a lot more than what it seems to be on its surface. This is a book about relationships, loyalty, and personal growth all told in the framework of this sort of supernatural, incredibly difficult test. People get pushed and pulled, forced to figure out who they are and what they are capable of in the face of these long odds, and in the end of it, that one goal of Corin getting his brother back is the thing that all of this hinges on. This aspect of the book, the sheer humanity, relationships, emotions behind it all was what really enchanted me.
For me, a person who does not play games, I really need to read a book where the plot and personal developments overwhelm the game-playing aspects of things, and this book managed that wonderfully. However, some aspects of the plot were predictable. Corin was a character that had to grow on me a bit, but by the end of the book I loved him, and I loved everything that made him who he was. People need to see more characters like Corin in the books they read. The secondary characters were loveable, and I absolutely loved how Rowe took a game-like situation, and made it three-dimensional and interesting to me, despite the "game" aspect of things.
This is a human story, told in a secondary world, with characters you'll love, or hate, but regardless, you'll root for. There is some predictability, but otherwise, I really enjoyed this one more than I thought I would.
4/5 stars