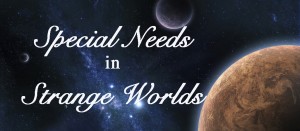 This past week was the first week of Special Needs in Strange Worlds, and it was quite an exciting one. I am rather shocked by the wonderful support and massive amount of interest this event has received. These posts have had amazing comments, and started wonderful discussions, which is exactly what I was hoping Special Needs in Strange Worlds would do.
Without further ado, here's a recap of last week: 
Monday started with a wonderful post by Robert Jackson Bennett on imperfections. It really kicked this event off with a bang.
Tuesday saw Kendra Merritt, who posted about how disabilities can bring depth and realism to speculative fiction.
Wednesday I opened up my giveaway of The Weird (which you can enter until May 31).
Thursday, Carol Berg wowed us all with a post about writing differences.
Friday, Paul Weimer praised Lois McMaster Bujold's Vorkosigan series.
Up next:
Monday, May 6: Theresa Frohock, author of Miserere: An Autumn Tale
Tuesday, May 7: Dan Goodman, blogger for Literary Musings
Wednesday, May 8: Aidan Moher, editor of A Dribble of Ink
Thursday, May 9: Stina Leicht, author of Of Blood and Honey and And Blue Skies From Pain
Friday, May 10: Erin Hll-Dowdle, a personal friend with a master's degree in English Lit.
Tentatively,  the following week:
Monday, May 14: Mieneke van der Salm of A Fantastical Librarian
Tuesday, May 15: Bryan Thomas Schmidt, author of The Worker Prince & The Returning, editor of Space Battles
Wednesday, May 16: Niall Alexander of The Speculative Scotsman
Thursday, May 17: Mark Lawrence (he may be pushed back a week, depending on something very cool), author of Prince of Thorns and King of Thorns.
Friday, May 18: Jacob Topp-Mugglestone of Drying Ink
I have some more wonderful posts to put up after this week, but I am still receiving them and ironing out some details. I will be able to post the rest of May's schedule next weekend.
Keep checking back into Special Needs in Strange Worlds for more wonderful posts!