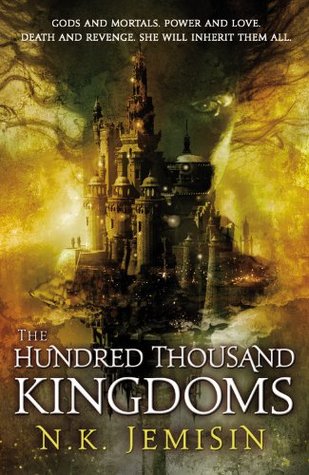 About the Book
Yeine Darr is an outcast from the barbarian north. But when her mother dies under mysterious circumstances, she is summoned to the majestic city of Sky. There, to her shock, Yeine is named an heiress to the king. But the throne of the Hundred Thousand Kingdoms is not easily won, and Yeine is thrust into a vicious power struggle with cousins she never knew she had. As she fights for her life, she draws ever closer to the secrets of her mother's death and her family's bloody history.
With the fate of the world hanging in the balance, Yeine will learn how perilous it can be when love and hate – and gods and mortals – are bound inseparably together.
427 pages (paperback)
Published on February 25, 2010
Published by Orbit
Author's webpage
You can purchase a copy of this book by clicking on the following links: The Hundred Thousand Kingdoms (The Inheritance Trilogy)
, The Hundred Thousand Kingdoms (The Inheritance Trilogy) – Kindle
—-
This is a re-review. You can read about project re-review here.
I have a ton of reviews to catch up on, but I figured that a fitting start to 2013 would be a re-review. This isn't just any re-review, though. This is a re-review of the first book I ever reviewed on my blog all those years ago. Looking back at it now, it kind of blows my mind how much my stuff has changed over the years. (Check out my very first review I ever wrote here.)
Anyway, one of my Christmas presents this year was a Kindle and a gift card for said Kindle. I've been reading on it constantly. While I've been focusing on Jonathan Strange and Mr Norrell, when cancer stuff hits I tend to be in the mood to read lighter material. I was browsing through the books I've bought in the past and happened across The Hundred Thousand Kingdoms. I didn't actually mean to re-read it, but two days later, here I am.
I remember when I first read it; I thought it was the best thing ever written. Like my blog, it seems like my personal taste has changed a lot, too. That's what makes these re-reviews fun for me. It's interesting to see how much things change when you don't really expect them to.
Now that my little diatribe is done, let's get to the nitty-gritty.
The Hundred Thousand Kingdoms is, to the best of my knowledge, Jemisin's first published book, and it really seems to be the book that put her on the speculative fiction map. There are some very good reasons for this. The world is fascinating and unique, the cultures are diverse, Sky is easy to visualize and Jemisin has a very lyrical and descriptive way of writing that seems to suck readers in, even if the story is suffering somewhat. 
I tend to think that the quality of the book that most readers seem to enjoy is the romance. The Night Lord is quite a memorable character, no matter what you actually end up thinking of the man. He's tortured and miserable and absolutely enslaved to people who are far weaker than he is, and it's been that way for a very long time. He's grown bitter, and very dangerous. The affection between the innocent Yeine and this god is rather predictable and a tired trope, but Jemisin handles it well. Nahadoth is an absolutely haunting character, thanks to Jemisin's wonderful ability to write. Next to him, Yeine's character suffers a bit. She's a little too predictable, a little to church-mouse to accompany the various gods she finds herself wound up with.
Characterization is, perhaps, where Jemisin shows her flaws most. I have already mentioned briefly some problems with Yeine, but the real issues were with the other two heirs she was competing with, the brother and sister who were both sadly two dimensional for their own good. The sister was so obviously evil, vindictive and petty it was hard to believe her character. At times, I found her to be laughable. Her brother, on the other hand, was almost non-existent throughout the story.
Like the title, the book itself is a little longer than it needs to be in some respects. Very much of Yeine's story can be easily chopped without losing any real depth. Her search for answers to her mother's death seems to circle around itself quite a bit, and takes up a lot of time that is, frankly, unnecessary. The grand 'Ah ha!' moment at the end of the book, really makes much of the portions regarding her mother's death rather exhausting and almost, I hesitate to say, pointless.
Despite these small issues, I really should give Jemisin some praise for her writing. She didn't choose an easy narrative path to tell her story. Much of it is rather twisting and confusing until about the halfway point, where things start to become clear. She manages to not only keep the world alive (though some of the cultures and politics could have used a little more polishing), but readers interested despite much of the (seemingly) circular inner dialogue.
However, if you ask me why I'm giving The Hundred Thousand Kingdoms, three stars rather than four, it's for one specific, incredibly annoying, stylistic reason:
***
No… not yet…
***
I need to discuss something else that I remember from four years ago that has no baring on the immediate point at all before I can talk about…
***
Wait, now I understand.
Sarah, you gotta just spit this out.
Shut up. I'll get to it when I stop remembering this thing that makes no sense.
***
People who have read the book might read what I just read and understand what I'm poking fun of. For those who haven't, if you read the book, you'll understand. You'll become very fond of stuff like that throughout the entire book. While I understand the difficulty of telling a story that does not entirely take place on a linear timeline, the constant divisions, inner dialogue and memories that make no sense are incredibly annoying.
At the end of the day, what this book boils down to is a very high class and holy soap opera.
That being said, The Hundred Thousand Kingdoms ship has sailed, and it was an amazingly successful journey, despite my various gripes. The truth is, Jemisin's incredible talent with writing outshines all of the book's flaws. It's easy to overlook various annoyances when you're enjoying a literary feast. Not only did this book prove Jemisin to be a formidable speculative fiction author, but her career since then has skyrocketed. So, no matter what I say here, she has done something very right and The Hundred Thousand Kingdoms proves it. It's easier to enjoy the book for what it is, than to focus on the various negative points in it. At the end of the day, this truly is one incredible start to a very successful career as an author, and the fantasy genre is better for it.
3/5 stars