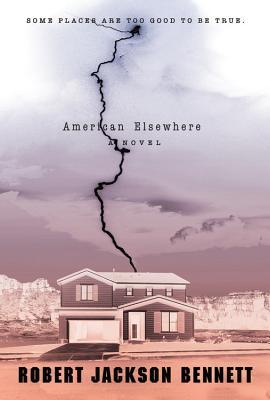 About the Book
Some places are too good to be true.
Under a pink moon, there is a perfect little town not found on any map.
In that town, there are quiet streets lined with pretty houses, houses that conceal the strangest things.
After a couple years of hard traveling, ex-cop Mona Bright inherits her long-dead mother's home in Wink, New Mexico. And the closer Mona gets to her mother's past, the more she understands that the people of Wink are very, very different …
From one of our most talented and original new literary voices comes the next great American supernatural novel: a work that explores the dark dimensions of the hometowns and the neighbors we thought we knew.
688 pages (paperback)
Published on February 12, 2013
Published by Orbit
Author's webpage 
This book was sent for me to review by the publisher.
You can purchase a copy of this book by clicking the following links: American Elsewhere
, American Elsewhere – Kindle
—–
It's no secret that I'm a fan of Robert Jackson Bennett. His book The Troupe is probably one of my all-time favorite reads. His other two don't fall far behind. The thing that always sticks out with Bennett, is when so many authors are concerned with imbuing their work with a sense of foreignness, Bennett seems perfectly happy with American life, history, and American mythology (if there is such a thing). In fact, he has such an incredible gift with taking the culture and history in which I've been firmly ensconced since my birth and making it feel new and fresh, that I can't help but appreciate and look at my world a little differently. He has an uncanny ability to add a little magic to the things I see (and get sick of seeing) almost daily.
He did it to the Great Depression, big business, vaudeville, and now he takes on small town Americana in American Elsewhere, his longest, and perhaps most in depth book he's written to date.
American Elsewhere is essentially the story of our protagonist, Mona, who learns that she inherits a house her mother left behind out in the middle of absolutely nowhere, New Mexico. Perhaps you have to be a resident of the Midwest/West to fully visualize this small town, Wink, but the true marvel is just how well Bennett brings it to life. The thing is, out here in the wide, Wild West, the landscape is just as important, just as much of a character, as the people who live here. It's wide, open, mysterious and dramatic. Bennett portrays that perfectly. He does justice to the mystery of the West and many of the small, hidden towns, valleys and coves out here with their nuanced histories and the unique mindset you find in a place with more cows and sagebrush than people, and very little interaction with the outside world. The West is truly a unique place that needs to be experienced rather than studied. It doesn't take long for the reader to realize that Wink is less of a town and more of a personality and a central character in its own right.
The development of Wink highlights what Bennett seems to master in American Elsewhere – the pacing. While this book is fairly long, Bennett unravels things slowly, adding layers as each chapter passes. These layers make the characters, scenery and tension seem all the more real and well rounded until, by the end of the book, all of these aspects are fairly leaping off the pages. Wink, Mona, and the rest of the characters grow from being fairly two-dimensional, to being complex and full of their own life, vibrancy and multi-dimensional facets. As the book progresses, it's obvious that all of the elements, from the town of Wink, to the characters, to the events that transpire, all feed off of each other. It's a fascinatingly complex machine that Bennett has built and it's amazing to watch all the small parts work together to make something quite grand.
One thing that most readers will probably notice is their inability to completely sympathize, or become quite as close to Mona as they probably expect to. The reason for that, in my humble opinion, is because the real protagonist is Wink itself. A close relationship with Mona would ultimately distract from the events that transpire in Wink, and the development of the small town and the mentality of it's citizens, which is so incredible important to the plot. While some readers will assuredly lament an intense relationship with Mona, ultimately, I think the decision to keep her interesting, but somewhat at arm's reach was incredibly wise on Bennett's part.
This also allows readers to enjoy the twists and turns that floods the plot of American Elsewhere. It also allows Bennett to crawl under your skin without even realizing that he's doing so. This is a true hallmark of a good horror author. I also found that a lack of intense sympathy or understanding of any specific character kept me from being able to predict much of what was happening, or going to happen. Thus, as the book unfolded, so did my understanding. I kept perfect pace with the plot as it progressed and this was a real treat. Bennett's pacing was masterful and it was a real treat to never be mentally ahead or behind the exact point I was reading.
While Bennett's work is always rather hard to pin down and shove into one genre label, American Elsewhere might be a bit easier for some people to define. It does have some distinct horror feel to it, which many people might inevitably compare to Stephen King. While I can see the obvious comparison of work (they are both horror), I think the comparison should end there. Bennett is a master of his own style and unique voice. While Stephen King is obviously the horror grandmaster, Bennett is creating something new with his books, and that should be appreciated. It's hard to write a horror book and not have people automatically throw around Stephen King's name somewhere. American Elsewhere is a bit of horror, but it's also a unique insight into small-town Americana and, as always, Bennett isn't just writing a book here, he's trying to share a deeper something with the reader as well.
American Elsewhere is Bennett's longest book, but it never loses its focus. Bennett really shows off his flare for balance, development and pacing. The plot, while interesting, is definitely unique. The horror aspects will please fans of that genre, but readers shouldn't miss out on the subtle undertones, the things that are classic Bennett: a layered book that slowly unfolds, intriguing (and unexpected) character development, and something a bit deeper that Bennett hints at rather than hits readers over the head with. Perhaps the most incredible aspect of this work is how well Bennett manages to string readers along, which allows them to feel all the twists and turns as acutely as if they were living through it. American Elsewhere is as much of a mental exercise as an exciting horror read, and truly shows his unique flair and incredible (and obviously growing) talent.
The truth is, when I boil it all down to its most basic elements, the thing that keeps me coming back to Bennett is how unique he is, and how much he evolves with each book. I never know what I'm going to get, but whatever it is, I always seem to enjoy the holy hell out of it. At the end of the day, isn't that what really matters? 
You'll never look at small town life the same again.
4.5/5 stars