This week the genre has been reeling from the loss of Jay Lake. This has really inspired some authors in the genre to reach out and help any way they can. Ari Marmell is doing something very cool, and Michael J. Sullivan is doing a Ride to Conquer Cancer. It profoundly moves me to see these two authors who have inspired me so much, do what they can to help those who need it. It never ceases to amaze me how this genre reaches out to help those in need when the going gets tough. Regardless of our differences, we are a sort of odd, crazy, argumentative, powerful family.
I am giving away two copies of The Dark Between the Stars, and the winner was chosen for The Severed Streets. I'm just waiting for a response on that one before I announce who it is.
Otherwise, it's been a kind of quiet week. I'm waiting to hear from the hospital regarding my next test, so I've been reading a lot and trying not to think much. As an added bonus, I managed to get stressed, which led to me getting some kind of plague. I kind of sound like a reptile right now. Oh well.
I wrote this post on Sunday. Currently I'm waiting for some tests, which is loads and loads of fun. I am dealing with it as well as I can. People at work are wonderful, and it's nice to have a job to take my mind off of it. My family has been very supportive. It's just a waiting game right now. I'm holding it together better than I expected (minus the stress). I'm focusing on the small things, and books. Books help a lot.
The wonderful people on the Three Hoarsemen podcast said some things that made me cry (in a good way).
Anyway, I've been reading a lot of The Dark Between the Stars, and I'm loving it. I really enjoy Anderson's writing style, and it's nice to be back in that world. The Mirror Empire by Kameron Hurley is… wow. Just wow. And I'm moving right along with The Boost by Stephen Baker. I am a total sucker for a good social SciFi, and I'm really into this one. The library just called today with The Martian and the new Nancy Kress book, so those will be added to my pile soon.
—
Here are the books I'm eyeing this week. What books are you eyeing?
—
Long Hidden, Speculative Fiction from the Margins of History – Edited by Rose Fox & Daniel Jose Older
Discovery blamed on: Little Red Reviewer
About the Book
In 1514 Hungary, peasants who rose up against the nobility rise again – from the grave. In 1633 Al-Shouf, a mother keeps demons at bay with the combined power of grief and music. In 1775 Paris, as social tensions come to a boil, a courtesan tries to save the woman she loves. In 1838 Georgia, a pregnant woman's desperate escape from slavery comes with a terrible price. In 1900 Ilocos Norte, a forest spirit helps a young girl defend her land from American occupiers. 

These gripping stories have been passed down through the generations, hidden between the lines of journal entries and love letters. Now 27 of today's finest authors – including Tananarive Due, Sofia Samatar, Ken Liu, Victor LaValle, Nnedi Okorafor, and Sabrina Vourvoulias – reveal the people whose lives have been pushed to the margins of history.
—
The Devil in Marshalsea – Antonia Hodgson 
Discovery blamed on: A Fantastical Librarian
About the Book
It's 1727. Tom Hawkins is damned if he's going to follow in his father's footsteps and become a country parson. Not for him a quiet life of prayer and propriety. His preference is for wine, women, and cards. But there's a sense of honor there too, and Tom won't pull family strings to get himself out of debt—not even when faced with the appalling horrors of London's notorious debtors' prison: The Marshalsea Gaol.

Within moments of his arrival in the Marshalsea, Hawkins learns there's a murderer on the loose, a ghost is haunting the gaol, and that he'll have to scrounge up the money to pay for his food, bed, and drink. He's quick to accept an offer of free room and board from the mysterious Samuel Fleet—only to find out just hours later that it was Fleet's last roommate who turned up dead. Tom's choice is clear: get to the truth of the murder—or be the next to die.
—
Motherless Child – Glen Hirshberg
Discovery blamed on: SF Signal
About the Book
In his powerful novel, Motherless Child, Bram Stoker Award–nominee Glen Hirshberg, author of the International Horror Guild Award–winningAmerican Morons, exposes the fallacy of the Twilight-style romantic vampire while capturing the heart of every reader.

It's the thrill of a lifetime when Sophie and Natalie, single mothers living in a trailer park in North Carolina, meet their idol, the mysterious musician known only as "the Whistler." Morning finds them covered with dried blood, their clothing shredded and their memories hazy. Things soon become horrifyingly clear: the Whistler is a vampire and Natalie and Sophie are his latest victims. The young women leave their babies with Natalie's mother and hit the road, determined not to give in to their unnatural desires.

Hunger and desire make a powerful couple. So do the Whistler and his Mother, who are searching for Sophie and Natalie with the help of Twitter and the musician's many fans. The violent, emotionally moving showdown between two who should be victims and two who should be monsters will leave readers gasping in fear and delight.

Originally published in a sold-out, limited edition, Motherless Child is an extraordinary Southern horror novel that Tor Books is proud to bring to a wider audience.
—
Tigerman – Nick Harkaway
Discovery blamed on: The Speculative Scotsman
About the Book
Lester Ferris, sergeant of the British Army, is a good man in need of a rest. He's spent a lot of his life being shot at, and Afghanistan was the last stop on his road to exhaustion. He has no family, he's nearly forty, burned out and about to be retired.

The island of Mancreu is the ideal place for Lester to serve out his time. It's a former British colony in legal limbo, soon to be destroyed because of its very special version of toxic pollution – a down-at-heel, mildly larcenous backwater. Of course, that also makes Mancreu perfect for shady business, hence the Black Fleet of illicit ships lurking in the bay: listening stations, offshore hospitals, money laundering operations, drug factories and deniable torture centres. None of which should be a problem, because Lester's brief is to sit tight and turn a blind eye.

But Lester Ferris has made a friend: a brilliant, internet-addled street kid with a comic book fixation who will need a home when the island dies – who might, Lester hopes, become an adopted son. Now, as Mancreu's small society tumbles into violence, the boy needs Lester to be more than just an observer.

In the name of paternal love, Lester Ferris will do almost anything. And he's a soldier with a knack for bad places: 'almost anything' could be a very great deal – even becoming some sort of hero. But this is Mancreu, and everything here is upside down. Just exactly what sort of hero will the boy need?
—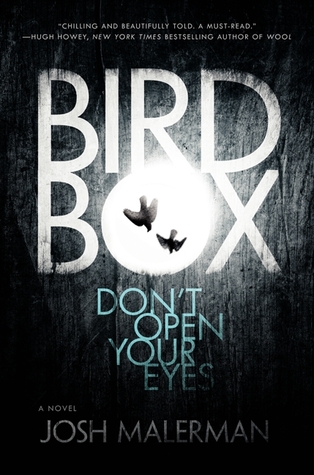 Bird Box – Josh Malerman 
Discovery blamed on: Little Red Reviewer
About the Book
Most people ignored the outrageous reports on the news. But they became too frequent, they became too real. And soon, they began happening down the street. Then the Internet died. The television and radio went silent. The phones stopped ringing. And we couldn't look outside anymore. Malorie raises the children the only way she can; indoors. The house is quiet. The doors are locked, the curtains are closed, mattresses are nailed over the windows. They are out there. She might let them in. The children sleep in the bedroom across the hall. Soon she will have to wake them. Soon she will have to blindfold them. Today they must leave the house. Today they will risk everything.