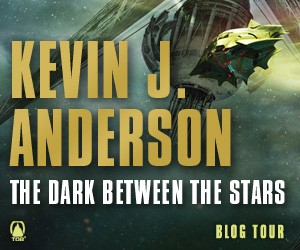 I am a huge Kevin J. Anderson fan. The Saga of the Seven Suns was the first science fiction series I ever read (indeed, Hidden Empire is the very first science fiction book I ever read). I re-read it a year or so ago, and I still loved it. It's just a fantastic series, and the universe that Anderson created is so incredibly dynamic.
With that being said, you can probably understand why I was so excited when I heard about The Dark Between the Stars. More fantastic stories in the Seven Suns universe? Yes, please! I just finished the book today. My review will post within a few days, but suffice it to say, fans of Anderson won't be disappointed.
I was thrilled when Anderson's publicist asked if I'd be willing to host the author on my website. I had to pinch myself to see if it was real. Kevin J. Anderson, on MY website? Will wonders never cease? (Bonus: I'm going to get to meet him at Westercon in a few weeks!). I am beyond thrilled to have one of the authors who started me out in SciFi on my website. I sincerely hope you'll welcome him warmly.
About the Author
Kevin has written spin-off novels for Star Wars, StarCraft, Titan A.E., and The X-Files, and is the co-author of the Dune prequels. His original works include the Saga of Seven Suns series and the Nebula Award-nominated Assemblers of Infinity. He has also written several comic books including the Dark Horse Star Wars collection Tales of the Jedi written in collaboration with Tom Veitch, Predator titles (also for Dark Horse), and X-Files titles for Topps. You can learn more about him by checking out his website. 

Anderson serves as a judge in the Writers of the Future contest.
Back to My Home Universe
In 2003, I published Hidden Empire, the first book in my Saga of Seven Suns, an immense interconnected space opera with dozens of main characters–heroes, villains, lovers, traitors, con-men, soldiers, killers, scientists, and just everyday people.
Over the seven volumes of the series, the plotline spiraled into a broad and tangled tapestry, with countless worlds and many space battles, racial conflicts, political entanglements, killer robots, strange alien planets, romances, battles. The Saga of Seven Suns has been called, "Game of Thrones, with planets."
I wrapped up that entire seven volume series with a grand finale that tied up all the loose ends, ending the epic with The Ashes of Worlds in 2009.
That was five years ago. I was exhausted from holding that entire universe in my head and putting my poor characters through the paces. (Some of them definitely didn't appreciate the nasty things I did to them.) I had developed the cultures and the characters organically, using a special language for alien empires, societal quirks, personality traits. I'd lived in the Seven Suns universe for seven years, non-stop, writing one book after another. I had it all there in my head.
But, I turned to other things for a while: I wrote a massive "sailing ships and sea monsters fantasy trilogy, Terra Incognita, and I produced two all-star rock albums associated with that story. I wrote several more Dune novels as well as a new science fiction trilogy, Hellhole, with Brian Herbert. I wrote a steam-punk fantasy adventure, Clockwork Angels, based on the new concept album by legendary rock group, Rush. I wrote a slapstick comedy fantasy, The Dragon Business, about medieval con men selling their services as dragon slayers, even though there was no dragon. And finally, a whole series, (four novels and six short stories so far) featuring the humorous adventures of Dan Shamble, Zombie PI.
So, when I finally decided to return to the Seven Suns universe with a "next generation" trilogy set twenty years after the end of The Ashes of Worlds, I experienced a bit of culture shock. Thanks to completing all those other projects in the meantime, I had cleared my creative palate. I'd been mentally wrung out after writing seven volumes in a row.
Now I could approach the universe and the characters, fresh.
The Seven Suns universe called me again. I had always planned to return with a new trilogy, and I had planted seeds for a new story throughout the original seven volumes.
The Saga of Shadows.
I knew there would be a tremendous cosmic threat. I knew the whole host of new characters who would take center stage–they had been babies or young children in the earlier books, and twenty years later they were ready for their own adventures. Of course, a Seven Suns novel wouldn't be the same if I didn't include some of the old favorite characters, so they had roles as well; some in advisory or supportive positions, while others grabbed me by the creative collar and insisted that they had much more adventuring to do.
Unfortunately, after all that time, many of the details had slipped out of my mind. I've always felt that Seven Suns was my "home universe," the place where I felt most comfortable as a writer. I knew the political situation of all the races, clans, and families; I knew all the planets by heart; I knew the cultures; I knew the characters; I knew the tiny esoteric details of the cities, and the names of all the extended connections of all my characters.
But, you tend to forget things like that over the course of five years.
So in returning to my home universe, I had to reload all of those old details into my memory. It was like cramming for an exam in college . . . no, more complicated than that. It was like preparing to defend my doctoral thesis.
Over the course of writing and editing those seven novels, many details had grown and changed. Character names were altered at the last minute, and so the published versions of the original novels might not exactly reflect what was in my mind from when I had conceived them in the first place. Yes, I had more than a hundred pages of notes from when I had done my original world-building—but that would have been much more useful if I had expended the time and effort to keep all the tiny details up to date in my notes! Once I get started, I am totally immersed in a project, and I don't want to be derailed by making annotations when there are space battles to win and abandoned alien ruins to explore.
So, I had to start from scratch, going back to Hidden Empire, reading through it with a highlighter, reminding myself of important aspects. Then, on to A Forest of Stars, then Horizon Storms, then Scattered Suns.
Unfortunately, I suffer from what might be called "Slow Reader Syndrome." I have to read every sentence, since I never learned how to skim, and so it took me a long time to work through those seven volumes. To speed up the process, I listened to the unabridged audio editions, playing them for hours as I took long drives or during my daily workout in the gym.
As I reread those chapters and re-familiarized myself with the characters, it was like meeting old friends after a longtime away. I also got more and more ideas of what to do with storylines in The Dark Between the Stars, the first volume in The Saga of Shadows (just released in hardcover from Tor Books).
On the one hand, it was a tedious job to reread so many pages—time consuming and requiring a great deal of concentration—but on the other hand, it was quite enjoyable. I'd been away from these books for so long that I could read them like a new fan, since I couldn't remember everything that happened.
My excitement grew and the new story came alive in my mind, as I kept writing down notes expanding my outline for The Dark Between the Stars, building on characters, wondering what they had been doing during the twenty year gap since the last book.
Once I got up to speed, I was ready to go back to my home universe.
I started with a clean canvas and wrote The Dark Between the Stars so that newcomers to the Seven Suns universe can enjoy it as much as the original fans. It's a standalone space opera trilogy, a colorful and accessible science fiction epic.
And now that I've built up a head of steam, I'm not stopping. The Dark Between the Stars just came out, and I'm already well over halfway finished with Book Two, Blood of the Cosmos, and I have lots of notes and ideas for the grand finale of the trilogy, Eternity's Mind (at least that's what I'm calling it this week).
I hope you'll come visit me in my home universe.