First things first, a few days ago I got to cross something off of my bucket list. On Tuesday I was invited to record a panel discussion of epic fantasy with some incredible authors that I never, ever thought I'd be cool enough to actually TALK to. The podcast drops on Monday on SF Signal.  It's with Patrick Hester, Jaym Gates, Laura Resnick, Felix Gilman, Kate Elliott, and Tad-Freaking-Williams.
These are all people who have impacted me immensely. Patrick Hester is amazing because he just is. Jaym Gates works so incredibly hard, and her results show that fantastic ethic. Plus, her love of the genre is astounding and inspiring. Laura, Kate and Tad were all some of my VERY FIRST epic fantasy authors I ever read. These are the people we can all blame for my love of the genre. These were the gatekeepers. These people opened the doorway to my passion. Their books are the reason why I started my website. They are incredible and it was absolutely surreal to talk to them. Felix Gilman is a newer discovery of mine (I read The Half-Made World a few years ago) but I absolutely loved it. Gilman was an author that really moved me, and his world building still sticks with me as an example of unique and classy – a nice mix of steampunk and epic. I've absolutely loved everything I've read by him, and I've really looked up to him.
So, all in all, it was incredible. Surreal. The coolest thing ever.
I ACTUALLY GOT TO TALK TO ALL OF THOSE PEOPLE. 
I still can't believe it.
Now, onto Books I'm Eyeing. What books are you eyeing?
—
Fearsome Dreamer – Laura Eve
Discovery blamed on: A Fantastical Librarian
About the Book
There is a world where gods you've never heard of have wound themselves into hearts, and choice has led its history down a different path.

This is a world where France made a small, downtrodden island called England part of its vast and bloated empire.

There are people here who can cross a thousand miles with their minds. There are rarer people still who can move between continents in the blink of an eye.

These people are dangerous.

And wanted. Desperately wanted.

Apprentice hedgewitch Vela Rue knows that she is destined for more. She knows being whisked off from a dull country life to a city full of mystery and intrigue is meant to be. She knows she has something her government wants, a talent so rare and precious and new that they will do anything to train her in it.

But she doesn't know that she is being lied to. She doesn't know that the man teaching her about her talent is becoming obsessed by her, and considered by some to be the most dangerous man alive .
—
Empire Under Siege – Jason K. Lewis
Discovery blamed on: Fantasy Book Critic
About the Book
The Adarnan Empire has endured for a thousand years, a beacon of civilisation shining out to the world. Its glory is undimmed, but of late there are rumours… 

A horde of savage warriors has overrun the south, destroying legions with ease, leaving the very heartlands of the empire under threat. 

In the capital there are whispers in the bars and taverns… Republic… they urge, and the name that is whispered is always the same… Martius. 

General Felix Martius has been charged with ending the threat from the horde, but the emperor's orders came late and there has been little time to gather an army. The legions are outnumbered ten to one. The fate of the empire stands on a knife edge. 

Empire under siege is the first book in the Adarna chronicles. Set in a world of epic grandeur and political intrigue, it follows the fate of the empire through the eyes of those who could ultimately save it, or doom it to destruction.
—
Broken Souls – Stephen Blackmoor
(To be fair, I need to read the first book in the series…)
Discovery blamed on: My Bookish Ways
About the Book
When necromancer Eric Carter returned to Los Angeles after fifteen years on the run he knew things were bad, but he never imagined how bad they could get. Sister murdered, best friend dead, married to the patron saint of death, Santa Muerte.

And things are just getting worse.

His link to the Aztec death goddess is changing his powers, changing him, and he's not sure how far it will go. He's starting to question his own sanity, wonder if he's losing his mind. No mean feat for a guy who talks to the dead on a regular basis.

While searching for a way to break Santa Muerte's hold over him, Carter finds himself the target of a psychopath who can steal anyone's form, powers and memories. Identity theft is one thing, but the guy does it by killing his victims and wearing their skins like a suit. He can be anyone. He can be anywhere.

Now Carter has to change the game, go from hunted to hunter. All he has for help is a Skid Row Bruja and a ghost who's either his dead friend Alex or Carter's own guilt-fueled psychotic break.

If things go right, he just might survive a week where everything is trying to kill him and nothing is as it seems.
—
The Red Tree – Caitlin R. Kiernan
Discovery blamed on: SF Signal
About the Book
Sarah Crowe left Atlanta, and the remnants of a tumultuous relationship, to live alone in an old house in rural Rhode Island. Within its walls she discovers an unfinished manuscript written by the house's former tenant-a parapsychologist obsessed with the ancient oak growing on a desolate corner of the property. And as the gnarled tree takes root in her imagination, Sarah risks her health and her sanity to unearth a revelation planted centuries ago…
—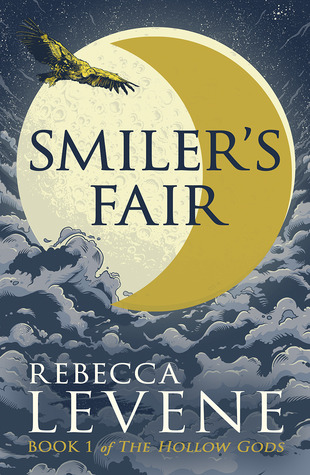 Smiler's Fair – Rebecca Levene
Discovery blamed on: Speculative Scotsman
About the Book
Yron the moon god died, but now he's reborn in the false king's son. His human father wanted to kill him, but his mother sacrificed her life to save him. He'll return one day to claim his birthright. He'll change your life.

He'll change everything.

Smiler's Fair: the great moving carnival where any pleasure can be had, if you're willing to pay the price. They say all paths cross at Smiler's Fair. They say it'll change your life. For five people, Smiler's Fair will change everything.

In a land where unimaginable horror lurks in the shadows, where the very sun and moon are at war, five people – Nethmi, the orphaned daughter of a murdered nobleman, who in desperation commits an act that will haunt her forever. Dae Hyo, the skilled warrior, who discovers that a lifetime of bravery cannot make up for a single mistake. Eric, who follows his heart only to find that love exacts a terrible price. Marvan, the master swordsman, who takes more pleasure from killing than he should. And Krish, the humble goatherd, with a destiny he hardly understands and can never accept – will discover just how much Smiler's Fair changes everything.
—
Through the Woods – Emily Carroll
Discovery blamed on: The Skiffy and Fanty Show
About the Book
A fantastically dark and timeless graphic debut, for fans of Grimm Tales, The Melancholy Death of Oyster Boy and the works of Neil Gaiman 

'It came from the woods. Most strange things do.'

Five mysterious, spine-tingling stories follow journeys into (and out of?) the eerie abyss.

These chilling tales spring from the macabre imagination of acclaimed and award-winning comic creator Emily Carroll.

Come take a walk in the woods and see what awaits you there.
—
So there you have it! Have a lovely weekend!