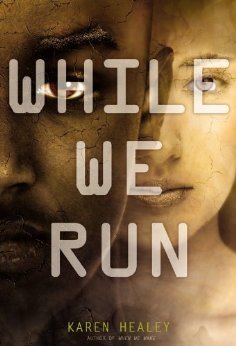 About the Book
Abdi Taalib thought he was moving to Australia for a music scholarship. But after meeting the beautiful and brazen Tegan Oglietti, his world was turned upside down. Tegan's no ordinary girl – she died in 2027, only to be frozen and brought back to life in Abdi's time, 100 years later.
Now, all they want is for things to return to normal (or as normal as they can be), but the government has other ideas. Especially since the two just spilled the secrets behind Australia's cryonics project to the world. On the run, Abdi and Tegan have no idea who they can trust, and when they uncover startling new details about Project Ark, they realise thousands of lives may be in their hands.
A suspenseful, page-turning sequel to When We Wake that will keep readers on the edge of their seats and make them call into question their own ideas about morality – and mortality, too.
336 pages (paperback)
Published on May 27, 2014
Published by Little, Brown Books for Young Readers
Author's webpage 
This book was sent for me to review by the publisher.
—
I am not a huge fan of young adult books. It isn't necessarily the fact that it's young adult that puts me off, but it's more of a content thing. Some of the YA books (some, mind you – not all) kind of dumb down the young adult experience. The book circles around romance and angst and bickering at lockers. While that sort of thing does play a huge role in growing up, I don't remember it being the focus of my teenage years, and I talk to my friends who are now teachers of junior high and high school aged people, and it seems like the struggles that teenagers face are just as complex as the struggles adults face, and just as dynamic. Teenagers deal with a lot, and books with boys and angst and swooning are fun, but they aren't real, to me.
Karen Healey writes the kind of young adult book that I like to read. The characters, while young, have plenty of worthy concerns that go beyond the boy in math class. Healey elevates her characters. They deal with everything from sexuality, to the changing environment, mass migration and political issues, health, class and everything else. Mixed into this is a nice bit of romance and romantic tension, and some friendships that feel real in the fact that they are a healthy mixture of struggle and love.
When We Wake is the first book in this series, and you absolutely need to read it before you read While We Run. Don't worry, it's not homework. When We Wake is a book that you'll be thankful that you read. Social SciFi in an accessible format with characters you can't help but love. While We Run takes off almost directly after the events of When We Wake, and I really have to hand it to Healey. Where I expected some sort of flowers and roses, happily-ever-after until the next wave of chaos hits, Healey decided to make a brave move and show what would happen if the end results weren't exactly what you expected.
While We Run finds our two protagonists in the middle of a horrible situation, and while it is gut churning and quite emotional, I really think Healey was incredibly brave to start her book out that way – and while the book starts with a bang, the ball just keeps on rolling. There is never a dull moment. The second thing that readers will notice right away is that the book is narrated by Abdi, and Abdi is far different than I expected. In fact, I spent a good chunk of the book trying to decide if he annoyed me or not, and I'm still not sure what the answer to that is. The thing you need to know is that Abdi annoying me really isn't a bad thing. The fact that he crawled under my skin is a testament to how real Healey made him, including his bad tendency to manipulate people.
Healey has a way with making her characters different than I expect, and Abdi is probably the pinnacle of that skill. He was something else entirely, and spending time in his head really showed me just how much of this young man is locked beneath the surface, unaccessible to anyone but him. His cool, cunning, and almost cold calculations of just about any situation, and his sometimes unintentional manipulation of people is, well, dark and shocking, but it's also real. That's the thing about people – teenagers included – we all have bad habits and darker aspects, and I love that Healey isn't afraid to show these dark habits in a realistic way, and how they would emotionally (and otherwise) impact just about every situation.
Abdi and Tegan's relationship is strained here, and that might bother some readers who are looking for a relationship without the struggle. I, however, thought their relationship and the stuggles that Abdi and Tegan are both obviously facing after such a horrible situation are realistic, and it made me understand and sympathize with their development more. Where Tegan seemed sort of like a Mary Sue, she now developed a new dynamic, and Abdi, as I addressed above, was shockingly complex, but he also wasn't quiet about how betrayed and alone he felt, and Healey did a wonderful job at showing how these two strong characters nearly broke under the pressure, and how it effected their relationship with themselves and each other.
Perhaps, in this deluge of praise, the negative that I could point out is regarding the "bad guys." In a book this complex, this dynamic, I found the people on the other side of the line to be two dimensional, predictable, and occasionally unbelievable. They stuck out like a sore thumb. In a book with characters this absolutely real, the people on the other side of the conflict didn't feel like they belonged. I never really bought into them.
I'm also very picky when it comes to the sort of "bad guys" I actually enjoy in books, so take that complaint for what its worth.
The plot moves quickly, and you'll be hooked before you realize it. There is so much going on, from the actual plot, to internal developments and emotional struggles. This is one of those young adult books that really shows what the young adult genre is capable of. Abdi was probably one of the most fascinating, frustrating, but emotionally raw and compelling young adult characters I've read about. The struggle that began in When We Wake became so much more dynamic in While We Run. When We Wake was good. While We Run was amazing – elevated in just about every aspect.
This is how I like my young adult books. Complex. Real. Layered. Emotional. Vibrant. Memorable.
Just like young adults.
4/5 stars