Due to surgery and life it's been a while since I've done one of these. I don't have much to report that wasn't already reported here. I was interviewed on the Adventures in SciFi Publishing Podcast, which is live. You can listen to me geek out for about an hour here. I talk about all sorts of stuff – why I review, what I look for in books, tips for authors contacting reviewers, why a lot of epic fantasy isn't doing it for me anymore, some issues reviewers (myself mostly) might face, and a lot more. Almost a month ago I was also interviewed on The Functional Nerds. You can listen to that one here.
For an update on my Discworld reading, today I plan to start the third book in the Rincewind Series called Sourcery.  I've enjoyed the first two immensely and I look forward to this next installment. I never thought that luggage could be hilarious, and Death, though his appearances are few and far between, is quickly turning into one of my favorite characters.
So, onto Books I'm Eyeing. Since it's been so very long since I've been clear headed (yay surgery), I'm sure there's a lot I've missed. What books are you eyeing? What books should I eye that I've missed?
—
The Red Magician – Lisa Goldstein 
Discovery blamed on: Bibliotropic
About the Book
Winner of the 1983 American Book Award, The Red Magician was an immediate classic.
On the eve of World War II, a wandering magician comes to a small Hungarian village prophesying death and destruction. Eleven-year-old Kicsi believes Vörös, and attempts to aid him in protecting the village.
But the local rabbi, who possesses magical powers, insists that the village is safe, and frustrates Vörös's attempts to transport them all to safety. Then the Nazis come and the world changes.
Miraculously, Kicsi survives the horrors of the concentration camp and returns to her village to witness the final climactic battle between the rabbi and the Red Magician, the Old World and the New.
The Red Magician is a notable work of Holocaust literature and a distinguished work of fiction, as well as a marvelously entertaining fantasy that is, in the end, wise and transcendent.
—
We Are Not Good People – Jeff Somers
Discovery blamed on: My Bookish Ways
About the Book
From the "exhilarating, powerful, and entertaining" (Guardian) storyteller of the Avery Cates series comes a gritty supernatural thriller featuring a pair of unlikely heroes caught up in the underground world of blood magic.
The ethics in a world of blood are gray—and an underground strata of blood magicians has been engineering disasters for centuries in order to acquire enough fuel for their spells. They are not good people.
Some practitioners, however, use the Words and a swipe of the blade to cast simpler spells, such as Charms and Cantrips to gas up $1 bills so they appear to be $20s. Lem Vonnegan and his sidekick Mags fall into this level of mage, hustlers and con men all. Lem tries to be ethical by using only his own blood, by not using Bleeders or "volunteers." But it makes life hard. Soon they might have to get honest work.
When the pair encounters a girl who's been kidnapped and marked up with magic runes for a ritual spell, it's clear they're in over their heads. Turning to Lem's estranged master for help, they are told that not only is the girl's life all but forfeit, but that the world's preeminent mage, Mika Renar, has earth-shattering plans for her—and Lem just got in the way. With the fate of the world on the line, and Lem both spooked and intrigued by the mysterious girl, the other nominates him to become the huckleberry who'll take down Renar. But even if he, Mags, and the simpletons who follow him prevail, they're dealing with the kind of power that doesn't understand defeat, or mercy.
Book One in the Ustari Cycle, the first portion of We Are Not Good People was originally published in an altered form as Trickster (Pocket Books).
—
The Mysteries – Lisa Tuttle
Discovery blamed on: Over The Effing Rainbow
About the Book
From award-winning author Lisa Tuttle comes a riveting novel that combines the contemporary story of one man's search for a missing young woman with history's most enduring legends of the disappeared. Gripping and unforgettable, here is a spellbinding mix of the mysteries that inhabit our everyday lives–and a mind-bending exploration of what happens when someone vanishes without a trace.
Ever since his father disappeared when he was nine years old, Ian Kennedy has had a penchant for stories about missing people–and a knack for finding them. Now he's a private investigator with an impressive track record. But when a woman enters his London office and asks him to find her lost daughter, Ian faces a case he fears he cannot solve–and one he knows he must.
Laura Lensky's stunning twenty-one-year-old daughter, Peri, has been missing for over two years–a lifetime, under the circumstances. But when Ian learns the details of her disappearance, he discovers eerie parallels to an obscure Celtic myth–and to the haunting case that launched his career, an early success he's never fully been able to explain. Though Ian suspects Peri may have chosen to vanish, his curiosity leads him to take on the search. Soon he finds himself drawing not only from the mysteries that have preoccupied his adulthood, but from the fables and folklore that pervaded his youth. What follows is a journey that takes Ian and those who care for Peri into the Highlands of Scotland, as the unknowns of the past and present merge in the case–and in their lives.
Rich in pathos and steeped in secrets, The Mysteries opens a thought-provoking door from one world into the heart of another, where some of our most perplexing enigmas–and their answers–are startlingly alive.
—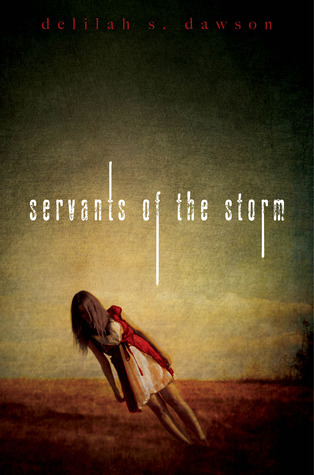 Servants of the Storm – Delilah S. Dawson
Discovery blamed on: SFF World (Rob Bedford)
About the Book
A year ago Hurricane Josephine swept through Savannah, Georgia, leaving behind nothing but death and destruction — and taking the life of Dovey's best friend, Carly. Since that night, Dovey has been in a medicated haze, numb to everything around her.
But recently she's started to believe she's seeing things that can't be real … including Carly at their favorite cafe. Determined to learn the truth, Dovey stops taking her pills. And the world that opens up to her is unlike anything she could have imagined.
As Dovey slips deeper into the shadowy corners of Savannah — where the dark and horrifying secrets lurk — she learns that the storm that destroyed her city and stole her friend was much more than a force of nature. And now the sinister beings truly responsible are out to finish what they started.
Dovey's running out of time and torn between two paths. Will she trust her childhood friend Baker, who can't see the threatening darkness but promises to never give up on Dovey and Carly? Or will she plot with the sexy stranger, Isaac, who offers all the answers — for a price? Soon Dovey realizes that the danger closing in has little to do with Carly … and everything to do with Dovey herself.
—
Ink – Sabrina Vourvoulias
Discovery blamed on: Recommended Reading by Professionals on SF Signal
About the Book
What happens when rhetoric about immigrants escalates to an institutionalized population control system? The near-future, dark speculative novel INK opens as a biometric tattoo is approved for use to mark temporary workers, permanent residents and citizens with recent immigration history – collectively known as inks. Set in a fictional city and small, rural town in the U.S. during a 10-year span, the novel is told in four voices: a journalist; an ink who works in a local population control office; an artist strongly tied to a specific piece of land; and a teenager whose mother runs an inkatorium (a sanitarium-internment center opened in response to public health concerns about inks). The main characters grapple with ever-changing definitions of power, home and community; relationships that expand and complicate their lives; personal magicks they don't fully understand; and perceptions of "otherness" based on ethnicity, language, class and inclusion. In this world, the protagonists' magicks serve and fail, as do all other systems – government, gang, religious organization – until only two things alone stand: love and memory.
—
The End of the Sentence – Maria Dahvana Headley & Kat Howard
Discovery blamed on – The Speculate Scotsman
About the Book
It begins with a letter from a prisoner…
As he attempts to rebuild his life in rural Oregon after a tragic accident, Malcolm Mays finds himself corresponding with Dusha Chuchonnyhoof, a mysterious entity who claims to be the owner of Malcolm's house, jailed unjustly for 117 years. The prisoner demands that Malcolm perform a gory, bewildering task for him. As the clock ticks toward Dusha's release, Malcolm must attempt to find out whether he's assisting a murderer or an innocent. The End of the Sentence combines Kalapuya, Welsh, Scottish and Norse mythology, with a dark imagined history of the hidden corners of the American West.
Maria Dahvana Headley and Kat Howard have forged a fairytale of ghosts and guilt, literary horror blended with the visuals of Jean Cocteau, failed executions, shapeshifting goblins, and magical blacksmithery. In Chuchonnyhoof, they've created a new kind of Beast, longing, centuries later, for Beauty.
—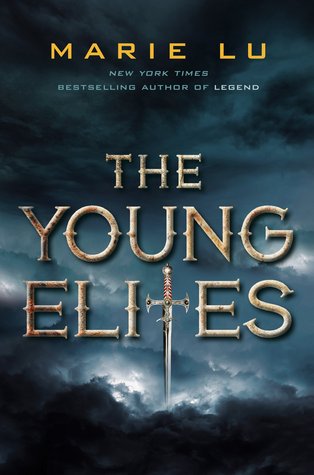 The Young Elites – Marie Lu
Discovery blamed on – Fantasy Book Critic
About the Book
I am tired of being used, hurt, and cast aside.
Adelina Amouteru is a survivor of the blood fever. A decade ago, the deadly illness swept through her nation. Most of the infected perished, while many of the children who survived were left with strange markings. Adelina's black hair turned silver, her lashes went pale, and now she has only a jagged scar where her left eye once was. Her cruel father believes she is a malfetto, an abomination, ruining their family's good name and standing in the way of their fortune. But some of the fever's survivors are rumored to possess more than just scars—they are believed to have mysterious and powerful gifts, and though their identities remain secret, they have come to be called the Young Elites.
Teren Santoro works for the king. As Leader of the Inquisition Axis, it is his job to seek out the Young Elites, to destroy them before they destroy the nation. He believes the Young Elites to be dangerous and vengeful, but it's Teren who may possess the darkest secret of all.
Enzo Valenciano is a member of the Dagger Society. This secret sect of Young Elites seeks out others like them before the Inquisition Axis can. But when the Daggers find Adelina, they discover someone with powers like they've never seen.
Adelina wants to believe Enzo is on her side, and that Teren is the true enemy. But the lives of these three will collide in unexpected ways, as each fights a very different and personal battle. But of one thing they are all certain: Adelina has abilities that shouldn't belong in this world. A vengeful blackness in her heart. And a desire to destroy all who dare to cross her.
It is my turn to use. My turn to hurt