I don't usually do top ten lists, but I decided to this year. 2012 was a great year for books, and I ran across some truly wonderful reads. In no particular order, I'm deciding to share my 10 favorite books with the masses. Enjoy!
——
Of Blood and Honey – Stina Leicht
Liam never knew who his father was. The town of Derry had always assumed that he was the bastard of a protestant — his mother never spoke of him, and Liam assumed he was dead. But when the war between the fallen and the fey began to heat up, Liam and his family are pulled into a conflict that they didn't know existed.
A centuries old conflict between supernatural forces seems to mirror the political divisions in 1970's era Ireland, and Liam is thrown headlong into both conflicts! Only the direct intervention of Liam's real father, and a secret catholic order dedicated to fighting "The Fallen" can save Liam… from the mundane and supernatural forces around him, and from the darkness that lurks within him.
The Troupe – Robert Jackson Bennett
Vaudeville: mad, mercenary, dreamy, and absurd, a world of clashing cultures and ferocious showmanship and wickedly delightful deceptions.
But sixteen-year-old pianist George Carole has joined vaudeville for one reason only: to find the man he suspects to be his father, the great Heironomo Silenus. Yet as he chases down his father's troupe, he begins to understand that their performances are strange even for vaudeville: for wherever they happen to tour, the very nature of the world seems to change
Because there is a secret within Silenus's show so ancient and dangerous that it has won him many powerful enemies. And it's not until after he joins them that George realizes the troupe is not simply touring: they are running for their very lives.
And soon, George is as well.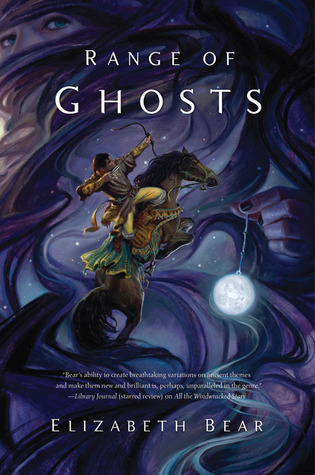 Range of Ghosts – Elizabeth Bear
Temur, grandson of the Great Khan, is walking away from a battlefield where he was left for dead. All around lie the fallen armies of his cousin and his brother, who made war to rule the Khaganate. Temur is now the legitimate heir by blood to his grandfather's throne, but he is not the strongest. Going into exile is the only way to survive his ruthless cousin.
Once-Princess Samarkar is climbing the thousand steps of the Citadel of the Wizards of Tsarepheth. She was heir to the Rasan Empire until her father got a son on a new wife. Then she was sent to be the wife of a Prince in Song, but that marriage ended in battle and blood. Now she has renounced her worldly power to seek the magical power of the wizards. These two will come together to stand against the hidden cult that has so carefully brought all the empires of the Celadon Highway to strife and civil war through guile and deceit and sorcerous power.
Percepliquis – Michael J. Sullivan
IT ALL COMES DOWN TO THIS…THE ELVES HAVE CROSSED THE NIDWALDEN. TWO THIEVES WILL DECIDE THE FUTURE.
"I saw a great journey. Ten upon the road, she who wears the light will lead the way. The road goes deep into the earth, and into despair. The voices of the dead guide your steps. You walk back in time. The three-thousand-year battle begins again. Cold grips the world, death comes to all, and a choice is before you." — Fan Irlanu, Tenkin Seerer of Oudorro Village
Percepliquis is the final installment of the epic fantasy, The Riyria Revelations. In this saga that began with The Crown Conspiracy, two thieves caught in the wrong place at the right time were launched on a series of ever escalating adventures that have all lead to this moment. Three thousand years have passed and the time for Novron's heir to act has arrived.
The Hollow City – Dan Wells
Dan Wells won instant acclaim for his three-novel debut about the adventures of John Wayne Cleaver, a heroic young man who is a potential serial killer. All who read the trilogy were struck by the distinctive and believable voice Wells created for John.
Now he returns with another innovative thriller told in a very different, equally unique voice. A voice that comes to us from the realm of madness.
Michael Shipman is paranoid schizophrenic; he suffers from hallucinations, delusions, and complex fantasies of persecution and horror. That's bad enough. But what can he do if some of the monsters he sees turn out to be real?
Who can you trust if you can't even trust yourself? The Hollow City is a mesmerizing journey into madness, where the greatest enemy of all is your own mind.
The Coldest War – Ian Tregillis
Someone is killing Britain's warlocks.
Twenty-two years after the Second World War, a precarious balance of power maintains the peace between Great Britain and the USSR. For decades, the warlocks have been all that stand between the British Empire and the Soviet Union– a vast domain stretching from the Pacific Ocean to the shores of the English Channel. But now each death is another blow to Britain's security.
Meanwhile, a brother and sister escape from a top-secret research facility deep behind the Iron Curtain. Once subjects of a twisted Nazi experiment to imbue ordinary humans with extraordinary abilities, then prisoners of war in the vast Soviet effort to reverse engineer the Nazi technology, they head for England.
Because that's where former spy Raybould Marsh lives. And Gretel, the mad seer, has plans for him.
As Marsh is drawn back into the world of Milkweed, he discovers that Britain's darkest acts didn't end with the war. And as he strives to protect Queen and country, he's forced to confront his own willingness to accept victory at any cost.
Miserere – Teresa Frohock
Exiled exorcist Lucian Negru deserted his lover in Hell in exchange for saving his sister Catarina's soul, but Catarina doesn't want salvation. She wants Lucian to help her fulfill her dark covenant with the Fallen Angels by using his power to open the Hell Gates. Catarina intends to lead the Fallen's hordes out of Hell and into the parallel dimension of Woerld, Heaven's frontline of defense between Earth and Hell. When Lucian refuses to help his sister, she imprisons and cripples him, but Lucian learns that Rachael, the lover he betrayed and abandoned in Hell, is dying from a demonic possession. Determined to rescue Rachael from the demon he unleashed on her soul, Lucian flees his sister, but Catarina's wrath isn't so easy to escape!
The Dirty Streets of Heaven – Tad Williams
Bobby Dollar is an angel—a real one. He knows a lot about sin, and not just in his professional capacity as an advocate for souls caught between Heaven and Hell. Bobby's wrestling with a few deadly sins of his own—pride, anger, even lust.
But his problems aren't all his fault. Bobby can't entirely trust his heavenly superiors, and he's not too sure about any of his fellow earthbound angels either, especially the new kid that Heaven has dropped into their midst, a trainee angel who asks too many questions. And he sure as hell doesn't trust the achingly gorgeous Countess of Cold Hands, a mysterious she-demon who seems to be the only one willing to tell him the truth.
When the souls of the recently departed start disappearing, catching both Heaven and Hell by surprise, things get bad very quickly for Bobby D. End-of-the-world bad. Beast of Revelations bad. Caught between the angry forces of Hell, the dangerous strategies of his own side, and a monstrous undead avenger that wants to rip his head off and suck out his soul, Bobby's going to need all the friends he can get—in Heaven, on Earth, or anywhere else he can find them.
You've never met an angel like Bobby Dollar. And you've never read anything like The Dirty Streets of Heaven.
Brace yourself—the afterlife is weirder than you ever believed.
Throne of the Crescent Moon – Saladin Ahmed
The Crescent Moon Kingdoms, home to djenn and ghuls, holy warriors and heretics, are at the boiling point of a power struggle between the iron-fisted Khalif and the mysterious master thief known as the Falcon Prince. In the midst of this brewing rebellion a series of brutal supernatural murders strikes at the heart of the Kingdoms. It is up to a handful of heroes to learn the truth behind these killings.
Doctor Adoulla Makhslood, "the last real ghul hunter in the great city of Dhamsawaat," just wants a quiet cup of tea. Three score and more years old, he has grown weary of hunting monsters and saving lives, and is more than ready to retire from his dangerous and demanding vocation. But when an old flame's family is murdered, Adoulla is drawn back to the hunter's path.
Raseed bas Raseed, Adoulla's young assistant, is a hidebound holy warrior whose prowess is matched only by his piety. But even as Raseed's sword is tested by ghuls and manjackals, his soul is tested when he and Adoulla cross paths with the tribeswoman Zamia.
Zamia Badawi, Protector of the Band, has been gifted with the near-mythical power of the lion-shape, but shunned by her people for daring to take up a man's title. She lives only to avenge her father's death. Until she learns that Adoulla and his allies also hunt her father's killer. Until she meets Raseed.
When they learn that the murders and the Falcon Prince's brewing revolution are connected, the companions must race against time—and struggle against their own misgivings—to save the life of a vicious despot. In so doing they discover a plot for the Throne of the Crescent Moon that threatens to turn Dhamsawaat, and the world itself, into a blood-soaked ruin.
Sharps – K.J. Parker
For the first time in nearly forty years, an uneasy truce has been called between two neighbouring kingdoms. The war has been long and brutal, fought over the usual things: resources, land, money…
Now, there is a chance for peace. Diplomatic talks have begun and with them, the games. Two teams of fencers represent their nations at this pivotal moment.
When the future of the world lies balanced on the point of a rapier, one misstep could mean ruin for all. Human nature being what it is, does peace really have a chance?
My review (with mini interview) 
Best event – Special Needs in Strange Worlds
I'm mentioning this event here, along with links to the posts, because I don't want people to forget.
I'm still honored to have hosted it on my website.
Authors
Robert Jackson Bennett – Beauty is Shaped by Reality
Carol Berg – Writing Differences
Teresa Frohock – Disabilities in Miserere
Stina Leicht – Nobody's Perfect
Jay Lake – Cancer and Writing
Bryan Thomas Schmidt – ADHD
Mark Lawrence – Broken Heroes
Jeff Salyards – Broken, but not Unbowed
M.D. Lachlan
Bloggers/Reviewers
Kendra Merritt – Relatable Heroes
Paul Weimer – In Praise of Miles Vorkosigan
Daniel Goodman – Small Heroes Overcoming Big Obstacles
Aidan Moher – Shadowmarch by Tad Williams
Erin Hill-Dowdle – Disability in Literature
Meineke van der Salm – Defining Disability
Ryan Frye – Favorite Differently Abled Characters
Niall Alexander – The Scar
Sue Bricknell – The Ship Who Sang
Jacob Topp-Mugglestone
Anonymous blogger – Depression in a place where Depression is Not A Thing
Ole Imsen – The Disabled in the Historical Record
Bryce Lee – The Power of Overcoming
Bookworm Blues – Closing Thoughts
Fun aside: I enjoyed Stina Leicht's books so much I bought some autographed copies from her for a Christmas present for myself.